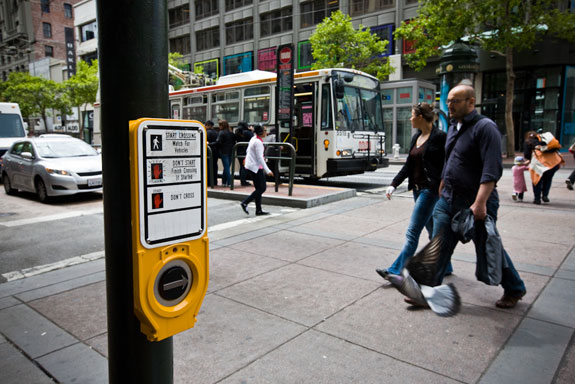 Despite a growing political focus on pedestrian safety, a thick layer of city bureaucracy and lack of funding are stalling real change to prevent pedestrian injuries and fatalities on San Francisco streets, including three deaths in just the last week.
The red tape and dysfunction became abundantly clear at a presentation and discussion at City Hall this morning on San Francisco's efforts to improve pedestrian safety, which was centered more on the challenges than the solutions.
"We are experiencing a little bit of paralysis by analysis," said Board of Supervisors President David Chiu. "I do think we have solutions and it's a matter of putting them together and having the will to execute them."
A report on the city's pedestrian safety efforts [pdf], requested by Chiu, was presented to the San Francisco County Transportation Authority (SFCTA) Board's plans and programs committee.
Tilly Chang, the SFCTA deputy director of planning who prepared the report, responded to Chiu: "We do know that there is a demand, a justified demand, for capital improvements that have already been effective: the countdowns, the bulbouts, the crosswalks. To some extent the MTA is working on them. We do need more funding."
Chang said even though there has been "fragmented responsibility" on pedestrian issues, something that's not unique to San Francisco, the SFMTA is "arguably" the lead agency on pedestrian safety, as it is in charge of managing the city's streets. However, for many advocates, that agency is not moving fast enough.
"In some ways having the MTA be the agency where it's centered makes sense, but in some ways the work that the other agencies are doing gets translated into real action on the streets faster and in a way that satisfies people more," Elizabeth Stampe, the executive director of Walk San Francisco, told Streetsblog after the meeting.
SFMTA Deputy Director of Transportation Planning Timothy Papandreou delivered a presentation that mostly touted the agency's accomplishments over the last 10 years, and some of its goals and next steps. He said a Pedestrian Task Force -- which has 25 members, including representatives from 12 city agencies -- "wants to develop the framework to implement the early actions" mandated by the Mayor's executive directive on pedestrian safety "as soon as possible."
Chiu told Papandreou that his agency needs to make it clear who is leading pedestrian safety efforts. "The fact that there are so many different agencies working on this is making it confusing for those of us who are not part of your administration, and it would be great to have a real sense of who is in charge," Chiu said.
Papandreou did acknowledge reducing the speed of automobiles will be key, a point that was hammered home by Rajiv Bhatia, the environmental health director for the San Francisco Department of Public Health.
"We've calculated that serious injuries could be reduced by over 50 percent from a 5 mile an hour reduction in the traveling speed," said Bhatia, who added that there are legal and traffic design standard obstacles getting in the way of improvements.
Despite the frustration among advocates and some supervisors, Bhatia said all of the city agencies were making "a good faith effort" to address the problem.
Today's discussion also focused on the need for data integration and better enforcement efforts by the San Francisco Police Department, which had no representative at the meeting. The committee agreed to bring the item back for discussion at a later date.
Stampe of Walk SF said she is anxious for something to start happening on the streets, and agreed with Chiu's "paralysis by analysis" statement.
"I am concerned about analyzing the problem into oblivion. We need action. We have a lot of good plans for how to change our streets in the city. Where is the implementation? People have been waiting a long time," she said.
Bryan Goebel is a reporter at KQED Public Radio in San Francisco. A veteran journalist and writer, he helped launch Streetsblog SF in 2009 and served as editor for three years. He lives car-free in the Castro District.
Stay in touch
Sign up for our free newsletter