Bicycling
SFMTA's Climate Action Strategy Will Require Broad Political Support
2:20 PM PDT on April 27, 2011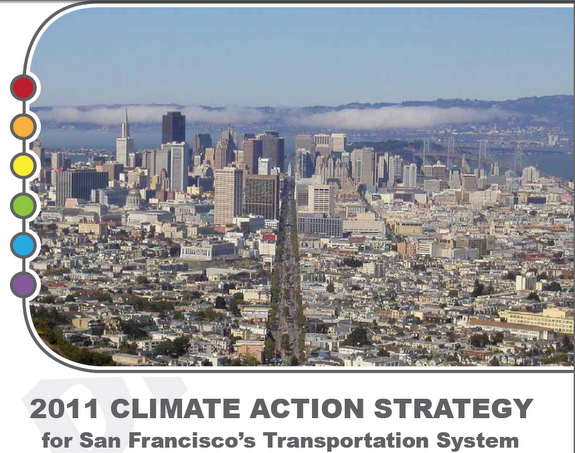 San Francisco could be headed on a course toward transportation sustainability, granted it's the politically popular thing to do.
The San Francisco Municipal Transportation Agency (SFMTA) recently released its 2011 Draft Climate Action Strategy [PDF], laying out a progressive blueprint for how the city should tackle reducing its greenhouse gas emissions from one of their leading sources: driving.
"The Climate Action Strategy is a citywide plan, but since the SFMTA is responsible for the streets, arguably we have the biggest part in all of this," said SFMTA Director Cheryl Brinkman.
Transportation makes up 36 percent of the city's emissions, says the report, and 89 percent of that is from private automobiles. The SFMTA's goal is to cut transportation emissions to half of 1990 levels by 2035 by reducing the current share of driving in half to a mode split of 30 percent of trips by car, 30 percent by transit, and 40 percent by bicycling and walking.
From parking regulations to transit-oriented development to complete streets, the plan recommends the most effective measures to take and perhaps most importantly, the political processes required to fund and implement them. But while the SFMTA staff and directors may seem mostly on board, support from other agencies will be crucial to cause a major shift in the city's transportation and land use policies.
"We need to hold the line on our transit-first policy," said Timothy Papandreou, SFMTA Deputy Director of Transportation Planning for the Sustainable Streets Division. "It's something that we'll continue to be challenged on, but that's really our major policy move."
The most politically challenging strategies, said Brinkman, include reallocating street space to dedicated transit and bicycle lanes as well as implementing the parking and congestion pricing policies that will be the key to funding projects.
"We know what it takes to make buses run efficiently," she said. "But we can't just snap our fingers and make public transportation this amazing option when we've spent the past fifty years making private automobiles this amazing option."
"We're going to need the support of the supervisors and the Mayor," said Brinkman, who is optimistic the support is there. "We also need the support of the citizens, which I think we have. When I look at the numbers of households that own one car, or less, it's big."
According to the report, 30.3 percent of households in the city don't own cars while another 40.8 percent own only one car. The average automobile trip within the city is 2.8 miles, compared to 2.3 miles for bicycles, and the most driving is shown to come from residences and employers in areas with low density, separated uses and streets that most heavily favor automobile speed.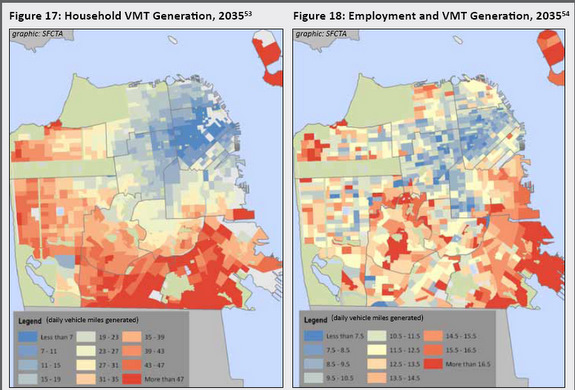 A promising step already launched last week is SFpark, a first-of-its-kind venture to collect data on parking demand and price it accurately. The program is expected to help reduce car congestion from drivers circling for parking, clearing up the streets for bicycles and transit and improving safety for pedestrians.
Coupled with enforcing new and existing ordinances against under-priced parking in the city's garages, the plan names demand pricing as a crucial component for providing more revenue to improve walking, cycling and Muni, as well as providing less incentive to drive.
As one early step, Brinkman highlighted the need to eliminate "early bird" discounts given to drivers by private parking garages during the morning rush hour. "These garages have a pricing strategy that is encouraging people to drive right when it's most important that our buses move efficiently," she said.
Livable City Director Tom Radulovich praised the plan's progressive view on city planning, though he says seeing it through will require better coordination between the current "three headed creature" of city planning agencies: the SF Planning Department, the Mayor's Office of Economic and Workforce Development, and the SF Redevelopment Agency.
"It's great to see land use questions and parking issues called out in this report, I think for the first time, as climate reduction strategies," said Radulovich, praising recommendations such as eliminating minimum parking requirements, enforcing employer benefits to non-driving commuters, pursuing better Muni fleet maintenance and expansion, and implementing the Transit Effectiveness Project.
Absent from the report, however, are maximum parking limits in new developments and a plan for dedicated bus lanes, he noted. Brinkman also pointed to bike sharing systems as a strong strategy that should be included.
The SFMTA is currently meeting its goals of reducing emissions from Muni vehicles, notes the plan, but automobiles remain the biggest hurdle. However, car owners in the city could start paying their fair share to fund the Climate Action Strategy.
A mitigation impact fee of $50 to $150 per car would raise $24 million to $72 million a year, says the report, as well as an off-street commercial parking fee of $100 to $300 per stall of free parking, which would raise $6 million to $17 million anually. The plan says SFMTA staff should evaluate the fees and report to the agency's board before June 30, 2012.
Even if the economic justification for such measures is apparent to some advocates and city officials, educating the public to move the political process forward will be a major challenge.
"Change is really difficult, and a few people can slow things down by being very upset," said Brinkman. "Whether or not the involved public process is something you love or hate, it's the reality of San Francisco. People aren't stupid, they need to see why it's going to work and how it's going to work."
Aaron was the editor of Streetsblog San Francisco from January 2012 until October 2015. He joined Streetsblog in 2010 after studying rhetoric and political communication at SF State University and spending a semester in Denmark.
Stay in touch
Sign up for our free newsletter