Barbara Boxer
Boxer: Transpo Funding Will Rise in Senate Bill, Bike/Ped Will Be Preserved
2:32 PM PDT on May 25, 2011
Senator Barbara Boxer, chair of the Environment and Public Works Committee, just addressed reporters about the progress of the transportation bill.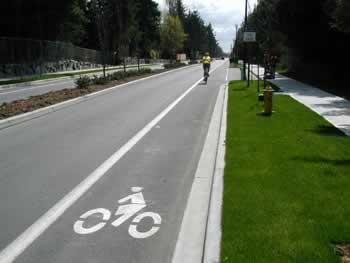 Rather than holding funding at SAFETEA-LU levels, as we previously reported and as the EPW statement indicated, the committee is planning a $339.2 billion bill – current spending plus inflation, plus an expanded TIFIA loan program. That's $56.5 billion a year. Boxer said the Senate bill would guarantee funding for bicycle and pedestrian programs, which had been in doubt.
TIFIA is currently funded at $110 million a year but demand has far outstripped the availability of loans. Boxer's committee is proposing to increase that funding nine-fold, to $1 billion a year. She says that amount could leverage $30 billion a year in private investment. They also plan to increase the maximum federal share from 33 percent to 49 percent, with even more favorable terms for rural areas. The TIFIA program will keep its name but be folded into a new, larger program called America Fast Forward.
She's still leaving open the option of an infrastructure bank, which she says she supports, but she's always prioritized an expanded TIFIA program over an I-bank, mostly because she believes a program that already exists makes more sense than a brand new one.
Boxer said that including the $30 billion she hopes TIFIA will be able to leverage each year brings the bill over $500 billion – close to the administration figure. (Of course, the administration had leveraging mechanisms in its bill as well, notably the infrastructure bank, and didn't include the private investment "leveraged" by those entities in its final number.)
She said her committee told the administration, "If you can show us the money, we're happy to look at it," but that "right now there isn't any, so we're going with what we think we can get through the United States Senate."
Rep. John Mica, chair of the House Transportation Committee, has "different pressures," Boxer said, including a House that has voted to use transportation funds for other purposes, but she added that they're working closely together on the bill.
Boxer is "hoping for a six-year bill" but acknowledged that "we may not wind up with a six-year bill." Still, she said that while a two-year option was very much "in the mix," the committee wants the policy changes they make to take effect for six years. According to Boxer's staff, if they pass this bill as a six-year bill, there will be a $12 billion shortfall every year as compared to Highway Trust Fund revenues. As a two-year bill, there's a $6 billion annual shortfall. The committee is open to general fund transfers to fill that gap. The bill could also be three, four, or five years, of course, though those options are rarely mentioned.
Advocates for bicycle and pedestrian projects have been nervous about talk of "consolidating wasteful programs," as Republicans on the committee have long let it be known that they consider bike/ped projects to be "wasteful." Boxer made it clear that she disagrees (though she does agree that other "enhancements" like museums don't belong in the transportation bill). "Certainly any mode of transportation – roads that support alternatives such as bike paths, walkways – will be included and get good attention," she said, adding that they plan to continue to guarantee federal funds for these programs, not just leave it up to the states (though that part is not yet finalized).
She reiterated her support for indexing the gas tax to inflation but quickly discarded it as a non-starter – and besides, the question of how to pay for the bill is the jurisdiction of the Finance Committee, which will be looking for ways to make it viable. The chair of the Finance Committee, Sen. Max Baucus (D-MT) is one of the "Big Four" of the EPW Committee who has agreed to the current principles, so that's a good start.
"We're ready to rock and roll," said Boxer. The committee plans to start hearings on the final draft of the bill in two weeks and mark it up before the July 4 recess, meaning they would finalize the bill and send it to the full Senate for approval. She said Majority Leader Harry Reid is "elated" that the four major committee members have found bipartisan agreement on such substantial elements of the bill, which staff members say is already 150 pages long (though not in standard legislative formatting).
The Banking Committee, which has jurisdiction over transit, and Commerce, with control over rail, haven't written their pieces of the bill yet. So far, we expect the highway/transit split to remain 80 percent/20 percent. Expect the debate over high-speed rail in the Commerce Committee to be intense.
Tanya became Streetsblog's Capitol Hill editor in September 2010 after covering Congress for Pacifica Radio's Washington bureau and for public radio stations around the country. She lives car-free in a transit-oriented and bike-friendly neighborhood of Washington, DC.
Stay in touch
Sign up for our free newsletter