Bicycle Safety
A New Era Begins at the SFMTA with the Appointment of Ed Reiskin
4:13 PM PDT on July 21, 2011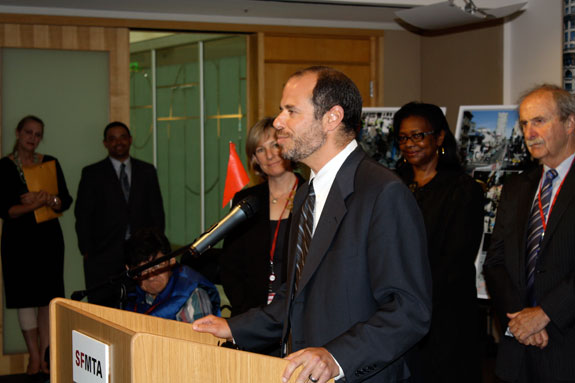 The San Francisco Municipal Transportation Agency (SFMTA) Board of Directors has appointed a regular bicycle and Muni rider to become its Chief Executive Officer, ushering in a new era of leadership that advocates hoped would dramatically improve sustainable transportation in the city.
Ed Reiskin, the current head of the Department of Public Works (DPW) who hasn't owned a car since 1991, promised to make safety for all modes of transportation his top priority.
"I see transportation as essentially important to maintaining and enhancing the quality of life for the people of San Francisco," Reiskin told a packed room of reporters, advocates and SFMTA and DPW staffers this morning. "I see no reason why we can't have the world-class transportation system that this city deserves."
Reiskin was chosen after an hour-long interview with the SFMTA Board of Directors Tuesday for his wide reputation as "a truly gifted leader" and "a fast learner," said Board Chair Tom Nolan.
"That was the most important thing to us," said Nolan. "We wanted somebody who knew San Francisco, who understood the politics here, the dynamics of city government, and was passionate about being a San Franciscan, and we found that, definitely, in Mr. Reiskin."
The SFMTA would not confirm what salary Reiskin is being offered but the Chronicle reported he's committed to a three-year contract, and will be paid an annual salary of $294,000, $15,000 less than his predecessor, Nathaniel Ford, who left July 1. The SFMTA Board will vote on the terms of his contract and the appointment on August 2.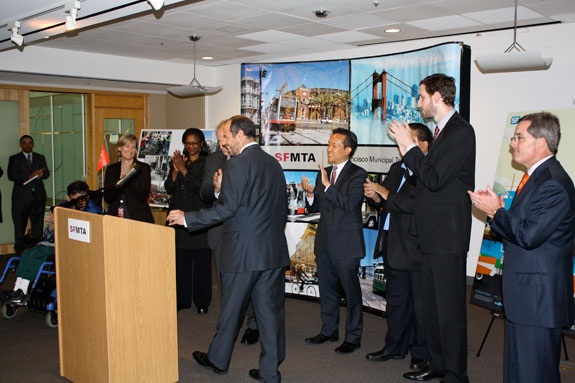 Advocates, Electeds Praise Reiskin
Sustainable transportation advocates roundly praised Reiskin's demonstrated ability to engage staff and move projects forward that improve conditions for transit riders, pedestrians and bicyclists.
"He's someone who rides the ride and walks the walk," said car-free SF Board of Supervisors President David Chiu. "Today, the future of transportation in San Francisco is brighter."
Reiskin, who lives with his family in a car-free household in the Lower Haight, was born in Chicago and gave up his car when he moved to New York City twenty years ago. He has since lived in Boston and Washington, D.C., before moving to Oakland in 1999 where he met his wife, a San Francisco native, and moved to the city nine years ago.
"I love cities," said Reiskin. "I think cities are incredibly important and have the potential to enable people to access education, jobs, culture and diversity, interaction and innovation."
Chiu said that when he began working with Reiskin years ago, he "was someone who was incredibly well respected by the neighborhood leaders not only in my district, but throughout the city as someone who not only understood detail, but someone who got the big picture of what we need to do to move things forward."
San Francisco Bicycle Coalition Executive Director Leah Shahum said Reiskin "has the know-how and the proven leadership ability to take San Francisco where we want to go in terms of safe, accessible, inviting streets and neighborhoods for all."
"At a time when people in San Francisco are eager for more options to move around our city in ways that are easy, affordable, healthy and good for the local economy, this is a great step forward," said Shahum. "By choosing Ed Reiskin, the agency's leaders are signaling their commitment to an even stronger, more innovative SFMTA that really can become a world-class transportation agency serving the needs of our diverse citizens and visitors."
Gabrielf Metcalf, executive director of the San Francisco Planning and Urban Research Center (SPUR), said Reiskin is "a great manager and change agent, who knows how to work within government in a way that motivates and inspires staff, and he's also someone who has a full appreciation of the multiple roles that streets play in city life."
Reiskin's colleagues said that his skills as an adaptive and competent leader should compensate for any lack of experience running a transit system. As a former director of 311 and now DPW, he manages $2 billion in capital projects.
"Governance of streets and transportation is very fragmented in San Francisco, and Ed is well-regarded by his colleagues in other agencies," said Livable City Director Tom Radulovich, noting that Reiskin "has supported projects like the sidewalk widening on Valencia and Linden Alley, Pavement to Parks, parklet, and bike corral programs, and the re-think of Market Street."
"I think it's important to keep in mind that the MTA is not just about Muni," said Supervisor Scott Wiener. "Muni is the 800-pound gorilla, but the MTA governs all transportation in San Francisco, from our roads to our taxi system, and of course Muni."
"What we need is someone who has the vision to be able to integrate all of that and have a great global transportation system in San Francisco," he said.
Reiskin said that his experience as DPW Director showed him that coming in as outsider has its advantages. "I can ask a lot of questions and come in with a fresh perspective," he said.
Supporters lauded his performance at DPW, where he quickly learned the ropes within months of starting the job in 2008 after being appointed by then-City Administrator Ed Lee.
"Just a few years before" Reiskin became the DPW director, the agency "had virtually declared war on public seating, so Ed has overseen quite a turn-around towards the idea of streets as public spaces," said Radulovich.
"Give me a month, and I'll be very versed in all this," joked Reiskin.
Reiskin said he plans to "spend as little time in my office as I can and as much time in the field talking to folks so I can understand the organization so that I can engage the people in the department in making it work."
His priorities range from improving safety for street users, to engaging Muni operators positively to implement the new labor contract, to implementing solutions to speed up Muni.
Here are his responses to questions on a number of issues:
On the city's Transit First Policy:"I think it's really forward thinking and outstanding," he told reporters. "There's no question, with the Transit First Policy, we want to emphasize and shift people as much as possible to more sustainable modes of transportation, but it doesn't mean cars are bad and people who drive cars are bad. I think we have to make it more convenient for people not to be in a car… and let the results speak to people in terms of whether or not they want to get out of their car. I think we have to earn it.""I would like San Francisco to be a place where you don't feel like you need to own a car."
On improving biking and walking conditions: "The streets and sidewalks need to be safe, inviting and welcoming for people to want to" walk and bike. "It's good for the city, it's good for the climate and environment, it's good for the health of the people, so it's a win all around."Funding bicycle and pedestrian improvements is "exceedingly important," he said. "Every person that chooses to walk or ride a bike is potentially one less car that's on the road."
On how to improve Muni reliability: "I don't walk into this presuming to have all the answers for the MTA," he said. But "just as a very frequent Muni rider, I believe there is some low-hanging fruit in efficiency to be found and conditions to be improved upon. I think some of the solutions to making Muni work better are with the operators. These are the folks who know it and do it every day. I think engaging them in a positive and constructive way, and not focusing on grievances and discipline, but focusing on how to make the system better, I think that's the way to build morale.""The idea that [the Transit Effectiveness Project] needs environmental review to make transit work better seems kind of absurd to me."
On negotiating with the Transit Workers Union to implement the new labor contract: "I don't see this as management versus labor. I see this as MTA employees all working towards a common goal of improving delivery of service.""I don't want One Van Ness (the MTA building) to be seen as some ivory tower issuing edicts from afar."
Timothy Papandreou, SFMTA Deputy Director of Transportation Planning, said he thinks Reiskin "has the temperament and the managerial skillset that can really help us, being multi-modal."
"You don't have to be an expert in every mode, but you have to know how to manage people," said Papandreou. "We're going to have a great opportunity to start translating the Transit First Policy into work."
As the MTA updates its Strategic Plan, he thinks Reiskin can help "hold the [Board of Directors] and everyone else accountable to it."
Streetsblog Editor Bryan Goebel contributed reporting.
Aaron was the editor of Streetsblog San Francisco from January 2012 until October 2015. He joined Streetsblog in 2010 after studying rhetoric and political communication at SF State University and spending a semester in Denmark.
Stay in touch
Sign up for our free newsletter