Bicycling
A Year After Bike Injunction Lifting, SF Blazes Ahead With Improvements
4:39 PM PDT on August 11, 2011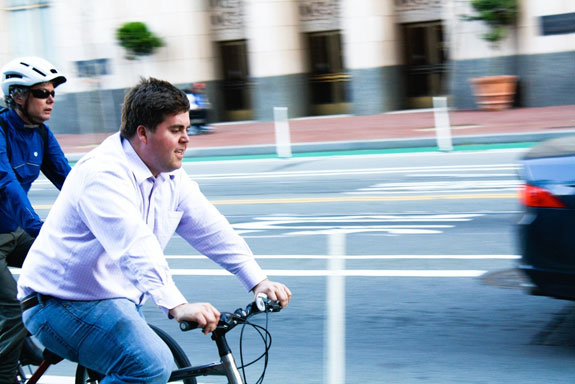 It was one year ago last Thursday that a San Francisco judge freed the city from its four-year-old bicycle injunction, and allowed the SFMTA to finally begin building out the long stalled Bike Plan. Since the chains were unlocked, the number of bicyclists on the streets has dramatically risen, thanks in no small part to the new infrastructure that has made cycling more inviting to people of all ages.
Granted, even though the number of bike commuters on Market Street looks like what you might see in some of the great European bicycling cities, we've still got a lot of catching up to do. But what has happened in the last year, after we were starved for so long, should be celebrated. Building out 14 miles of bike lanes since last August, and a total of 19 of the 34 miles in the Bike Plan -- more than half -- since the injunction was partially lifted in November 2009, was no miniscule feat.
Tack on the green protected bike lanes and green-backed sharrows on portions of Market Street, green bike lanes on a stretch of Fell Street, six green bike boxes (on Market and on Scott Street), a left-turn bike lane and signal timed for bicyclists on Scott Street, 14 bike corrals, 38 miles of sharrows, 500 bike racks totaling 1,000 spaces and you realize that San Francisco has accomplished a lot in a short time. No, it's not as fast of a rate as New York City (250 miles of new bike lanes since 2006), but the SFMTA is rolling out bike projects at a much swifter pace than before the city was hit with the lawsuit.
"I'm very proud," said Bridget Smith of the SFMTA's Sustainable Streets Division, which was awarded the San Francisco Bicycle Coalition's Golden Wheel Award this year. "Folks here are feeling really good about the progress we've made. Our shops have been fantastic, and everybody has really chipped in. I think we've come a really long ways."
"We commend the city for working hard to try to keep up with the growing demand for better bicycling by implementing more new bike lanes in a single year than ever before, while also upgrading some to even better, physically separated bikeways," said SFBC Executive Director Leah Shahum. "Our city leaders recognize that a well-connected bikeway system between all our neighborhoods that is inviting for people ages 8 to 80 is the wave of the future."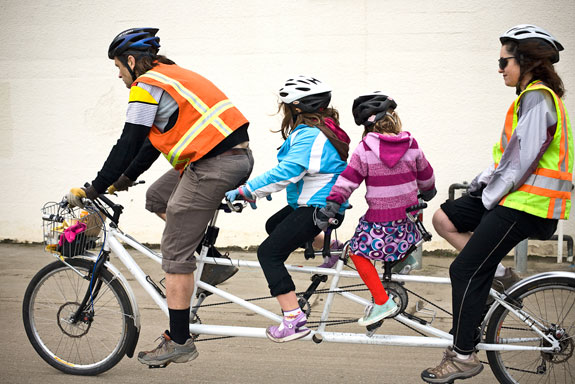 More Innovative Projects in the Works
The green protected bike lanes on Market Street are what San Francisco bicyclists should expect to become the norm, as the SFMTA considers folding the SFBC's Connecting the City vision into its long-range plans. The agency's bike planners have acknowledged that standard bicycle lanes that place people on bikes between auto traffic and the door zone are not the future.
"Today's investment in Connecting the City with welcoming, family-friendly bikeways will have benefits to the health, affordability, local economy, and environmental well-being of San Francisco for decades to come," Shahum said.
If San Francisco wants to meet its goal of making 20 percent of all trips by bicycle by 2020 it'll need to elevate its game, and we've been told that discussions are taking place internally at the SFMTA, and other city departments, on just how to do it. Next month, a group of Dutch experts will arrive to review some specific projects and give the SFMTA's planners design advice.
"The agency is giving a lot of consideration into the next generation of bike plans and what is best to guide the city into the next level," said Smith. "We're a gold level city for biking already, so how do we get to be platinum?"
The agency is currently planning other innovative projects, including protected cycletracks on JFK Drive in Golden Gate Park, Fell and Oak streets and a two-way cycletrack on Cargo Way. It also has launched a trial to test three different street treatments aimed at preventing right-hook turns by drivers on 17th Street between Dolores and Valencia. The idea is to figure out which treatment is the most intuitive for drivers and bicyclists sharing the space.
"This particular experiment is something that nationally, we think is really significant," Smith explained. "A lot of things that we're doing have a lot of other cities sort of watching and learning from our approach, and then taking on some of our approaches since our guidelines and manuals haven't caught up with the state of the practice."
Here's a list of the SFMTA's accomplishments since the bike injunction was fully lifted last August:
Completed 17 projects adding bike lanes to 14 miles of streets. 19 miles (over 50 percent) of the bike lanes laid out in the Bike Plan have been implemented.
Installed about 2,800 shared roadway bike markings (sharrows) along 124 different street segments totaling about 38 miles.
Installed about 500 bike racks providing 1,000 bicycle parking spaces.
Installed eight on-street bike corrals to accommodate high bike parking demand in commercial areas. The City now has a total of 14 bike corrals, and plans to install 11 more by the end of 2011.
Implemented several innovative bikeway improvements, including:
Improvements to Market Street including five green bike boxes, green-backed sharrows and expanded green paint and safe-hit post buffers.
Bike lanes buffered with safe-hit posts on Alemany Boulevard, Division Street, Laguna Honda Boulevard and Portola Drive, with plans to add additional safe-hit post buffers to bike lanes on Monterey Boulevard San Jose Avenue in August.
Traffic signal changes at Fell and Scott streets to improve bicycle safety.
Green treatments along the Fell Street bicycle lane near the Divisadero ARCO station.
Testing of "door zone" treatments and "right-hook" treatments along 17th Street.
Other significant accomplishments during this period include:
Announced a regional bike sharing program last fall and approved an interagency agreement in June supporting the scheduled project launch in spring 2012.
Implemented a policy change to allow folding bikes on Muni vehicles.
Completed conceptual design for the Masonic Avenue streetscape project.
Completed planning and design for a two-way cycle track on Cargo Way – this project is scheduled to be completed by the end of 2011 and will be San Francisco's first two-way cycle track.
Continued planning, design and community outreach for parking-buffered cycle tracks on John F. Kennedy Drive in Golden Gate Park. This project is scheduled to be completed by the end of 2011 and will be San Francisco's first parking-buffered cycle track.
Secured funding for planning and design of bikeway improvements along Fell and Oak Streets to improve this key connection along "The Wiggle" bike route.
Source: SFMTA
Bryan Goebel is a reporter at KQED Public Radio in San Francisco. A veteran journalist and writer, he helped launch Streetsblog SF in 2009 and served as editor for three years. He lives car-free in the Castro District.
Stay in touch
Sign up for our free newsletter