Bicycle Parking
Supervisor Avalos Introduces Landmark Bicycle Access Legislation
1:55 PM PDT on September 21, 2011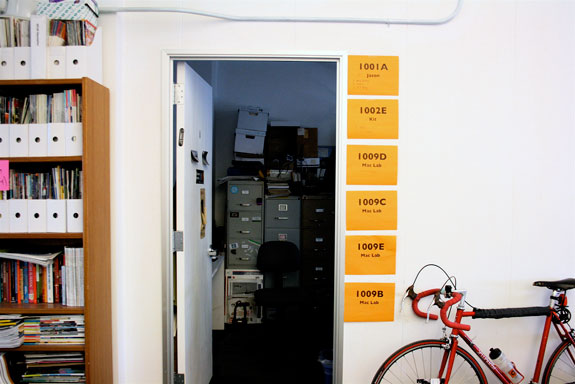 Groundbreaking legislation introduced by Supervisor and mayoral candidate John Avalos yesterday would allow the thousands of people who pedal to work in San Francisco to bring their bikes into the office.  The "Bicycle Access and Safety Ordinance" [pdf] would require the owners and managers of all commercial buildings to allow bikes in the building if there is no secure bike parking.
"Creating a safe, secure place for cyclists to store their bicycles while at work will help to promote alternative modes of transportation and contribute to the City's effort to cut emissions, improve air quality, maximize public transportation and ease congestion," the legislation reads. "Allowing bicycles in office buildings is an effective way to encourage cycling."
The legislation is an improved version of a 2009 bill passed in New York City, the only U.S. city with a bicycle access law. One big difference is that SF's version wouldn't only apply to buildings with freight elevators. Bike commuters would not be forced to enter work through dark, garbage strewn alleys and could roll their bikes into front lobbies along with strollers, wheeled briefcases and all the other belongings workers schlep in on a daily basis. If approved, San Francisco would have the country's strongest bicycle access ordinance.
"I think this is a great step toward ensuring more secure bike parking for the growing number of people riding to work in San Francisco. It's sorely needed," said Leah Shahum, the executive director of the San Francisco Bicycle Coalition. "We've heard a lot of unfortunate stories from people who would bike to work if they had secure bike parking at their office, and there's a lot of buildings that don't allow it."
San Francisco law already requires secure bike parking in all new commercial buildings. Shahum said a growing number of employers and building owners are recognizing that more and more employees are biking to the office and that it translates into a healthier, more productive workforce. That's why many companies are negotiating bike parking into their leases, realizing that attracting the best and brightest means providing a safe, convenient place to park your bike.
Building owners could still opt out under a few exceptions, but only after a city inspection. Saying no triggers a comprehensive Bicycle Access Plan. The exemptions would be granted only if:
(i) the building's elevators are not available for bicycle access because unique circumstances exist involving substantial safety risks directly related to the use of such elevator; or(ii) there is secure alternate covered off-street parking or secure alternate indoor no-cost bicycle parking available on the premises or within three blocks or 750 feet, whichever is less, of the subject building sufficient to accommodate all tenants or subtenants of the building requesting bicycle access.
Dave Snyder, the executive director of the California Bicycle Coalition and an occasional Streetsblog contributor, was happy with the proposed ordinance but suggested it be strengthened to add language ensuring that the alternate bike parking requirement listed in the exception (ii) complies with the city's bike planning code.
Bryan Goebel is a reporter at KQED Public Radio in San Francisco. A veteran journalist and writer, he helped launch Streetsblog SF in 2009 and served as editor for three years. He lives car-free in the Castro District.
Stay in touch
Sign up for our free newsletter