Mayor Ed Lee
How Mayor Lee Can Make Smart Investments in Safer Streets in 2012
7:00 PM PST on January 17, 2012
With Mayor Ed Lee inaugurated to his first full term, Streetsblog is asking leading advocates and experts to lay out their ideas for how the mayor can move San Francisco's transportation policy forward. We continue our series with today's installment from Elizabeth Stampe, executive director of Walk San Francisco.
At Walk San Francisco's big member bash last month, Mayor Ed Lee celebrated San Francisco becoming the first big city in the state to take swift action to make neighborhoods safer for kids to walk to school by implementing 15 mile per hour zones at 60 schools out of 180 to come.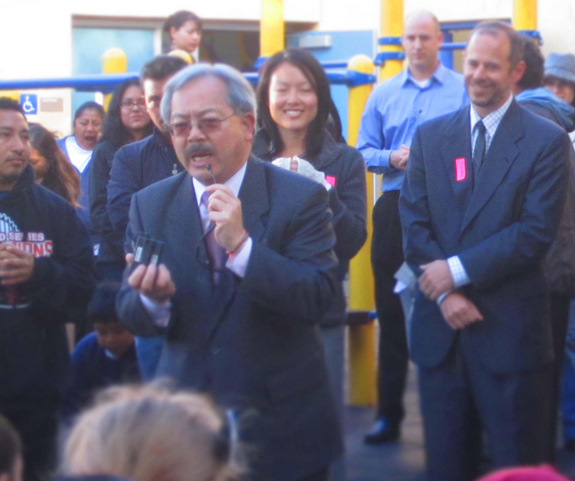 "We will, in our lifetimes, get to zero" pedestrian deaths, declared the Mayor, calling for "experimenting out of the box with every possible idea to make streets safer."
The mayor set a bold vision for San Francisco, and an "out of the box" approach may be just what we need to reach it. But to stand by his commitment, Mayor Lee must provide the leadership our city needs to make smart, immediate investments to improve pedestrian safety in 2012.
Over half of the city's serious and fatal pedestrian crashes occur on just 7 percent of the city's streets, according to the Mayor's Pedestrian Safety Task Force, which started work last year on former Mayor Gavin Newsom's December 2010 Executive Directive on Pedestrian Safety [PDF].
That finding can provide critical guidance for the city to effectively direct its resources -- from traffic enforcement to street redesigns -- to save the most lives. Streets that are safer and more pleasant to walk on, research has shown, also tend to increase home values and benefit the bottom line for local businesses and city coffers.
We have the funds available to invest in safer streets. San Francisco voters in 2010 approved Prop AA, a vehicle license fee that helps fund pedestrian safety improvements, as well as last fall's Prop B, which provides $50 million in bonds for both walking and biking.
As Mayor Lee begins his first full term in 2012, here are a few key initiatives he can take to save lives and help boost the economy: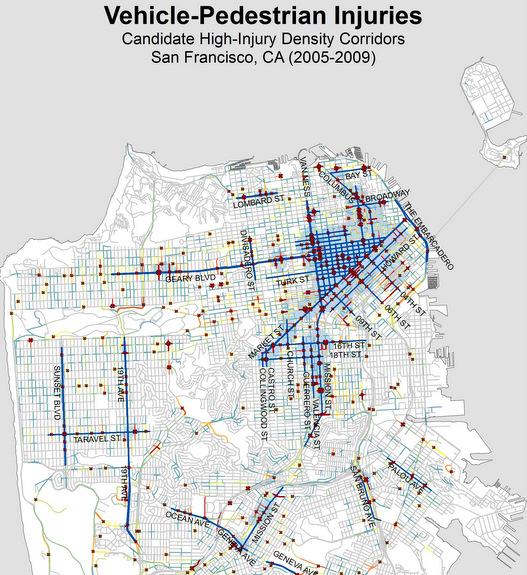 Create a Pedestrian Action Plan to fix 10 miles of streets per year. New York City has committed to improving pedestrian safety on 60 miles of streets per year, and San Francisco can set similar goals. The Better Streets Plan was a good start, but it lacked any commitment by the city to implement it. How much will the city do, and how soon? What can city agencies do to reduce the costs and time it takes to calm motor traffic and widen sidewalks?If Mayor Lee is serious about pedestrian safety, he will set clear goals for delivering the better streets our city has been promised for so long.
Mayor Lee knows that improving streets can make the city thrive. Getting Prop B passed was a great start; now it's time to walk the walk and use it wisely.
Stay in touch
Sign up for our free newsletter