Bicycle Infrastructure
Misguided Enforcement Precedes ThinkBike Improvements on the Wiggle
4:38 PM PST on January 31, 2012
The Wiggle -- the growingly popular, mostly-flat bicycling route connecting SF's eastern and western neighborhoods -- should become more bike-friendly in the next year. After consulting with Dutch bicycle planners, the SFMTA is planning new upgrades to increase the safety and comfort of people walking and biking on the route, including "green-backed" sharrows, zebra-striped crosswalks, and bikeways on Fell and Oak Streets, which planners now say are coming next winter.
As bicycle traffic increases along the Wiggle, improved crosswalks and other potential traffic-calming measures could help assuage complaints police say they've heard from some residents that stop sign violators are making it a less comfortable place to walk. Though no significant bike-pedestrian crashes are known to have been reported, police have begun stepping up enforcement in the area against people on bikes (and drivers, they say) who officers determine to be running stop signs and red lights.
"That's not going to solve the problem," says Morgan Fitzgibbons, co-founder of the Wigg Party, a group focused on promoting environmental sustainability in the neighborhoods around the Wiggle. He said rude or dangerous behavior is limited to a minority of bicycle riders, and while an education and outreach initiative on the streets would be a good idea, the root of the problem is that "these streets are simply designed for cars."
Current stop sign laws, pointed out Fizgibbons, are tailored for car movement. While Idaho has allowed bicycle riders in that state to treat stop signs as yield signs with positive results for nearly 30 years, California requires both bicyclists and drivers to come to a full stop. Advocates say the Idaho approach -- which still requires bicyclists to slow down and yield to others who have the right-of-way -- simply legitimizes common practice, since people on bikes can safely negotiate smaller intersections like those on the Wiggle without the need for a full stop, while also clarifying expectations between different users.
"If you start designing the streets for the use that it actually receives, then you're going to engender an attitude of respect from cyclists," said Fitzgibbons. "I think when you start making the Wiggle a known place [for bicycles], and create that identity around the Wiggle, then you can start holding the cyclists who use it to a higher standard."
Last September, SFMTA planners looking to transform the Wiggle into a more walkable, liveable, and bikeable place sought inspiration from Dutch planners, who in recent decades have pioneered and refined street designs to safely accommodate people on foot, on bikes, and in cars.
During the two-day ThinkBike workshops, planners took a ride along three of the city's main bike corridors: Market Street, Polk Street, and the Wiggle. Drawing on Dutch expertise, the groups sketched conceptual re-imaginings of the streets and listed recommendations for a more pedestrian- and bike-friendly environment. This year will see the first of those ideas [PDF] implemented on the Wiggle.
In the coming months, the SFMTA plans to install "green-backed" sharrows (seen already on Market Street at Van Ness) and continental crosswalks (a.k.a. "zebra-striped" -- one was installed along Steiner last year) along the route from Steiner to Scott Streets, states an SFMTA report [PDF] submitted to the SF Bicycle Advisory Committee last week. The report also mentions that "wayfinding and traffic engineering improvements to the Market/Duboce/Buchanan intersection are under consideration." The critical bikeway link on Fell and Oak Streets, connecting the Wiggle to the pathway on the Panhandle, will also come next winter -- a few months sooner than recently reported -- according to an SFMTA presentation.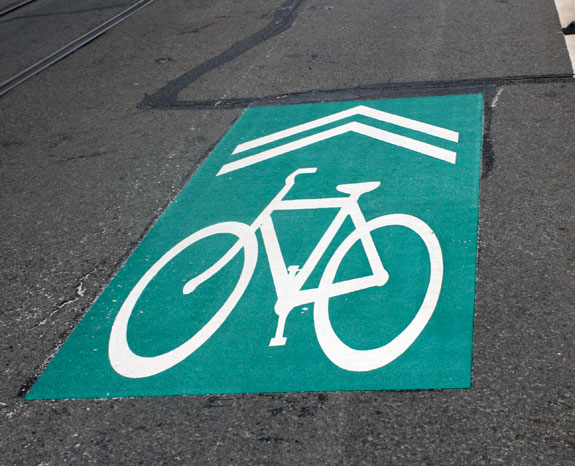 Come summer, the Church and Duboce Track Improvement project is expected to be completed with an exclusive green bike "channel" on Duboce near the Church intersection, connected by paint markings guiding bike riders across rail tracks in the intersection, said SFMTA planners. Green-backed sharrows will also be installed on Duboce to complement the others, and other improvements include new lighting, wider sidewalks and boarding islands, greening, new pavement treatments, sculptures, and more.
The San Francisco Bicycle Coalition "looks forward to immediate and longer-term improvements to the Wiggle, a critical biking pathway and a wonderfully vibrant residential and commercial area," said deputy director Kit Hodge. "Communities in the Duboce Triangle, Lower Haight, Alamo Square Area have been making piece-meal improvements to the Wiggle area for years, which has improved local commercial corridors and enhanced the experience for those walking and biking."
"The creative energy and desires for art and greening can be joined with long-supported traffic calming in the neighborhood to create an improved large-scale neighborhood -- starting right now."
Measures like raised and more-visible crosswalks, bulb-outs, reduced car traffic, and other traffic calming improvements could help make walking across streets on the Wiggle more comfortable. But until they come, police seem to be targeting behaviors that aren't necessarily the most dangerous, particularly when compared to the danger from drivers. Bicycle commuter Stuart Krengel said he and a friend were ticketed by an officer last week for a stop sign violation while making a right turn onto Pierce Street from eastbound Page Street.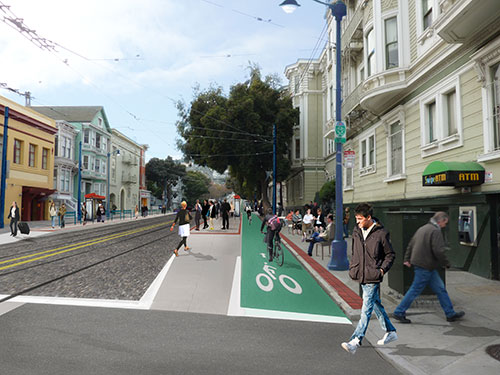 The officer, according to Krengel, told the riders they were required to put their foot down at the stop sign. "We made a safe right turn, and got made an example of," said Krengel, who claimed the officer dodged questions about the legitimacy of the citation and seemed unfamiliar with the Wiggle, but said police would be targeting stop sign violations there for six weeks. On Market Street, police were also spotted today "running a sting on cyclists running red lights," according to a report from Uptown Almanac.
SFPD spokesperson Albie Esparza denied that police were targeting bicyclists for any particular period of time. "There is enforcement because of complaints from the community that bicyclists are running red lights, not stopping at stop signs," he said. "It's a safety effort. We want to make sure that people are aware that they can get a citation for not obeying the rules of the road."
The SF Bicycle Coalition, said Hodge, believes "there shouldn't be any question: pedestrian safety always comes first." At the same time, the organization continues "to work with the city to prioritize the enforcement of the most dangerous behavior from all road users, ensuring that our streets are safe for everyone," she said. "We're excited to see the city putting energy into this vibrant corridor, where a huge and growing number of people are biking and walking."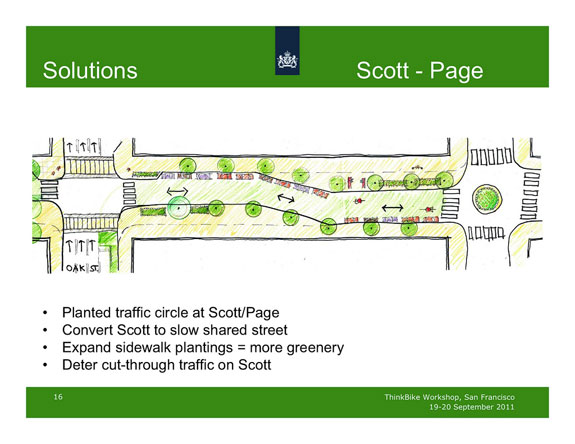 While Page and Pierce -- the corner where Krengel was ticketed -- isn't technically on the Wiggle, Scott Street (one block over) could benefit from concepts sketched at ThinkBike. Many drivers and bicycle commuters move quickly through the somewhat wide intersection of Scott and Page, which lies next to a slope on Page -- another popular bike route.
To calm Scott, ThinkBike planners recommended redesigning it as a "slow shared street" which doesn't separate bikes and cars, but deters cut-through motor traffic and slows speeds using features like wider sidewalks with chicanes, more greening, and a planted traffic circle in the intersection (an idea that has been tried unsuccessfully on Page before).
Plans to implement the more substantial recommendations have yet to surface, but Fitzgibbons says the ThinkBike workshops and the initial projects coming out of it are encouraging. Still, he'll wait until they're on the ground before declaring progress.
"There's often a gap between the good intentions of many people who work [at the SFMTA] and the implementation," said Fitzgibbons. "What you end up having is a political leadership -- namely the mayor, and on down from there -- who instead of wanting to do the right thing and improving the city, they're more concerned with taking everybody's temperature."
"When that's your goal, you're always going to run into people who aren't on board. If that's your tactic, you're never going to get anything done."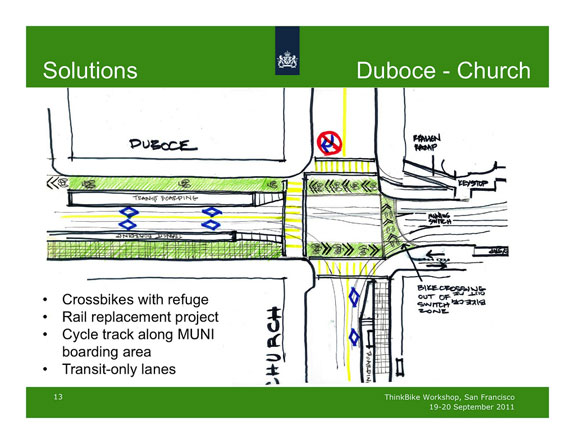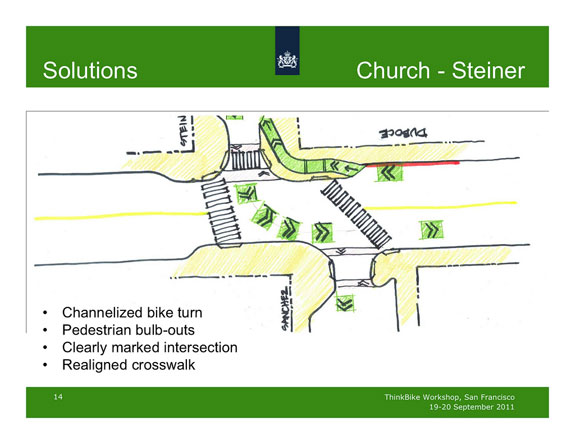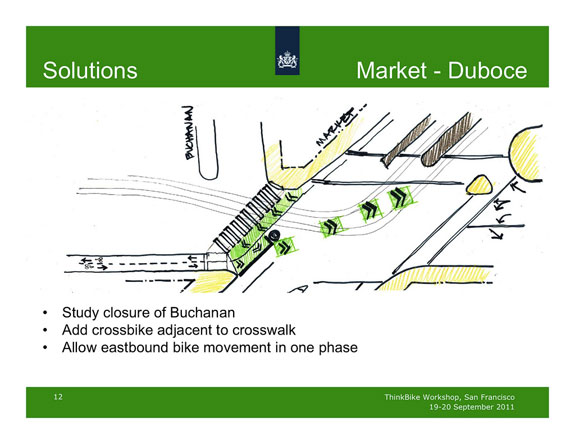 Aaron was the editor of Streetsblog San Francisco from January 2012 until October 2015. He joined Streetsblog in 2010 after studying rhetoric and political communication at SF State University and spending a semester in Denmark.
Read More:
Stay in touch
Sign up for our free newsletter