San Jose Bike Party: Special Ride With Lord Mayor of Dublin, Ireland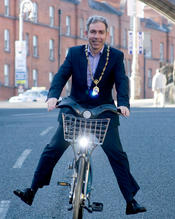 SJBP would like to invite you to ride with Andrew Montague, the 342nd Lord Mayor of Dublin, as well as council members, and other notables from our City Hall as we take a slow tour of what we love about cycling in our fair city and hopefully introduce them to what Bike Party is all about.
Bring your friends and family but most importantly bring your Music trailer. Everyone should be prepared for a leisurely paced ride that starts and stops at City Hall.