Bicycling
Advocates: Despite Bike-Ped Death, Cars Still Greatest Danger to Peds
4:08 PM PDT on April 9, 2012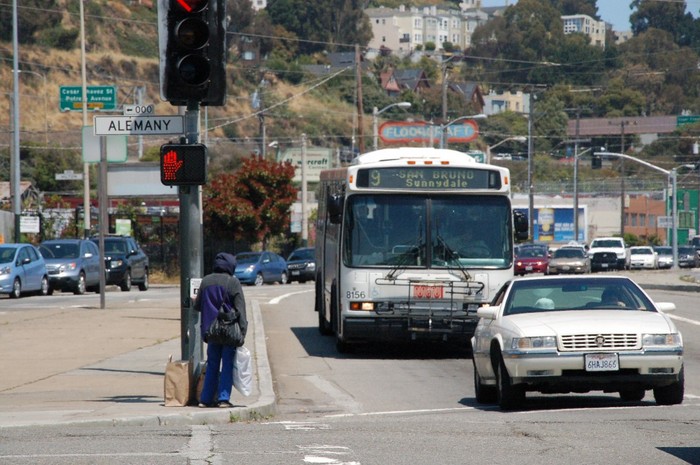 In the midst of a wave of media attention around the recent bicycle-pedestrian death in the Castro, walking and bicycling advocates today re-affirmed the greatest dangers facing pedestrians on San Francisco's streets: high-speed roads and dangerous driving behavior.
In a KQED radio forum this morning, Walk SF Executive Director Elizabeth Stampe, SF Bicycle Coalition (SFBC) Executive Director Leah Shahum, SF Bicycle Advisory Committee Chair Bert Hill, and Captain Al Casciato of the SFPD Traffic Company all seemed to agree that the recent death of Sutchi Hui was as tragic as any, and that safer streets will require better street engineering as well as more effective enforcement and education efforts to elicit more courteous behavior among people using all modes of transport.
Still, there's no question, they said: The vast majority of the more than 800 pedestrian injuries or deaths on San Francisco's streets every year involve motorists and occur disproportionately on high-speed "arterial" streets.
"In a way, this is kind of a man-bites-dog story," Stampe said of the bike-ped crash -- an event receiving an unusual amount of attention precisely because it happens so infrequently, while too-common car-pedestrian crashes go vastly under-reported. "This is a real tragedy," Stampe continued. "I don't think anybody disagrees, a lot of people are upset, and it's not okay for people to be hit in a crosswalk and killed in San Francisco. But the fact remains that three people a day are hit by cars... and that's an underestimate."
In fact, four other pedestrians have been killed this year alone, according to the SFPD, two of them in the same week as the bike-pedestrian fatality. The death of one still-unidentified victim killed by a Muni bus driver also made national headlines, but the other three victims killed by auto drivers, including 45-year-old Tom Ferguson (killed on the same day as the bus victim), received little more than a few blurbs in the media.
As the SF Bay Guardian pointed out, from 2000 to 2009, 220 pedestrians were killed in San Francisco, mostly by car drivers who rarely face criminal charges. None of those deaths are known to have involved bicycles. Media attention, however, seems to have focused on the two fatal bicycle crashes that occurred within the last year, and their reports rarely provide the statistics about traffic deaths in San Francisco. (Some of the more dramatic cases, like the Concord driver who ran over a family biking on the sidewalk this weekend, killing two, tend to garner more media attention.)
The behavior of Chris Bucchere, the bicycle rider who killed 71-year-old Sutchi Hui at Castro and Market Streets, has been roundly condemned, even by bicycling advocates, particularly in light of an online post in which Bucchere described "plowing through the crosswalk" and seemed more concerned about his broken helmet than about Hui.
"Of course, if there were problems and someone behaved recklessly, they should be held accountable. I would be the first to say that," said Shahum of the SFBC. "Fortunately, though... these are very rare occurrences."
The SFBC, Shahum pointed out, has long provided bicycling education classes and outreach efforts which instruct bicyclists to always yield to pedestrians. In fact, the organization released its new "Bicycle Rules of the Road" tip sheet for its Bicycle Education and Safety Week during the same week Hui was injured. Last Friday, in light of Hui's death, the SFBC set up an outreach booth to hand out safety literature on Market Street and released a statement saying staff is "deeply saddened" by the news and "troubled" by Bucchere's account of the crash.
While a few callers on this morning's forum complained of bicyclists "flying all over" with impunity, Captain Casciato assured the audience that officers issue "quite a bit of citations" to bicyclists. He also pointed out the value of offering alternatives to traffic fines. In "the next couple weeks," he said, the department will roll out a bicycle and pedestrian traffic school program, similar to the options available to drivers. The department will also make it easier for bicyclists who have received traffic citations to file formal complaints about street engineering that is difficult for bicyclists to navigate legally, he said.
Far more effective in reducing pedestrian injuries will be the SFPD's new targeted enforcement plan, which focuses on the most dangerous violations in the areas with the highest rates of pedestrian crashes. As Stampe pointed out, over half of the city's pedestrian injuries occur on just five percent of its streets -- namely, high-speed roads in areas like the Tenderloin and South of Market.
"It's pretty intuitive. It's the wide, fast streets that act like freeways, where folks feel like they can drive really fast and don't have to watch out for each other," said Stampe. "What that tells us is if we can target our enforcement and our fixing the streets in those areas, we can make a big difference pretty fast and keep a lot more people safe."
Aaron was the editor of Streetsblog San Francisco from January 2012 until October 2015. He joined Streetsblog in 2010 after studying rhetoric and political communication at SF State University and spending a semester in Denmark.
Stay in touch
Sign up for our free newsletter