Bus Rapid Transit
Supervisor Farrell Delays SFCTA Approval of Van Ness BRT Design
4:04 PM PDT on May 15, 2012
A crucial step in advancing the Van Ness Bus Rapid Transit project was delayed for a month today after Supervisor Mark Farrell, a member of the SF County Transportation Authority (SFCTA) Plans and Programs Committee, complained that he wasn't comfortable voting on the latest design proposal which he said he "hasn't been briefed on."
The committee was expected to approve recommendation of the proposal today, sending it to the full board for a vote next Tuesday. However, Farrell said that it was "absolutely inappropriate" for him vote on it today without feeling adequately informed, and that he still wouldn't be ready in a week. Although the proposal received unanimous approval from the SFMTA Board of Directors today, the SFCTA committee decided to postpone its vote until its next meeting, in one month.
Staying updated on the project, said Farrell, "is a responsibility of mine, for sure, but it's also a responsibility of the TA [staff]."
"In my opinion, it is very appropriate and, I think, necessary for all the supervisors and commissioners who get affected by this in their districts to be fully briefed on this before we're asked to vote on any portion of this, even if it might be non-binding," he said.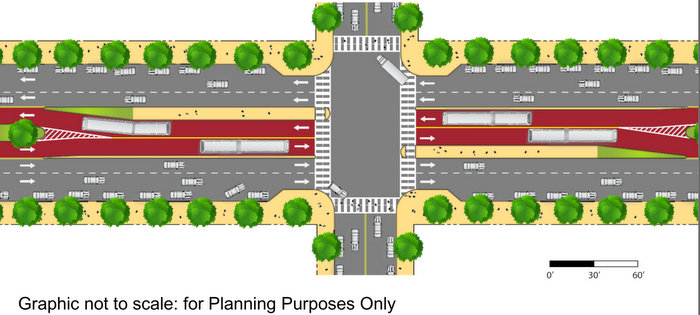 The proposal, widely praised by officials and advocates for combining the best features of two design alternatives, was publicly announced on April 27. Responding to Farrell's complaints, SFCTA Deputy Director of Planning Tilly Chang said agency staff offered to brief the board members at their previous meeting on April 24. "Some did take us up, and some didn't take us up," she said.
She also noted that the project "has been out there" in the media, and staff made a presentation on the proposal to the committee today which they've given to neighborhood groups and at other public meetings. Today's committee meeting agenda also included a report [PDF] on the design proposal and a memo [PDF], dated last Thursday, which provides background information.
Postponing the vote could potentially set the entire project back a month, as Chang said agency staff needs board approval before completing the remaining analysis needed on the proposal. She said the vote would not bind the agency to the design.
The project, currently expected to be completed by fall 2016, has seen numerous delays since it was first conceived in 2004. "The Federal Transit Administration, in particular, is very keen for us to essentially catch up, as we are behind on our schedule," said Chang. "However, they do understand the need for a strong local process."
Aaron was the editor of Streetsblog San Francisco from January 2012 until October 2015. He joined Streetsblog in 2010 after studying rhetoric and political communication at SF State University and spending a semester in Denmark.
Stay in touch
Sign up for our free newsletter