BART
Can BART's Bike Plan Double Bike-to-Train Ridership in Ten Years?
3:35 PM PDT on May 23, 2012
BART is updating its bicycle plan [PDF] and setting a new goal to double the rate of passengers who bike within ten years, largely by expanding secure parking and possibly relaxing its restrictions on bike access to trains and stations. The agency is asking the public to submit comments on the draft plan until May 27.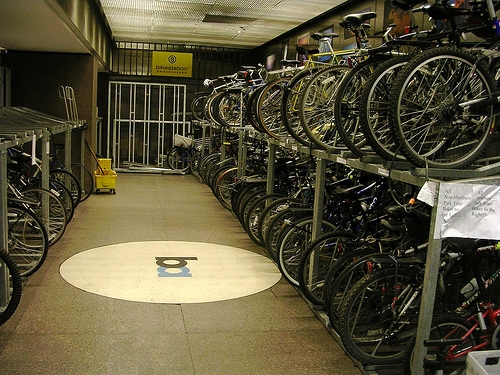 Currently, four percent of passengers get to and from BART stations by bike. To bolster that rate, the agency is looking to roll out a targeted expansion of secure parking facilities, as well as reduce "blackout periods," when bikes are banned on rush hour trains, and revisiting its ban on bikes on escalators. The agency even developed its own computer model, known as the Bike Investment Tool, to project the ridership increases derived from different types of upgrades at each station.
Overall, the plan has been widely praised: the SF Examiner called it a wise strategy to reduce emissions and "encourage smarter, denser growth around existing stations and new extensions" by reducing demand for car parking.
Bike advocates said they're encouraged by the agency's commitment to installing more secure bike parking, and that reducing blackout periods is also key to boosting ridership for those who need it. San Francisco Bicycle Coalition Executive Director Leah Shahum said the organization "commends the BART leadership for stepping up their commitment to encouraging more bicycles on and to the BART stations. By implementing this new plan, BART is sure to draw even more new customers and lessen its overall cost per rider by encouraging more bike-transit trips replacing car-transit trips." The SFBC is calling on members to urge BART staff to eliminate blackout periods.
Steve Beroldo, BART's Bike Program manager, said staff is "going to look very hard at the blackout periods, see if there are some where we can narrow them down a little bit and do some experiments to see what'll happen if more people are on board." He and advocates noted that Grace Crunican, the agency's new general manager, seems more willing to experiment with changes than previous management. BART also expects to roll out new train cars with more dedicated bike space in 2017.
Even with reduced blackout periods, space aboard trains will always be limited, said East Bay Bicycle Coalition Executive Director Renee Rivera, adding that the greatest barrier to "dramatically increasing the numbers of people accessing BART by bike" is the lack of "excellent, abundant, secure parking at the stations."
"The surveys that BART has done show that half the people who bring their bikes on BART bring them on because of the lack of secure parking at the station," Rivera said. As a model, she pointed to the wildly successful, valet-attended Berkley Bike Station outside Downtown Berkeley BART, and other rack installations inside paid areas. Oakland's 19th Street BART station is also set to get a bike station within a year.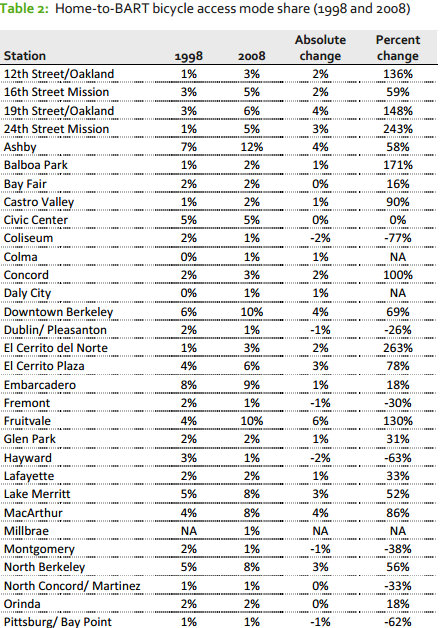 Tom Radulovich, a member of the BART Board of Directors, said he hopes to see more measurable commitments to station improvements and policy changes included in the plan. "Too often, plans are a vague statement of intentions, and less often a road map," he said.
Beroldo said the plan is intended to provide "high-level" guidance for ongoing improvements, like parking expansions, which the agency is "actively" making. Demand is clearly high. The 65 bike rack spaces recently installed inside Oakland's 19th Street station and the 30 racks at 12th Street quickly filled up, Beroldo said. Still, he said he's eager to move forward with more.
"I want to take what we've done and make some choices as to which of those are really going to be the most productive in the short-term, and jump into the implementation stage," said Beroldo. "While that's going on, I want to be thinking about all the strategies, and at which stations it's best to implement them, and what's going to be involved."
The plan also recommends "re-visiting" the agency's prohibition of bikes on escalators. Currently, the agency requires cycling passengers to use elevators or carry their bikes on stairs, which the plan notes "can be challenging, particularly for children, elderly, and disabled cyclists." Radulovich said he supports lifting the ban.
"Although staff has concluded that the ban should not be lifted due to safety and liability concerns," the plan says, "this policy deserves review because of the high cost of stairway channels, the inconvenience and unpleasantness of some BART elevators and the perceived unfairness of banning bikes on escalators, but not other large items, such as luggage."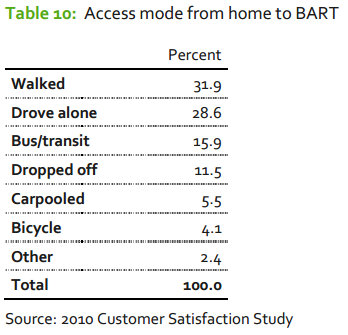 Radulovich pointed out that people regularly take their bikes on escalators on many transit systems "without signs of carnage," and that the ban seems to be a case of "the insurance department writing rules that don't actually make a lot of sense." No other American transit system expressly allows bikes on escalators, but systems in many other countries do, and Radulovich noted some American systems don't expressly prohibit it, either.
Other recommendations in the plan include evaluating and increasing automobile parking fees, which the plan says have "a profound impact on bicycle access rates"; advocating for other agencies to make bikeway improvements on connecting routes; and improving signage for wayfinding.
Beroldo said staff will present a final plan to the BART Board on June 14, and that it should be adopted by the end of that month.
Check out the draft plan [PDF] for more, as well as a plethora of data on bike parking and usage. The public can submit comments to BART for the remainder of the week by emailing bikes@bart.gov.
Aaron was the editor of Streetsblog San Francisco from January 2012 until October 2015. He joined Streetsblog in 2010 after studying rhetoric and political communication at SF State University and spending a semester in Denmark.
Read More:
Stay in touch
Sign up for our free newsletter