Bicycling
SFMTA Promotes Walking and Biking as Solution to Muni Shutdown
4:18 PM PDT on May 24, 2012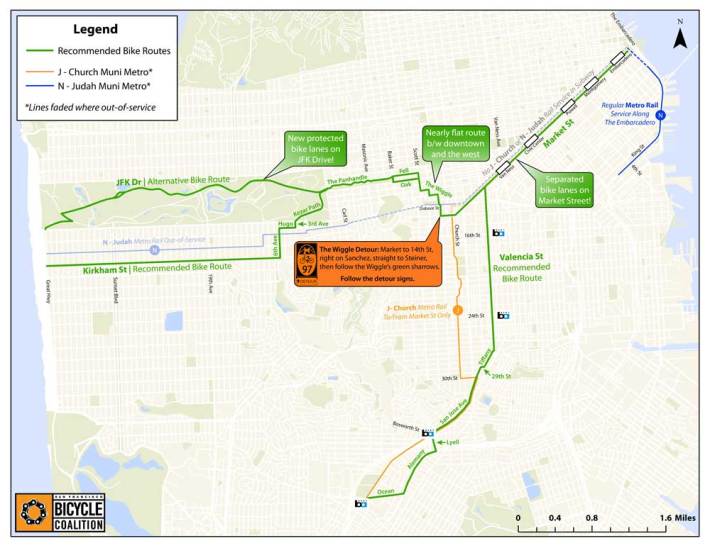 As the SFMTA braces for the nine-day shutdown of Muni's N-Judah line and other detours starting tomorrow, the agency has been encouraging the tens of thousands of riders whose commutes will be disrupted to bike and walk to work as a way to avoid the anticipated Muni havoc.
The agency has even teamed up with biking and walking advocates. The SFMTA home page currently sports an alert directing visitors to the websites of the SF Bike Coalition (SFBC) and Walk SF for info on biking and walking, and staff recently sent out a press release promoting the SFBC's "bike trains" and the organization's easy-to-follow map highlighting the main bike routes along the disrupted N and J lines.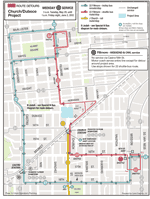 While these kinds of promotions wouldn't be unusual leading up to Bike to Work Day (Walk to Work Day is a little less visible), and ads encouraging Muni trips to events like ballgames can regularly be seen on buses and trains, nudging regular commuters to try human-powered transport seems to be a novel step in the right direction. Will it stick?
SFMTA Director of Transportation Ed Reiskin said the agency will "absolutely" continue regularly promoting bicycling as a transportation solution in cases like tomorrow's shutdown. "I think one of the reasons the voters put together the transportation department and the transit agency was for exactly something like this," he said. "When we're looking at how we deal with a pretty significant disruption in the transit service, we're looking at all modes."
No doubt, biking and walking can be powerful solutions to myriad problems both temporary and recurring. So it's promising to see the SFMTA more actively endorsing them as commute options, even if it's just for a few days.
More typically, Reiskin noted, the SFMTA's promotion of biking and walking has been limited to efforts like safety education for people who already bike regularly. He said he sees the agency's current efforts as more "akin to Bike to Work Day."
"We're trying to reach people who might not otherwise be comfortable cycling or familiar with cycling as a commuter, and trying to create a comfortable space for them to do that, and hoping to get a couple of converts out of the process as well," said Reiskin.
The shutdown runs from 7 p.m. tomorrow until 5 a.m. on Monday, June 4, though only four of the nine days will be work days because of the long Memorial Day weekend. There will be no rail service on the N-Judah, Muni's busiest line (it will be served by buses instead), and J-Church riders will have to transfer to other Metro lines at Market Street. The 22-Fillmore will also be detoured, as will bike traffic on the Wiggle, which will have to connect to Market via 14th and Sanchez Streets.
The SFMTA says the shutdown is necessary for street construction for the ongoing Church and Duboce Track and Street Improvement Project. According to the SFMTA website, crews will be "reconstructing the street base" on Duboce Avenue and rebuilding the northern Muni boarding island. The entire project, which includes replacing the rail tracks and a revamp of the streetscape with pedestrian, bike, and transit improvements, is expected to take roughly another year to complete.
Aaron was the editor of Streetsblog San Francisco from January 2012 until October 2015. He joined Streetsblog in 2010 after studying rhetoric and political communication at SF State University and spending a semester in Denmark.
Stay in touch
Sign up for our free newsletter