Bicycle Safety
USF Student Robert Yegge Killed by Truck Driver at Oak and Franklin
2:44 PM PDT on June 7, 2012
Robert Yegge, a 22-year-old student at University of San Francisco, died last week after a truck driver struck and killed him while he was bicycling at Oak and Franklin Streets.
According to the SF Chronicle, Yegge was hospitalized on Tuesday, May 29, at about 2:30 p.m., after police said the driver "stopped at a blinking red light, then made a right onto Franklin. The truck [driver] hit the bicyclist, who was riding on Oak in the opposite direction and had a green light." According to his brother, Yegge fell down attempting to avoid the truck, and suffered major injuries when his head struck the side of its tire. The driver remained at the scene.
After several days in a coma, Yegge reportedly died from his injuries on Saturday at SF General Hospital. SFPD said the investigation is still open, and there's no word yet on whether the driver will receive a citation or face charges.
Friends and family are planning a memorial for Yegge this Sunday in Golden Gate Park and have been posting photos and stories on a Facebook page dedicated in his memory.
The intersection of Oak and Franklin Streets -- both of which are designed as three-lane, one-way motorways -- is a perilous one. Oak is one-way eastbound approaching Franklin from the west, and one-way westbound approaching Franklin from the east. From each direction, including the three eastbound lanes, traffic on Oak funnels onto Franklin. Yegge was reportedly turning onto Franklin from eastbound Oak when the collision occurred.
In 2001, 24-year-old Michelle Lyn O'Connor was killed while biking at the same intersection by a garbage truck driver. The fatal collision occurred just three hours before a San Francisco Bicycle Coalition rally at City Hall to call attention to bicycling fatalities.
Yegge lived in an artists' collective in the outer Mission and worked at a restaurant in the Marina, said his brother, Nick Yegge. Posts written by friends, family, and colleagues celebrate him as a "cheerful," "funny" man "full of potential." A USF professor described him as "unfailingly smart, engaged, thoughtful, curious, and kind."
Nick Yegge said Robert "loved" riding his bike, which he assembled himself at the Bike Kitchen, and often visited his family in Campbell by taking it aboard Caltrain.
"He was all about having wonderful experiences," said Nick, who recalled a recent story he'd heard in which Robert had only accepted a ride home from friends (instead of biking) on the condition that they let him take them to his favorite spot in the Marina -- the Wave Organ, where tides splashing on differently-sized tubes make unusual sounds. "He was a fun-loving, kind person, very inquisitive, and very smart. A very intellectual kid," he said.
Yegge needed to complete one more class to receive his biochemistry degree and had walked in his graduation ceremony about a week before his crash.
Rachel Welles, identifying herself as a friend of Yegge, commented on SFist:
...we are devastated. He was one class away from graduating at USF. I try not to waste time being angry at what happened but let this be a wake up call for those drivers that barely stop at an intersection. Your decision and awareness could save a life... Whoever the driver is, I hope you think twice about being careless at the wheel again.
A memorial picnic for Robert Yegge is planned for this Sunday at Marx Meadow in Golden Gate Park. The SFBC will be joining Yegge's friends and family on a bicycle ride to the picnic from the McKinley statue at the east end of the Panhandle, departing at 11 a.m., in remembrance.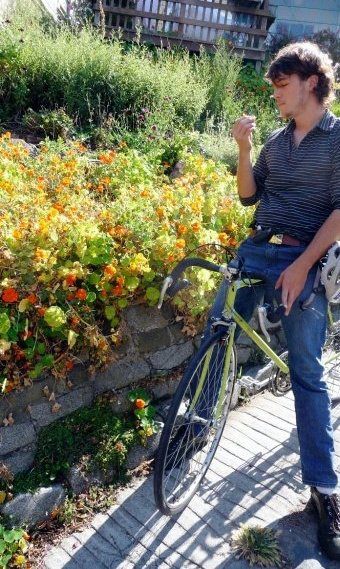 Aaron was the editor of Streetsblog San Francisco from January 2012 until October 2015. He joined Streetsblog in 2010 after studying rhetoric and political communication at SF State University and spending a semester in Denmark.
Stay in touch
Sign up for our free newsletter