Elderly & Disabled
SFMTA Looks to Tackle Abuse of Handicap Parking Placards
4:09 PM PDT on August 15, 2012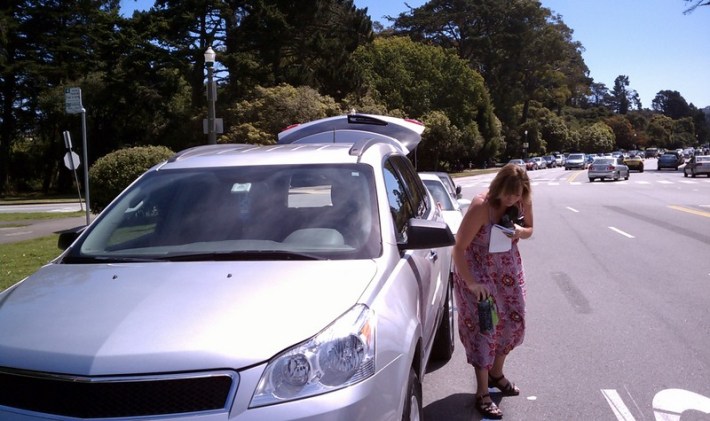 Aiming to reduce handicap parking placard abuse, the SF Municipal Transportation Agency is in the early stages of an effort to reform state laws that enshrine free parking privileges for placard holders.
Misuse of handicap placards deprives legitimately disabled drivers of reserved parking spaces close to their destinations, cheats the SFMTA out of public revenue, and lets drivers occupy high-demand parking spots all day with no incentive to limit their stay. SFMTA spokesperson Paul Rose said the agency confiscates about 2,000 parking placards for misuse every year, and the fine for the violation was raised this year to $935, following a state bill passed in 2009 that increased the fine ceiling from $100 to $1,000.
Though few details are available on what the SFMTA's campaign would look like, Rose said any reforms would require state legislation, and that "all options are on the table." SFMTA staff is currently "working with our regional and state partners to address placard reform to not only make parking easier and more efficient for all, but to improve access to drivers with disabilities," he said. The agency plans to form an advisory council on the issue this fall.
Aside from the number of placards confiscated annually, the extent of placard abuse in San Francisco isn't known. But as the Sacramento Bee reported last week, it's a growing problem in cities throughout California:
As placard numbers grow across the state, frustrated officials from Sacramento to Los Angeles say too many users are in fact able-bodied people abusing the system. It's time to put a stop to it, they say.

The number of placards in Sacramento has risen far faster in recent years than population growth. As of last year, 100,000 vehicles in Sacramento County had placards. That's nearly one of every 10 vehicles, the third highest among California counties.

Under state law, the Department of Motor Vehicles issues placards to drivers who submit applications signed by any of a number of health care workers: doctors, chiropractors, optometrists, physician's assistants, nurse practitioners and nurse midwives.
The application requires the health care worker to say the person meets disability requirements set by the state. Qualifying disabilities include lung disease, heart disease, inability to move without an assistive device, significant limitation to lower extremities, other disorders that impair mobility, and visual acuity below certain standards.

DMV officials say they think most of the abuse is by relatives and caregivers of legitimate placard holders.

Some city officials in California say such misuse would be dramatically reduced by requiring some or all placard users to pay for street parking at regular metered spots. Under that scenario, cities likely would increase the number of blue curb zones designated only for cars with disabled placards. Parking lots would continue to have disabled parking spots.
As Jay Primus, the SFMTA's manager of SFPark, pointed out in the article, "Right now, there is tremendous (financial) incentive to cheat," which is enshrined in California law:
The disabled parking perk has deep roots in California. State law in the 1950s gave disabled veterans parking privileges. That was extended in 1959 to everyone deemed disabled. Officials and advocates say the law was put in place to aid people whose physical limitations made it hard to use meters, and hard to return to a metered car in a timely manner. Advocates also say the law takes into account that some disabled people are lower-income or on a fixed income.
The SFMTA launched an effort several years ago to require placard holders to pay at meters, with funds going toward improving disability access, but it "did not get off the ground," according to the Bee.
Reforming the state law to allow cities more leverage in tackling the problem would lead to a much more sane parking system, as UCLA professor and parking guru Donald Shoup told the Bee: "It would lead to a lot more money for every city if you can flush out the abusers and restrict it to the people who really need it."
Disability advocates, according to the article, said they "certainly want abuse curtailed" and that any such effort should be based on solid data to avoid penalizing people with disabilities.
At an SFMTA Board of Directors meeting in March, director Malcolm Heinicke noted the difficulty of identifying whether or not a placard holder has a legitimate disability that might not be visible. "One of my neighbors said he is convinced that someone using a disabled parking placard in his neighborhood is not actually disabled. I realize, how is he to know?," said Heinicke, pointing the question to SFMTA Director of Transportation Ed Reiskin.
In response, Reiskin encouraged anyone concerned about handicap placard fraud to report information, including the vehicle's license plate number, to the city's 311 hotline. "It's not always evident why someone is legitimately entitled to having that placard," said Reiskin, "but there's certainly no harm in reporting any suspicious, fraudulent activity."
Aaron was the editor of Streetsblog San Francisco from January 2012 until October 2015. He joined Streetsblog in 2010 after studying rhetoric and political communication at SF State University and spending a semester in Denmark.
Stay in touch
Sign up for our free newsletter