Hayes Valley
Despite Skewed Parking Math, Planning Commission Approves 55 Laguna
5:03 PM PDT on August 17, 2012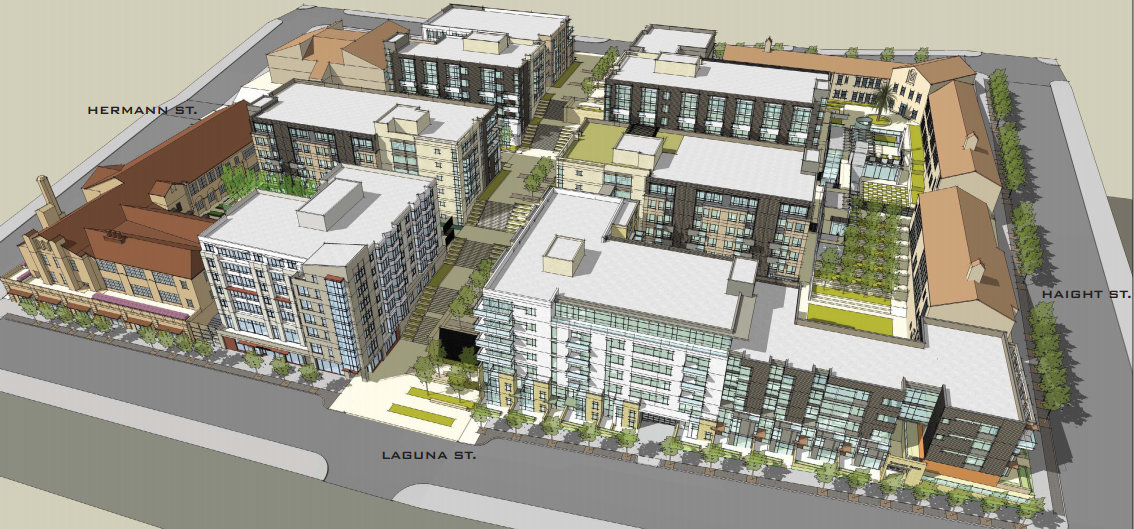 The SF Planning Commission unanimously approved a major housing development at 55 Laguna Street yesterday, despite an excessive amount of car parking that livable streets advocates say should be lowered under stricter parking maximums.
The development would include two housing projects: one with 330 apartments, and another with 110 affordable apartments for an LGBT senior community. They would share a block at Laguna and Waller with existing buildings owned by the University of California, filling in what is currently mostly a parking lot, used primarily for the UC Dental School. All told, 310 underground parking spaces would be built on the site.
But the developers and Planning Department staff used misleading calculations and inappropriate zoning requirements to build a number of parking spaces that falls within parking maximums, say members of the Hayes Valley Neighborhood Association. As Streetsblog has written, more car parking generally means residents are more likely to own and drive cars.
In a letter to the Planning Commission [PDF], HVNA Transportation and Planning Committee Chair Jason Henderson claimed that developer Woods LLC is skewing the number of parking spaces by claiming that 51 of the 310 parking spaces will be used by the UC Dental School (even though the public can use 15 of them), and incorporating the 110 affordable housing units into the ratio, which HVNA doesn't think should be counted. HVNA says the developers have refused the organization's requests to reduce the number of residential parking spaces from 249 to 165, which would include only one parking space for every two market-rate housing units, or 0.5:1.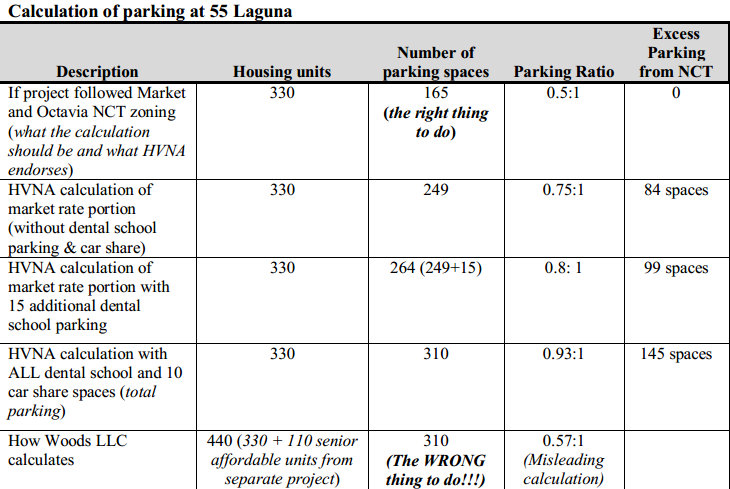 "Parking ruins density -- all the benefits of this high density infill project will be negated by too many cars and garage entrances on Laguna and Buchanan Streets," Henderson wrote. "The circulation for these additional cars will inevitably jam Haight Street, a key transit first street, causing more delay to transit passengers and more danger to pedestrians and bicyclists."
Henderson told the Planning Commission that throughout the years-long negotiations, UC administrators have "stubbornly insisted on 51 parking spaces for their dental school. On any given day, go check it out, there are about 20 cars there at the most."
Even with the math used by developers, the project doesn't meet the 0.5:1 parking ratio required for sites zoned as "Neighborhood Commercial Transit" (NCT) in the Market-Octavia Plan, which HVNA argues should apply to 55 Laguna. However, the plan zoned the site as a "RM-3" (Residential, Mixed, "medium" density) and a "NC‐3" (Neighborhood Commercial, moderate scale) district. The applicable parking maximum, then, is a 0.75:1 ratio under the Special Use District for the area. Steve Vettel of Farella Braun + Martel, who spoke for the project developers, said that their calculated parking ratio of 0.57:1 "falls well below" that zoning requirement.
Henderson argued in the letter that the Planning Department ought to have applied the 0.5:1 maximum used for NCT districts. "The immediate neighborhood has over 50 percent car free households and one of the guiding principles of the Market and Octavia Plan is to accommodate new infill development while maintaining neighborhood character and livability."
But because the Planning Department chose not to apply the stricter parking ratio, wrote Henderson, the developers were able "to insert an egregiously large amount of parking at the expense of the city's transit first goals, the integrity of the Market and Octavia Plan, and the livability of our neighborhood."
The excess parking was also opposed by SPUR and D5 Supervisor Christina Olague, the previous president of the Planning Commission, who "hopes that more could be done regarding the parking, but is pleased with the progress thus far," an aide from her office said.
One improvement worth noting in the project is that a section of Waller Street, which is currently a pair of parking lots with a wall in the middle, would be reconnected as a pedestrian "mews" with stairways.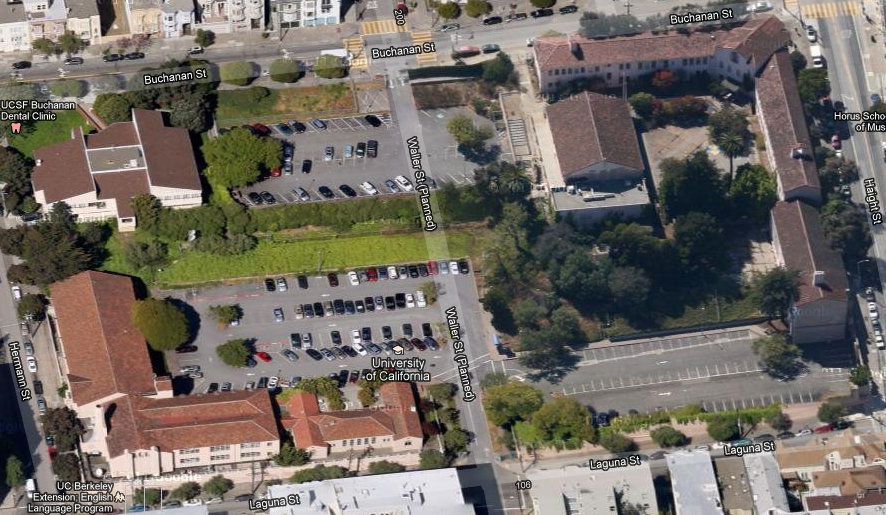 While affordable housing advocates speaking at the Planning Commission hearing called for stricter requirements for including below-market-rate apartments, Henderson pointed out that reducing parking was a key step towards that goal: "You get affordable housing by having less parking -- zero parking."
The only member of the Planning Commission who went on the record in support of the amount of parking was Michael Antonini. No other commissioners spoke on the parking issue at the hearing.
"The last thing a senior wants to do is give up his or her ability to drive," said Antonini.
However, Henderson pointed out that adding parking works against seniors' needs. "Many seniors I know, and even people I know who are approaching old age, are more concerned about being able to afford to live  in a safe, convenient, walkable and transit-rich area like this one. Walkable neighborhoods are mobility independence," said Henderson.
"There are many innovative ideas out there for senior mobility -- delivery of groceries, tricycles, low-floor buses with discounted transit passes, and reliable service -- but overarching all of that is affordable housing. And by saddling new housing with excessive parking like this, developers continue to ratchet-up housing costs to the detriment of many seniors' housing choices. "
Aaron was the editor of Streetsblog San Francisco from January 2012 until October 2015. He joined Streetsblog in 2010 after studying rhetoric and political communication at SF State University and spending a semester in Denmark.
Read More:
Stay in touch
Sign up for our free newsletter