Bicycle Safety
A Reality Check for the DA's New Traffic Safety Campaign
5:58 PM PST on December 10, 2012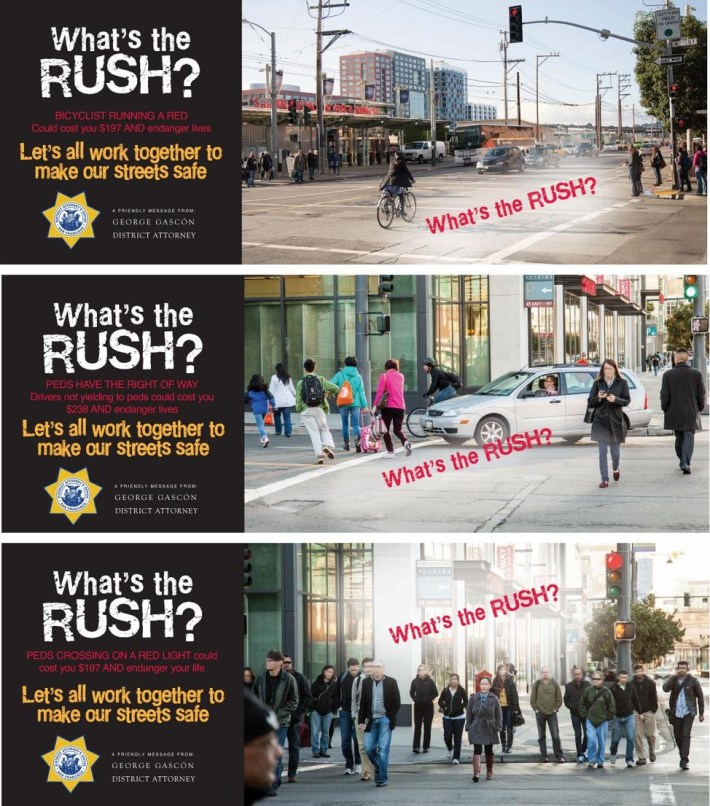 For a district attorney who wants to save lives on the streets, using data to target the most dangerous traffic behaviors should be a no-brainer.
But the new traffic safety ad campaign announced today by San Francisco DA George Gascón seems to use little application of crash data collected by his own former police department. The three versions of the ad, which feature the tagline "What's the Rush?," list fines for respective traffic violations and plead, "Let's all work together to make our streets safe."
It's encouraging that the DA is bringing attention to the need for safer streets: As a press release from his office noted, "Among California cities, San Francisco has historically had the highest per capita vehicle-pedestrian injury collision rate." In 2011, 28 people were killed on San Francisco streets: 17 pedestrians, three bicyclists, and eight people in motor vehicles.
But not only do but the ads fail to target the most common causes of injuries and deaths on San Francisco streets -- by seeming to equate plowing through pedestrians in a crosswalk with crossing against a light on bike or foot, they downplay the disproportionately greater risk inherent in driving a motor vehicle.
Rather than emphasize fines, a more effective approach for the campaign might be to list the number of people injured or killed by such violations each year. Fortunately, that data is summarized in the SF Municipal Transportation Agency's 2010-2011 Traffic Collision Report [PDF], the most recent one available.
Comparing just the violations shown in the ads, SFPD found more than 10 times as many motorists at fault for violating pedestrian right-of-way in a crosswalk (343 injury collisions in 2011) than police did pedestrians (33) or bicyclists (32) for crossing against a red light in the same year.
In injury collisions with pedestrians and bicyclists, 878 driver violations were cited, compared with 271 for pedestrians and 305 for bicyclists.
In pedestrian collisions, drivers were found at fault two-thirds of the time, and 95 percent of pedestrians injured last year were hit by drivers, the report says. The top four motorist violations were cited 473 times, comprising more than half of all pedestrian and motorist violations cited in such crashes combined:
Failure to yield to pedestrian at a crosswalk (343)
Driving at unsafe speed given conditions of roadway (59)
Unsafe maneuver or backing after being parked (43)
Violation of signal red light (28)
No doubt, Gascón has much more crash data to brush up on, but his campaign's messaging is problematic at a much more basic level. It flies in the face of the intuitive notion that operating a motor vehicle on city streets carries much greater risk to others than does moving around without a car. Negotiating the streets safely does require attention and courtesy to some extent on everyone's part, but holding drivers and non-drivers to the same standard smacks of favorism toward motorists -- or, as Copenhagenize's Mikael Colville-Anderson puts it, "Ignoring the bull in the China shop."
"Walking does not pose a danger to anyone else. Driving does," said Elizabeth Stampe, executive director of Walk SF. "It's simple physics. There is a greater level of responsibility that goes with driving a 4,000-pound vehicle, and we'd like to see the DA make that clear."
"We appreciate the DA's attention to keeping people safe while walking," she added, "but we'd like to see a clearer focus on the most dangerous behaviors."
A note about bicycle-car collisions: The SFMTA report says, "Fault for collisions seems to be evenly split among bicycle riders and motorists, according to the SFPD collision reports." But given that evidence of SFPD bias against bicycle riders crops up again and again, those numbers come into question. For instance, the most commonly cited bicyclist violation by far (100 of 325) was "driving at unsafe speed given conditions of roadway" (drivers were blamed for 20 such violations) -- a conspicuous statistic, given that bicycles are generally much slower than cars.
Meanwhile, the DA has filed charges against the two bicyclists who have killed pedestrians -- the only such cases in the city in at least seven years -- but Gascón's promise to hold drivers responsible for the same crime may have faltered. Although Gascón did charge a few such drivers after taking office last year, the pattern of withholding charges against most drivers who are responsible for killing pedestrians, as long as they're sober drivers and don't flee the scene, seems to have returned.
But even in the two recent cases of pedestrians who were killed by drivers this fall, in which one driver was drunk and one ran a red light, Stampe said she's still hasn't heard back from the DA's office on whether charges will be filed. "We've asked the DA's office several times for updates," she said.
Aaron was the editor of Streetsblog San Francisco from January 2012 until October 2015. He joined Streetsblog in 2010 after studying rhetoric and political communication at SF State University and spending a semester in Denmark.
Stay in touch
Sign up for our free newsletter