Bicycle Infrastructure
Delayed Again, "Better Market Street" Could Move Bikeway to Mission Street
5:20 PM PST on February 5, 2013
The latest news from the Better Market Street project could be a setback for implementing a safe, accessible bike network in San Francisco -- not just because construction has been pushed back to 2017, four years past the original date -- but because one of the three proposals that planners will study involves building a protected bike lane route on Mission Street instead of Market, while re-routing Muni's 14-Mission bus line on to Market in the downtown stretch.
The SF Chronicle reported on the proposal today, saying that protected bike lanes on parallel Mission would be easier to engineer and "far safer" for bicycle riders compared to Market. Routing the 14-Mission onto downtown Market, meanwhile, would allow more room for buses than the 9-foot-wide bus lanes on Mission, where Muni drivers today must often occupy two traffic lanes to squeeze through.
But by abandoning Market as a priority bike route, the Mission Street option would go against a primary principle of bike planning: Improving the most direct routes, which people are naturally drawn to use. Market Street, the city's wide, main thoroughfare, serves as the most convenient and direct east-west bicycling route from downtown to the Wiggle. And with bicycles comprising a significant share of the vehicles on Market, it's been claimed as the busiest bicycling street west of the Mississippi.
"Bikes are a critical part of the current and future economy, social safety and transportation on Market Street," said Kit Hodge, deputy director of the SF Bicycle Coalition. "The companies that are now moving to mid-Market depend on great bicycling access. It would be odd for the city to roll back its own mid-Market revitalization efforts back by limiting biking."
As Department of Public Works spokesperson Mindy Linetzky told the Chronicle, "This is a once-in-a-generation opportunity to rethink and improve San Francisco's premier street. Market Street is San Francisco's main street. It should look and work like one."
So will the vision for San Francisco's "premier" street include bicycles?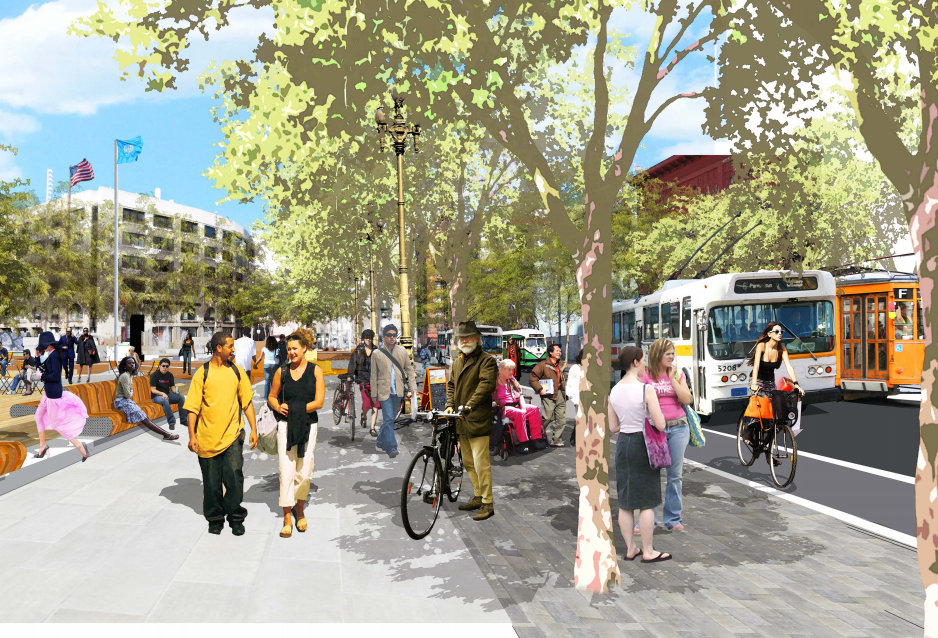 Protected bike lanes on Market are still one of the three options [PDF] to be studied in the Better Market Street project, along with a proposal that wouldn't add protected bike lanes on Market or Mission. In a statement, DPW Director Mohammed Nuru said, "All three options have their pros and cons, and deserve further exploration."
"Adding Mission Street to the mix opens up new opportunities, such as making Market Street the city's true transit spine and allowing traffic signals to be re-timed on Mission Street to better accommodate cyclists," he added. "But more study is needed to see what would work best to promote safe and efficient travel."
One factor behind the Mission proposal may be that it's seen as a way to cut the cost of rebuilding the curbs on Market. DPW Project Manager Kris Opbroek told the Chronicle that "the curbs (on Market Street) were built of granite and meant to stay. We don't take moving them lightly."
But if that is the case, "That approach does not sync up with the high-level calls from the mayor and other decision-makers about making Market Street our grand boulevard, doing it right, and making it a world-class street," said Leah Shahum, the SFBC's executive director. "If it is about money, then they're backing away from the vision."
Randy Shaw, director of the Tenderloin Housing Clinic, said he sees protected bike lanes as an integral part of revitalizing Mid-Market by inviting more activity and shopping. "The vision of Market Street -- you have to have bicycles. It's not going to work without bicycles," he said. "This isn't the Better Mission Street Plan."
"In terms of connecting to the Tenderloin, you basically are taking the bikes away from the Tenderloin," added Shaw.
Whether the Mission proposal would have any bearing on other proposals in Better Market Street, such as banning personal cars on lower Market or creating more inviting public spaces and faster surface transit, is unclear.
While Mission deserves to be looked at for bike improvements, Shahum said, "It doesn't make sense to kick the can and push off the problem with a-whole-nother set of challenges on another street."
One apparent challenge in the proposal would be connecting the re-aligned routes for Muni and bicycles to their respective established routes heading into the Mission District. To use a Mission Street bikeway, riders would presumably get to Valencia and upper Market Streets possibly via Otis (currently a one-way street) and McCoppin Streets, either through a narrow shortcut or by making extra turns. This change would come despite the new left-turn bike signal at Market and Valencia, and the straight shot that Market provides to the Wiggle. Market, along with Valencia and the Wiggle, comprise some of San Francisco's most heavily-cycled routes.
Buses on the 14-Mission line, meanwhile, would theoretically have to make left turns off of Market and Mission in either direction, plus another right turn, slowing down the already-sluggish line. New overhead power lines, which have been cited by the SFMTA as prohibitively expensive in other transit projects, may also have to be installed.
Hodge pointed out that safer bicycling options can entice Muni riders to try biking and help relieve overcrowding on buses. Placing bikeways where they're visible along busy Muni corridors seems like a good way to maximize that effect. "By making biking through key areas even more accessible and welcoming, you're going to take people off of Muni and open up seats for people who really need it," said Hodge.
Hodge also emphasized the SFBC's frustration with the latest delay for Better Market Street, a widely-anticipated project that was originally expected to begin construction this year. The announcement from project managers that the construction date would be pushed from 2015 to 2017 comes three months after DPW's Opbroek was grilled for repeated delays by Supervisors David Chiu and Scott Wiener at a hearing. At the time, Wiener called the multi-agency project "the latest manifestation" of the city's poor track record on timely implementation of transportation improvements that both save lives and improve quality of life.
"Clearly, [the project] needs a lot of help to get back on track," said Hodge.
In the meantime, Hodge said the SFBC is urging the city to implement new pilot bikeway projects on Market this summer, building on the success of past pilots like the traffic diversions at Sixth and Tenth Streets and the green, post-separated bike lanes west of Eighth Street. As examples, the organization is calling for more forced turns for cars on westbound Market, as well as banning right turns on to Market from cross streets, to reduce car traffic. Green-backed sharrows have been widely cheered since they were implemented along the Wiggle, the SFBC says, and more should be added along Market.
After years of prolonged discussions, said Hodge, "The city really can't throw its hands up and give up on finding the best possible solution for biking on Market Street."
"Improving Mission Street in addition to Market Street for bicycling is very appealing, just as we have long sought upgrades to the bike lanes on Folsom and Howard Streets," she said. "But the demand for safe and comfortable biking on Market Street for all kinds of people remains strong and will only grow stronger in the coming years."
Aaron was the editor of Streetsblog San Francisco from January 2012 until October 2015. He joined Streetsblog in 2010 after studying rhetoric and political communication at SF State University and spending a semester in Denmark.
Read More:
Stay in touch
Sign up for our free newsletter