Bicycle Infrastructure
Supes Urge Regional Funding for Complete Street Redesign of Masonic
5:23 PM PST on February 25, 2013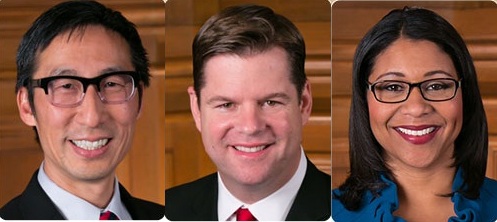 The plan to overhaul deadly Masonic Avenue with pedestrian safety upgrades and raised, protected bike lanes could get much of its funding from a regional grant program. The Masonic project has received a strong endorsement from three members of the Board of Supervisors, who sent a letter last week to the head of the SF County Transportation Authority, urging the agency to make Masonic a priority as it decides which projects it will recommend to the Metropolitan Transportation Commission for funding.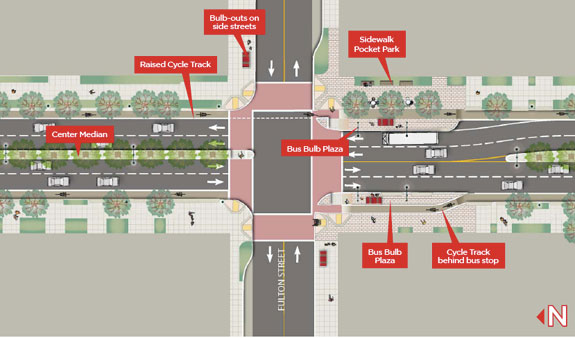 Chances that the $20 million project will get a substantial chunk from the MTC's "One Bay Area Grant" are promising. When the SFCTA presented [PDF] its initial list of ten potential OBAG projects in December, Masonic was in the "upper tier." It remains to be seen how much funding will go to Masonic, which along with other projects, such as the redesign of Second Street, is in the running for a limited pool of funds. The SF Municipal Transportation Agency applied for $16 million in OBAG funds for Masonic, but the SFCTA says only $35 million will be available for $54 million in funding requests citywide.
In their letter to SFCTA Acting Executive Director Maria Lombardo [PDF], Supervisors Eric Mar, Mark Farrell, and London Breed pointed to "a number of high-profile collisions and fatalities on this route in recent years," asserting that "we must act fast to improve this corridor."
We recognize there are multiple candidate projects with needs exceeding the total available funds, but we ask you to prioritize Masonic Avenue. We consider it a matter of public safety. The project will rectify what is now a fundamentally unsafe street design. It will also improve transit on a major north-south corridor, reduce environmental impact, and increase livability, thus meeting all the criteria established in the Transportation Plan.

Masonic is the only north-south bike route in the area, but is currently very unsafe and unappealing for most riders. The sidewalk bulb-outs, grade-separated bikeways, and tree-lined median are desperately needed on Masonic Avenue.
Along with Masonic, the upper-tier projects competing for OBAG funds include the planned redesign of Second Street, which is slated to receive similar improvements, such as parking-protected bike lanes, a road diet, and pedestrian bulb-outs. The SFMTA applied for $11.6 million in OBAG funds for that project, which is projected to cost $13 million. Also on the list are pedestrian safety improvements on Broadway in Chinatown, and pedestrian and bicycle improvements around the Transbay Transit Center. (See more on the selected projects in this presentation [PDF], and all 12 projects that were submitted for OBAG funds here [PDF].)
The SFCTA expects to issue its final project recommendations and funding requests to the MTC in May. From there, the MTC must approve the funding list of SF projects along with those from elsewhere in the Bay Area. In total, the OBAG program will provide $800 million to street improvement projects throughout the region over the next four years. Priority is given to "Complete Streets" (improving conditions for walking and biking) and "shovel-ready" projects.
With its extensive community planning process and a plan unanimously approved by the SFMTA Board of Directors, the Masonic project certainly fits those criteria.
In their letter, the supervisors praised "the work of the neighborhood associations and SFMTA staff," noting the project's overwhelming community support:
Community members have been working together for the past six years to make Masonic Avenue safer for residents and commuters... The unanimous approval at the SFMTA Board of Directors hearing in 2012 is a testament to the level of support this project has garnered.
Aaron was the editor of Streetsblog San Francisco from January 2012 until October 2015. He joined Streetsblog in 2010 after studying rhetoric and political communication at SF State University and spending a semester in Denmark.
Stay in touch
Sign up for our free newsletter