Bicycle Infrastructure
Bikeway on Mission Street Would Cost More Than One on Market
4:55 PM PST on February 27, 2013
Constructing raised, protected bike lanes on downtown Mission Street would cost more than building them on Market, according to SF Municipal Transportation Agency Director Ed Reiskin.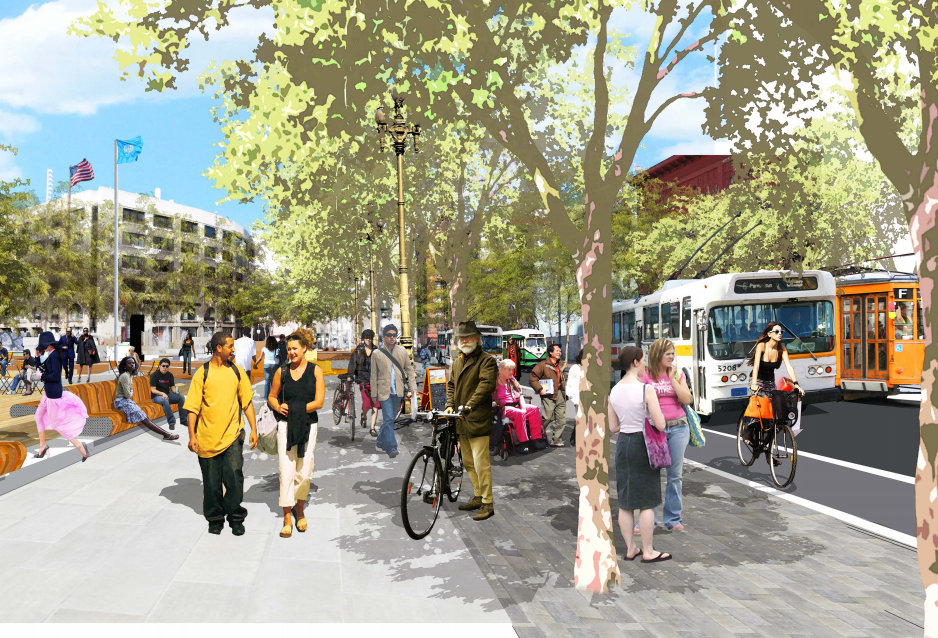 The Mission bikeway proposal, which recently surfaced as an option to be studied in the repeatedly-delayed Better Market Street project, would entail abandoning long-sought bike safety improvements on Market, which is where bicycle riders naturally tend to travel. The Department of Public Works and the SFMTA have said the Mission option, which would also re-route Muni's 14-Mission buses on to Market, would be simpler to engineer, allow the 14 to use Market's wider bus lanes, and could include a "green wave" for bikes on Mission.
But even factoring in the cost of reconstructing Market Street's granite curbs to build raised bike lanes, the Mission option is projected to be more expensive, Reiskin told the SF County Transportation Authority Board (comprised of the Board of Supervisors) at a hearing yesterday. Though the cost estimates for each option aren't immediately available, Reiskin said that even if protected bikeways weren't included at all, construction costs on Market Street would only be cut by an estimated 10 percent. The total cost of the project is estimated to be as high as $450 million, up from the $250 million figure provided last year.
Supervisor Scott Wiener, who, along with Supervisor John Avalos, called for hearings to scrutinize the Mission bikeway proposal and project delays, noted that "ten percent is not a dramatic increase," and that debates about whether or not to build a protected bikeway on Market should focus on policy outcomes, not cost.
Reiskin agreed, saying that the main downside to building protected bike lanes on Market is that some of the real estate would come from the sidewalks. He also acknowledged, "Its strongest point is that Market Street, as we can see out there today, is a natural place where cyclists go, so to the extent that we can get a 'Class 1' facility on Market Street, that's a very strong selling point for this option." ("Class 1" is the CA Highway Design Manual's term for physically protected bikeways.)
Wiener pointed out that, under the Mission scenario, a parking lane would be removed from Mission, though Reiskin said the SFMTA's Transit Effectiveness Project may remove the same amount of parking anyway to widen the bus lanes, which are currently too narrow to fit Muni buses.
Recent criticism of the Better Market project has been focused perhaps as much on the Mission proposal as the repeated delays. Construction was originally supposed to begin this year, but has since been pushed back to 2017, with a completion date of 2019.
Supervisor David Chiu, referring to the materials in Reiskin's presentation, said, "There doesn't seem to be anything to answer the questions of why this project was repeatedly and chronically delayed."
Reiskin, who was chief of DPW before being selected to head the SFMTA in July 2011, said he and other department heads "accept responsibility" for setting the unrealistic construction date of 2013. Since then, the two-year construction period has been pushed back to begin in 2015, then to 2017, as of this month. "We did, over the last year, have some fits and starts as we ran into some walls in terms of the planning and development of this project, and this has taken longer than we would've liked, but it's an extremely complicated project," said Reiskin, who didn't go into greater detail on what those complications are.
Leah Shahum, executive director of the SF Bicycle Coalition, pointed out that the challenges of coordinating a major, multi-agency project "are not new" and that the difficult aspects of improving Market Street have long been known. Yet, she pointed out, projects like the replacement of Doyle Drive with the Presidio Parkway, the Central Subway — and its first phase, the T-Third line — which faced greater levels of complexity and also required major stakeholder input, saw greater focus from city agencies and made faster progress than the Better Market Street project.
Ron Miguel, the former president of the Planning Commission who was appointed by Mayor Ed Lee to chair an advisory group for Better Market Street, agreed. "There is nothing -- I'm sorry Mr. Reiskin -- unusual about Market Street that hasn't been done in San Francisco before," he said. "We've known pretty much about all of the problems that are coming up on Market Street. But we haven't done any planning for it."
Chiu also pointed out that despite the Board of Supervisors and the SFMTA Board of Directors urging the agency to implement more pilot projects to get cars off Market in the near-term, no progress has been made. Reiskin said the agency "would continue with pilot projects," but didn't name any specifically.
More hearings on Better Market Street are expected in the months to come. One is expected to be scheduled at an upcoming meeting of the Board of Supervisors Land Use and Economic Development Committee (at Wiener's request), and Chiu requested project staff to report to the SFCTA Board "at least quarterly."
Aaron was the editor of Streetsblog San Francisco from January 2012 until October 2015. He joined Streetsblog in 2010 after studying rhetoric and political communication at SF State University and spending a semester in Denmark.
Read More:
Stay in touch
Sign up for our free newsletter