Parking
Parking Expert: Underpriced Parking Permits Won't Curb Cruising for Spots
5:00 PM PDT on March 13, 2013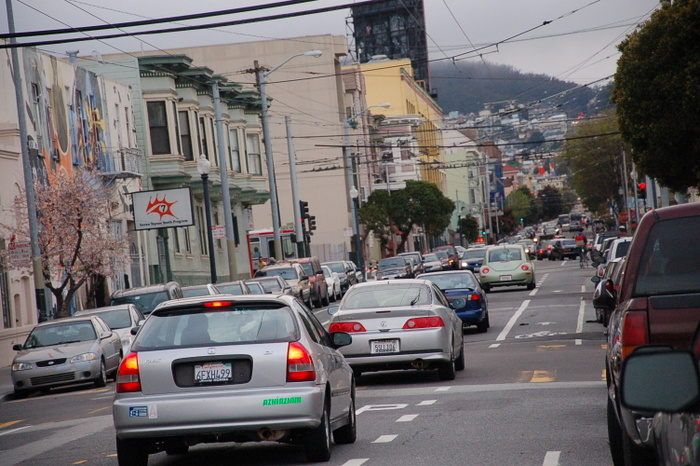 A lot of traffic in the northeast Mission consists of drivers cruising for parking spots. Motorists in the area circle for an average of 27 minutes in search of a free spot on weekday mornings, according to the SF Municipal Transportation Agency, which has held community outreach meetings in recent months to develop a plan for new parking meters and permit restrictions to curb excess traffic in the neighborhood.
In response to fervent opposition to metered parking in the eastern neighborhoods, the SFMTA has pushed back its timeline for installing meters, devoting more attention to data collection and community feedback as it develops parking management plans. On March 21, the agency will present a proposal for the northeast Mission, before beginning the same process of community meetings in the Potrero Hill and Dogpatch neighborhoods.
Rather than asking car-owning residents to pay the going rate for on-street parking, Tony Kelly, a runner-up in the most recent District 10 supervisor race and president of the Potrero Hill Boosters Association, says he has a better idea. In an op-ed in the SF Chronicle today, Kelly said the SFMTA should implement meters and residential parking permits -- $104 annual bumper stickers that give parking priority to local car owners -- but let permit holders park at meters in the area for free.
Kelly claims that the proposal, which hasn't been used in any other neighborhood, would free up parking for residents by shooing away car commuters. (According to the SFMTA, only 26 percent of cars parked in the neighborhood are registered in the local zip codes.) He calls it "a better solution, one suggested by planners, transit advocates and local businesses, that can prioritize parking for residents and also handle parking congestion the way the MTA wants."
Kelly asserts that the northeast Mission is being unfairly targeted because other neighborhoods get RPP zones and no meters, and accuses the SFMTA of "turning its back on decades of transit-first policy." (In fact, the transit-first policy makes no mention of parking permits.)
Do planners really think parking permits that exempt residents from paying for metered parking are such a good idea?
In a recent interview, Jeff Tumlin, a principal at the transportation planning firm Nelson/Nygaard and author of the book Sustainable Transportation Planning, told Streetsblog why RPP zones alone aren't enough to manage demand. Tumlin is working as a consultant for the SFMTA on its eastern neighborhood parking management plans.
While the SFMTA's proposals could include RPP zones (though they're normally initiated by petition), Tumlin explained that RPP is generally ineffective, by itself, at creating enough available spots to curb cruising, because the price of the permits bears no relation to demand for parking. "In denser neighborhoods, an RPP sticker ends up basically becoming a hunting license, rather than a tool for balancing supply and demand," he said. "Typically, the city sells far more stickers than there are spaces, so it fails in its goal in trying to create parking availability."
State law prohibits cities from charging more for permits than the costs to run the program. The annual $104 fee for a permit [PDF] amounts to 28 cents per day (a graduated price doesn't kick in until a household's fifth permit, which costs twice the normal price). At the same time, private parking spots go for hundreds of dollars per month.
Meanwhile, Tumlin said, "If we let residents park in every commercial space, then it would greatly restrict the ability for the commercial and entertainment users to create the availability that they need." Allowing permit holders to park for free at some meters, and not others -- a perk that exists in no other neighborhood -- could also create confusion for parkers and enforcement officers.
"The strategy has been to recognize that the only tool that is truly going to be able to create availability for everyone -- whether they're a resident, or employees, or visitors, is going to be the market," he said. But until California changes its law on parking permits -- which is based on a U.S. Supreme Court decision regarding a case in Virginia -- RPPs in San Francisco cannot be priced according to the market.
On Streetsblog's comment section today, Kelly wrote that if "anyone is interested in changing that policy citywide, or for substantially raising the fees for parking permits, I would be very happy to join that discussion. But instead, the MTA is proposing one policy for San Francisco and another policy for the Mission."
The meters being planned in the eastern neighborhoods won't be part of the SFPark program, which uses sensors and "smart meters" to allow prices to be adjusted according to demand throughout the day. The original plans were part of SFPark, but opposition from residents led the SFMTA to opt for conventional meters instead. Tumlin did say, however, that prices on the northeast Mission meters would be set based on data collected by on-the-ground staff, and that he expects they'll be lower than average parking meter prices. (SFPark meters go as low as $0.25 and can actually save motorists money in comparison to conventional meters).
"It is the city's policy to charge the lowest price at which a few parking spaces are always available on each block. That's another thing I think that citizens have a hard time trusting," said Tumlin. "The city as a whole will always make more money off of a successful neighborhood — a place that is more livable, that is economically successful — than it will ever make off of parking meters."
Where parking meters are installed, Tumlin said the SFMTA is looking "to make it really, really easy to pay your fair share for renting this chunk of street space from the public to store your private goods." All of the city's meters can already be paid by phone, and the agency is working on getting them all to accept credit cards and payment in advance of enforcement hours.
"The idea that's been driving a lot of people crazy is that they're going to have to walk down the block in their pajamas at 8 o'clock every weekday morning with a sack of quarters. An approach like that does not work," he said. With any of the city's new meters, "If you get home late at night, and the meters start running at 9 o'clock in the morning, then you can easily call up and purchase whatever time you need for the next day."
"I think most people will recognize that the street space has real value, and that it is only fair for all motorists to pay equally for renting that space."
Aaron was the editor of Streetsblog San Francisco from January 2012 until October 2015. He joined Streetsblog in 2010 after studying rhetoric and political communication at SF State University and spending a semester in Denmark.
Stay in touch
Sign up for our free newsletter