Development
Planning Commission Approves Ped-Friendly Plan for Market and Dolores
11:10 AM PDT on March 18, 2013
[caption id="attachment_296027" align="aligncenter" width="580" caption="As part of a newly-approved agreement, developers will add a sidewalk extension at Market and Dolores to make room for a mini plaza. Image: ##http://2001marketsf.com/?page_id=9##Prado Group##"]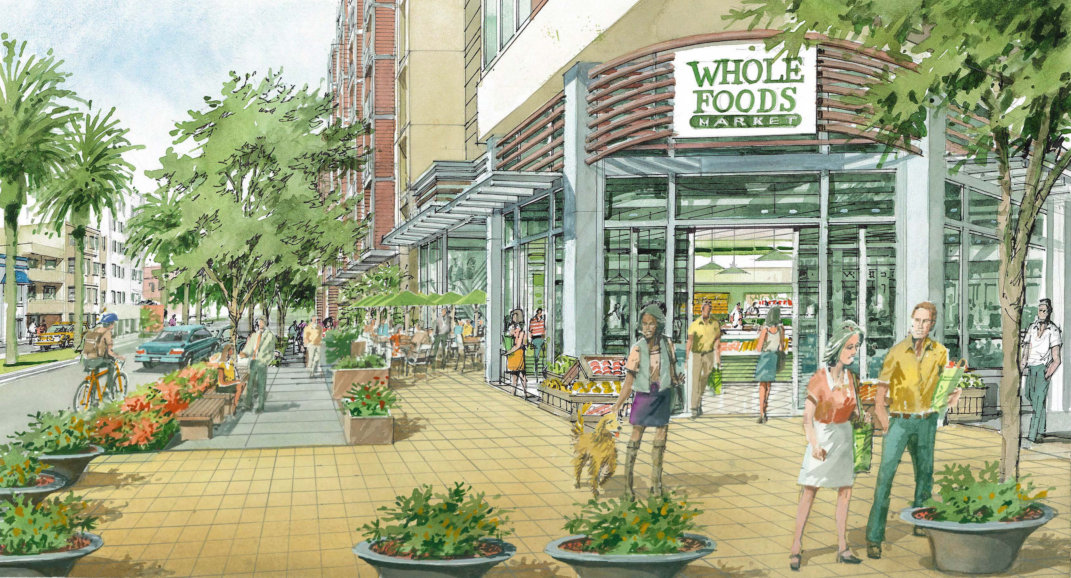 [/caption]
A plan to add a mini plaza and pedestrian safety improvements at Market and Dolores streets was approved by the SF Planning Commission on Thursday. The project will include new pedestrian refuges and sidewalks as wide as 14 feet, as well as special pavement treatments to highlight crosswalks on the block of Dolores between Market and 14th Streets. The crosswalk on Dolores at Clinton Park, a side street, will also be raised.
[caption id="attachment_296031" align="alignright" width="300" caption="Image via ##http://sf.curbed.com/archives/2012/02/27/movement_for_2001_market.php##Curbed SF##"]
[/caption]
The plan received unanimous approval from commissioners, who were not swayed by some neighbors who opposed the conversion of two traffic lanes to pedestrian space on a short, lightly-trafficked section of Dolores. The improvements were part of a city agreement with the developers of an 85-unit apartment building and Whole Foods Market under construction at the corner. The arrangement calls for the developer to install the street upgrades in lieu of $510,000 in impact fees.
"The current design allows cars to whip around the corner quickly onto Dolores, endangering people who are crossing," Walk SF Executive Director Elizabeth Stampe wrote in a letter to the Planning Commission in support of the project. "Dolores itself is also a high-speed street, making conditions more dangerous for all users, since any collisions are made much more serious at higher vehicle speeds."
D8 Supervisor Scott Wiener praised the plan because it "appropriately balances pedestrian safety with traffic flow in the area. It's a unique opportunity that we're not gonna have again to do this upgrade."
"If you've ever walked that intersection or driven by it, it is an incredibly wide, long pedestrian crossing -- one of the longest in the area," he said.
[caption id="attachment_296026" align="aligncenter" width="580" caption="Market and Dolores, seen before construction began on an apartment building and Whole Foods Market at the corner on the right. Image: Google Maps"]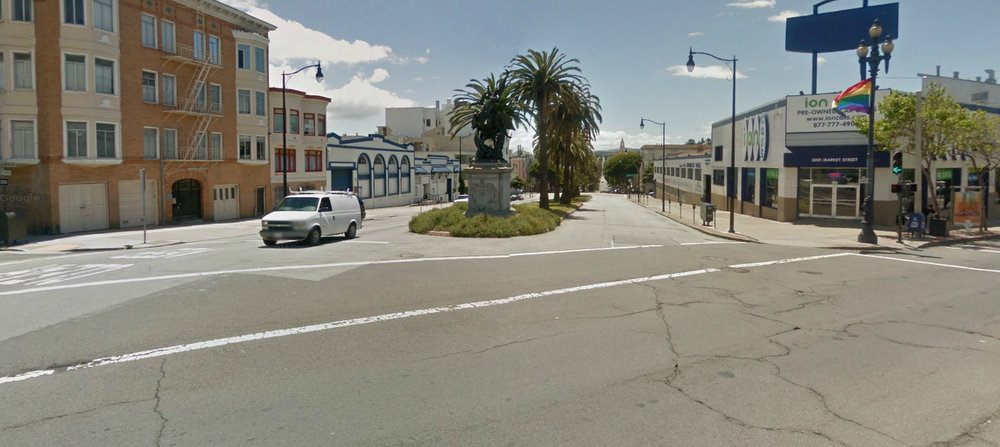 [/caption]
Pedestrian upgrades for Market and Dolores were originally introduced years ago in the Market-Octavia Plan. Wiener, who has called for safety improvements at upper Market's wide intersections, noted that with increased development along the corridor comes more pedestrian activity as well as opportunities to fund long-needed street improvements. "As this area becomes more active, it is going to be even more important that we reduce that crossing so that people are able to get across the intersection safely."
"We talk a lot in San Francisco about improving pedestrian safety and creating livable streets," said Wiener. "We have a lot of great plans for different parts of the city that are sitting on the shelf collecting dust because we usually don't have the funding to actually implement" them.
The proposal was backed by the neighborhood group Dolores United, but opposed by members of the Mission Dolores Neighborhood Association, who called for smaller 8-foot bulb-outs at the T-intersection with Market to avoid any reduction in the number of existing traffic lanes.
[caption id="attachment_296030" align="alignright" width="250" caption="Image via ##http://sf.curbed.com/archives/2012/02/27/movement_for_2001_market.php##Curbed SF##"]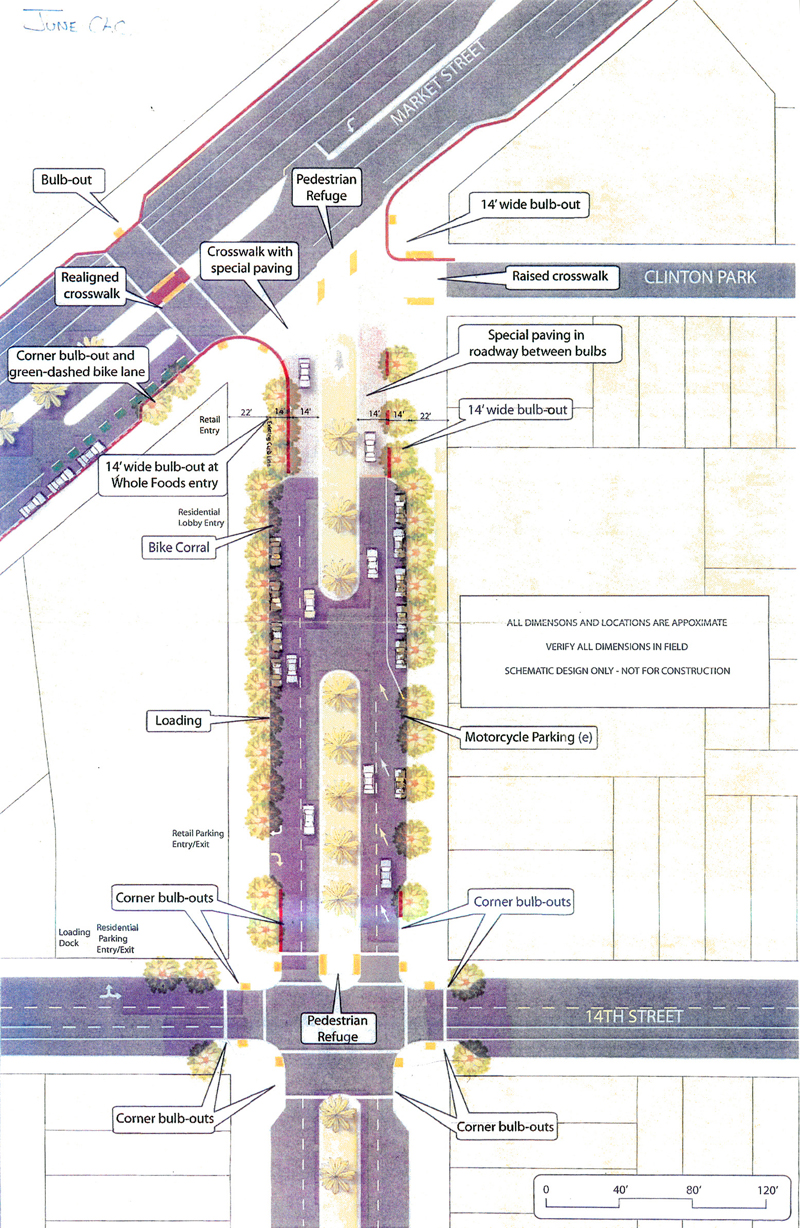 [/caption]
At the most, the neck-down would add a "negligible" traffic delay of one second during commute hours, said Planning Department staffer Greg Riessen, who conducted the "Level of Service" traffic analysis for the project. MDNA reps said they simply didn't believe Riessen's analysis, and member Marius Starkey called the project "politically-motivated social engineering" pushed by Wiener.
Wiener said he actually opposed the Planning Department's original proposal to remove the two traffic lanes along the entire block between Market and 14th Streets, because he thought it would lead to too much car congestion, leading planners to scale back the plan.
Former Walk SF Board President Manish Champsee, who lives in the neighborhood, pointed to Valencia Street as an example of how road diets can make a street calmer and safer. "When you're talking about pedestrian safety, that's the important thing, is slowing people down," he said. "Every little bit counts."
Peter Tannen, a neighbor and retired transportation planner who worked on the Valencia road diet, vouched for the validity of Riessen's traffic analysis. Champsee also vouched for Riessen's expertise. "If we're going to believe somebody, I would believe him over random neighbors, including myself, frankly," said Champsee.
Coincidentally, Wiener introduced a package of legislation last week at the Board of Supervisors to help streamline pedestrian safety upgrades, including one intended to make it easier for developers of projects like the one at Market and Dolores to install them. In her letter to the Planning Commission, Stampe noted that the Market/Dolores project "will set a precedent to prioritize pedestrian improvements as part of future development."
"When you do a plan and you actually have impact fees, you want to see them come to fruition, and this is what this agreement is actually doing," said Tomiqua Moss, community planning policy director for SPUR. "It's bringing it to life."
Aaron was the editor of Streetsblog San Francisco from January 2012 until October 2015. He joined Streetsblog in 2010 after studying rhetoric and political communication at SF State University and spending a semester in Denmark.
Stay in touch
Sign up for our free newsletter