Bike Lanes
85 Percent of People on Polk Street Arrive Without a Car
3:29 PM PDT on March 29, 2013
[caption id="attachment_296554" align="aligncenter" width="500" caption="How people get to Polk street, according to a new SFMTA survey. Driving only accounts for about 15 percent."]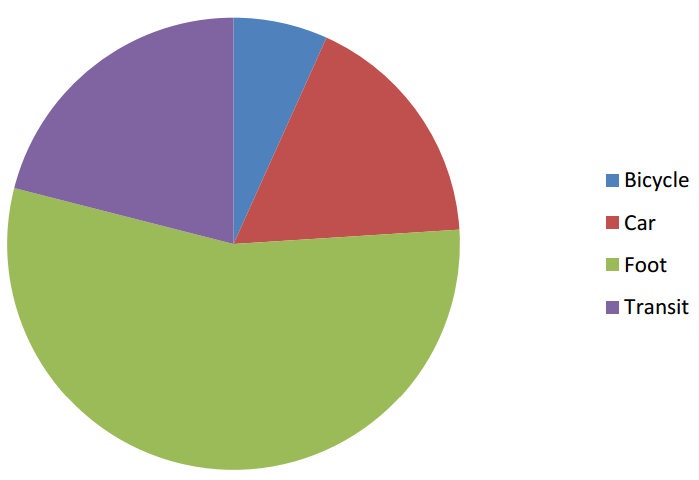 [/caption]
Updated 4:36 p.m.
If San Franciscans were to believe the hyperbole and fearmongering spread by merchants leading the "Save Polk Street Coalition," removing even a small proportion of car parking along the corridor to make the street safer and more inviting will kill businesses. But new survey data from the SF Municipal Transportation Agency shows that only about 15 percent of people get to Polk Street using an automobile, while the rest either come by foot, bike, or transit. Drivers also reported spending the least amount of money per week compared to those who came by other modes.
The data is one more piece of evidence dispelling the myth that on commercial streets like Polk, business depends on drivers.
[caption id="" align="alignright" width="300" caption="A parklet in front of Crepe House on Polk Street at Washington. It's more clear than ever that customers don't need to drive to do business on Polk Street. Photo: Bryan Goebel"]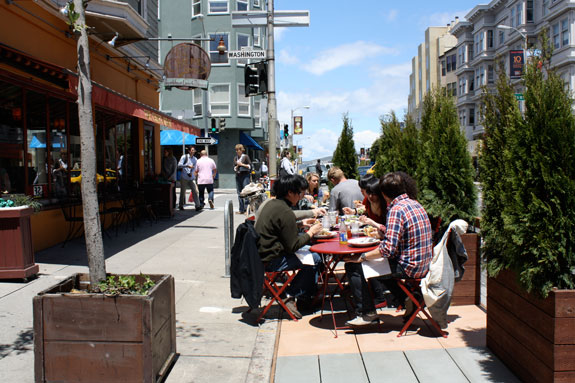 [/caption]
The findings reaffirm those of a study on Columbus Avenue in 2008, conducted by the SF County Transportation Authority, which found that only 14 percent of people on that street arrived by car. Merchants who have fiercely opposed the SFMTA's proposals to add improvements like parklets or protected bike lanes -- which have generally been found to boost business on similar walkable streets -- have dismissed such studies by claiming that Polk is different, and that the statistics "aren't real."
Other surveys have found that merchants tend to wildly overestimate how many of their customers drive. It remains to be seen whether this new data will help convince Polk Street merchants that is making the street safer and more attractive will be worth removing a fraction of the parking on the corridor.
"Business people are innately conservative," said Bert Hill, a sustainable transportation advocate who chairs the SF Bicycle Advisory Committee and ran for election to the BART Board in 2010. "Their whole livelihood depends on there being sufficient customers, so they're inherently nervous about [the improvements], in spite of the fact that communities that have made the change, like Valencia, like Market Street, are generally doing much better."
"Particularly as a neighborhood densifies, as Polk Street is heading in the direction of, they will have more customers. But they hate to gamble on that," he added.
Update: According to the SFMTA survey report [PDF], agency staff surveyed 410 people on Polk at six locations between Tuesdays and Thursdays, and on a Saturday. Respondents were asked which mode of transport they used to arrive on Polk that day, and which mode they typically used. In terms of modes typically used, 6.1 percent of respondents came by bike, 15.6 percent by car, 49 percent by foot (though 68 percent walked that day), and 19 percent by transit. The survey also found that "people who drive to Polk likely spend less cumulatively than other visitors."
[caption id="attachment_296573" align="aligncenter" width="400" caption="An updated SFMTA count of parking along the project's 20-block corridor of Polk."]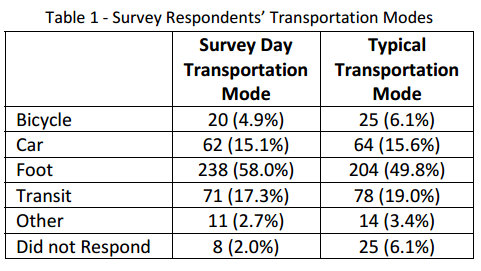 Crash statistics alone, however, make the need for safety improvements clear. Police data shows that between 2006 and 2011, 53 pedestrians and 69 bicycle riders were injured by drivers on Polk. That's an average of about two people per month. "This, in my mind, is the reason that we need to do something on Polk Street," said SFMTA transportation planner Antonio Piccagli.
As Neal Patel of the SF Bicycle Coalition wrote in a blog post this week, "If once a month, someone walking or biking on a street in your neighborhood was hit by an automobile or truck driver, would you support making it safer?"
Bike advocates have also pointed out that the number of people bicycling -- and potentially shopping -- on Polk is expected to increase with protected bikeways, since the street will feel safe enough for a broader segment of San Franciscans to ride. When bike lanes were installed on Valencia Street and car traffic was calmed with a road diet in 1999, it resulted in a revitalization of the street, despite merchants' fears that the project would kill business. In the first year, bicycling on Valencia increased 144 percent, the SFMTA found. Polk's existing bike lanes were installed in a similar project in 2000, and 10 months later, bicycling on the street had increased by as much 41 percent [PDF].
Today, businesses on and near Valencia have added nine parklets, typically replacing two parking spaces each. Parklets are catching on on Polk, too.
"Consider how the safety improvements to Market Street, Cesar Chavez Street, or Fell Street have enabled you to ride a bike safely in San Francisco, and how the growth of a safe bike network across the city has encouraged you and the people you know to ride a bike in San Francisco," Patel wrote. "These elements that improve safety and livability require physical space on a street, and currently, Polk Street does not provide much of it for people biking and walking."
[/caption]As we've reported, the amount of parking that might be removed under the SFMTA's proposals for Polk is only a tiny portion of the parking supply. The SFMTA has actually refined its parking counts, and now reports a total of 5,100 parking spaces within a block of the project corridor -- 800 more than previously known. That means the portion represented by Polk's 320 on-street parking spaces is just 6 percent, down from the original estimate of 7 percent. When looking at on-street parking spaces only, the parking on Polk still represents just 15 percent.

Since none of the safety improvements proposed by the SFMTA would remove more than half the on-street parking on Polk itself, no more than 3 percent of the corridor's parking supply would be touched.

But with SFMTA Director Ed Reiskin promising to "go back to the drawing board" and present new options that preserve more parking, Patel worries that the new proposals may come at the expense of safety. "If the SFMTA felt confident their design proposals are the best way to improve safety and the streetscape on Polk Street, what does a new design driven by preserving most or all on-street parking mean for safety on Polk Street?"

Update: The SFMTA said it plans to hold two open house community meetings to field public input in late April at the First Congregational Church Fellowship Hall at 1300 Polk St (at Bush):

Saturday, April 27th from 10 a.m. to 1 p.m.
Tuesday, April 30th from 5 p.m. to 8:30 p.m.
Aaron was the editor of Streetsblog San Francisco from January 2012 until October 2015. He joined Streetsblog in 2010 after studying rhetoric and political communication at SF State University and spending a semester in Denmark.
Stay in touch
Sign up for our free newsletter