Bicycling
SFPD's Warped Street Safety Priorities at Work on Harrison and 15th
4:11 PM PDT on April 1, 2013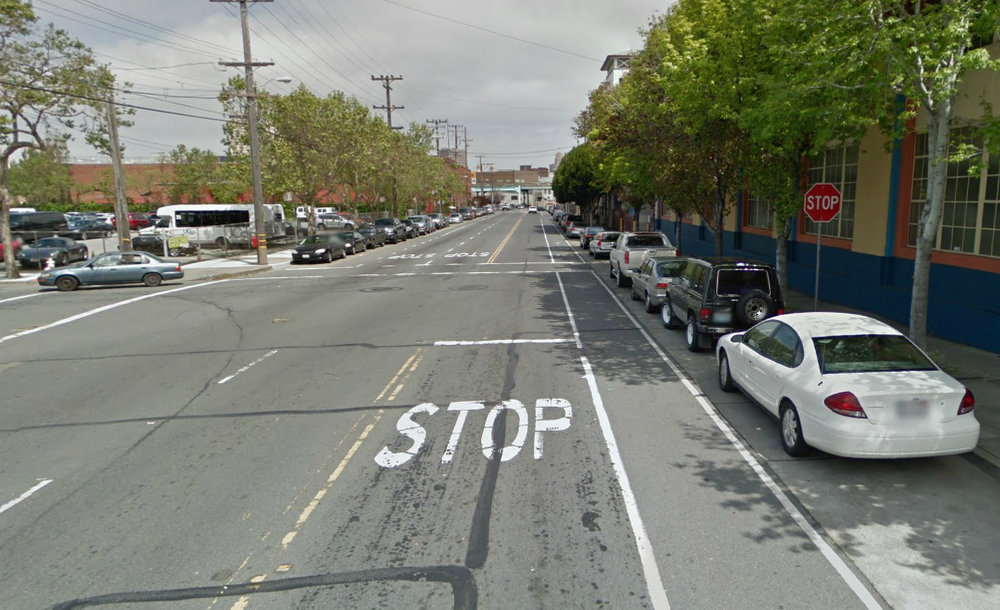 Officers with the SF Police Department have recently been spotted wagging their fingers at bicycle riders for neglecting to stop at a stop sign on northbound Harrison Street at 15th Street, where the "stop" line doesn't run through the bike lane like they normally do at intersections.
Since Harrison and 15th is a three-way "T" intersection, the bike lane doesn't intersect with any cross traffic, and the stop sign is poorly placed for bike riders whose chief concern should be yielding to pedestrians in the crosswalk on the far end of the intersection. The intersection is not known to see many bicycle crashes.
Adrian Maestas, who bike commutes through the intersection, says he always stops at the sign anyway, but that on March 22, he witnessed police threatening to crack down on bike riders for rolling through. "Two cyclists whizzed by me, and were greeted by an officer who was parked on the side of the street. He told them to stop on the side, and gave them a warning, saying "today you get one chance, after this, 100 percent stop sign enforcement!" Maestas said he hasn't seen such enforcement at the intersection since then.
Here's what California Vehicle Code 22450 has to say about stop sign requirements:
The driver of any vehicle approaching a stop sign at the entrance to, or within, an intersection shall stop at a limit line, if marked, otherwise before entering the crosswalk on the near side of the intersection.

If there is no limit line or crosswalk, the driver shall stop at the entrance to the intersecting roadway.
Jeff Wozniak, a San Francisco attorney who represents bicycle riders in crashes said he thinks "technically, they're probably right" in that the bike lane is entering "an intersecting roadway." However, "My opinion would be that it's a very confusing intersection, the way that it's painted, in that you're not crossing a crosswalk, except when you get to the other side of the intersection."
The only known recent bicycle crash at 15th and Harrison occurred on February 21, when a Muni bus driver turned right across the southbound bike lane at the southwest corner to head into a driveway into a Muni storage facility. The driver knocked a woman off of her bike, crushing it and causing minor injuries, according to SFGate's Bay Bikers Blog. Police reportedly ticketed the woman for "unsafe speed," but didn't cite the Muni driver, who Wozniak said made the error of cutting her off.
But that crash occurred on the far side of the intersection and "had nothing to do" with bike traffic in the northbound bike lane, said Wozniak.
As we've written, California and other states would do well to copy Idaho, which adjusted its stop sign laws to decriminalize the natural way that people (police included) negotiate stop signs on a bike: by slowing, checking for traffic, and being prepared to yield to others.
Of course, people driving and riding bikes should never violate someone else's right-of-way. But police enforcement should be focused on the most dangerous intersections and behaviors, driven by crash data. How does devoting limited enforcement resources to issue warnings for seemingly innocuous behavior help make streets safer?
"In terms of priorities for the police to encourage biking safely," said Wozniak, "there's very little point to ticketing people there, because it's not a dangerous intersection."
Aaron was the editor of Streetsblog San Francisco from January 2012 until October 2015. He joined Streetsblog in 2010 after studying rhetoric and political communication at SF State University and spending a semester in Denmark.
Stay in touch
Sign up for our free newsletter