Bicycle Infrastructure
SFMTA Delays Ped/Bike Safety Measures on Fell and Oak Yet Again
3:31 PM PDT on April 3, 2013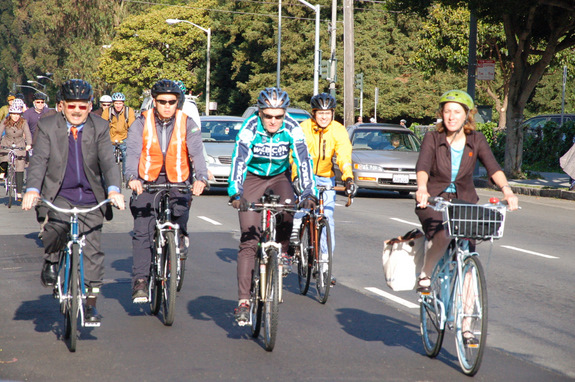 The partially completed project to add safety measures like protected bike lanes and pedestrian bulb-outs on three blocks Fell and Oak Streets has once again been delayed by the SF Municipal Transportation Agency. Though the project was originally scheduled to be completed by spring or summer, the agency now says components like the protected bike lane on Oak, bicycle traffic signals, slower signal timing, and concrete planters separating the bike lanes from motor traffic may not go in until the end of the year.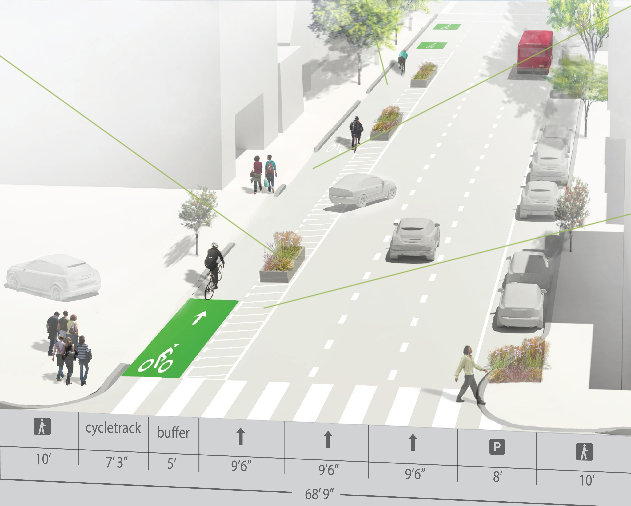 The SFMTA had previously said that work on the Oak lane was set to begin in February -- after it was originally promised by winter -- but only minor changes in striping have been made (the street may appear untouched to the casual observer). The SFMTA continues to cite construction work on the Kelly-Moore paint shop at Oak and Divisadero, which has been occupying the site of Oak's future bike lane, as a source of delay.
With bicycle riders on Fell left to wait the better part of another year for concrete planters, the SFMTA says it will install soft-hit posts as a temporary measure to help keep drivers out of the bike lane until the Department of Public Works gets the planters designed, funded, and constructed. The SF Examiner has more:
Ed Reiskin, transportation director of the transit agency, said temporary "soft-hit" pylons will soon be added to separate the Fell bike lane from traffic. However, the Oak part of the plan is much more labor-intensive and includes installing signage, removing parking meters and painting new traffic stripes.

Construction at a private business at Oak and Divisadero streets has hampered those efforts, and the Oak project might not be completed until the end of the year, Reiskin said.

Leah Shahum, executive director of the San Francisco Bicycle Coalition, said that's unacceptable.
"I honestly can't imagine why a project that is three blocks in length and quite simple in scope should be taking this long," she said. "Multibillion-dollar plans like the Central Subway project are moving at a faster pace."

Shahum said her organization is requesting that both projects be completed by Bike to Work Day on May 9.
It's been nearly six months since the Fell and Oak project was approved by the SFMTA Board, and up until then, the agency had chalked up delays to barriers like state-mandated environmental reviews, community outreach meetings, and the time needed to offset the removal of car parking by converting parallel parking spots on side streets like Baker to angled spots. The agency did move swiftly to stripe the Fell lane by November, but it's baffling to hear the agency produce more excuses for the lack of progress since then.
By comparison, in New York, the Department of Transportation built a combined 50 blocks of protected bikeways during the 2012 construction season, including pedestrian islands and bike corrals, on 8th and 9th Avenues in Midtown Manhattan. In 2008, DOT implemented a half-mile parking-protected bike lane on Grand Street within four months of approval. On Kent Avenue in Williamsburg, DOT replaced a parking lane with a buffered bike lane in 2008, causing an uproar. However, the next year the agency proposed a two-way protected bikeway design to preserve the parking and implemented the 1.6-mile, green-colored bikeway less than six months later.
Ben Fried, Streetsblog's New York-based editor-in-chief, has been following the Fell and Oak saga. He said he's "blown away" by how slowly the project is moving.
"It's normal for street redesigns to encounter some hiccups on the way to implementation, but it's absurd for a relatively simple project that's just a few blocks long to take more than a year to build," he said. "The only time I've seen anything like it in NYC is when City Hall backed away from projected bike lane projects for political reasons. At this point you have to question Ed Lee's commitment to making Fell and Oak safer."
Aaron was the editor of Streetsblog San Francisco from January 2012 until October 2015. He joined Streetsblog in 2010 after studying rhetoric and political communication at SF State University and spending a semester in Denmark.
Stay in touch
Sign up for our free newsletter