Embarcadero
Livable City: Parking Lot on Ferry Terminal Plaza Would Be Shameful
4:52 PM PDT on April 11, 2013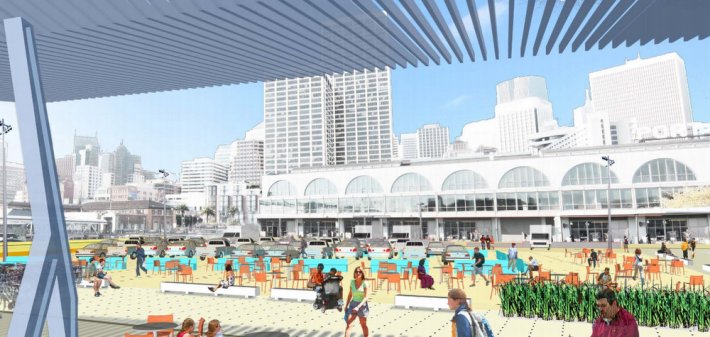 The plaza behind the Ferry Building, known largely as a farmer's market venue and a place for ferry commuters to pass through, could be temporarily turned into a 64-space part-time parking lot during weekdays under a plan being considered by the Port Commission. Equity Office, which leases the Ferry terminal, is pushing the 18-month proposal as a way to generate revenue to underwrite pilot public space improvements around the plaza's edges during that time.
"To turn this open space into a parking lot is just shameful. No city worth its salt would do that," Livable City Executive Director Tom Radulovich told the Port Commission at a hearing on Tuesday. The proposal, he added, would draw more traffic to "one of the most transit-rich places on the continent," while running "completely contrary" to city and port policies to expand open space at the waterfront and to remove, not add, car parking (especially over water). Furthermore, he argued, past cases have shown that "temporary" parking is rarely temporary.
"If the proposal before you today were an authentic proposal to activate this public space, we would laud it, but it is not," Radulovich wrote in an email to the Port Commission. "At most times, this plaza will be used to store private cars, which at most times blight and deaden this space, increase traffic along our waterfront, and impose new dangers on pedestrians, cyclists, and transit riders in the surrounding streets and public spaces."
This isn't EO's first attempt to turn the plaza into a parking lot. Radulovich said livable streets advocates managed to convince the Port Commission to reject a similar proposal in 2009.
The new proposal was presented to the commission for informational purposes; it wasn't up for a vote this week. Commissioners won't voice positions on it until they have more information to consider how it would fall in line with Port plans and policies. EO didn't say how much revenue would be generated by the parking.
At the hearing, the parking lot proposal was strongly supported by Dave Stockdale, executive director of CUESA, which operates the Ferry Plaza farmer's market, as well as Bobby Winston, owner of Bay Crossings, which sells ferry tickets and publishes a magazine about maritime issues.
Winston said the parking lot was an "important intermediate step" towards a vision for "a grand public space -- the doorstep to San Francisco." To fund a major plaza renovation, he said, "there's a long way between us and that couple hundred million dollars."
"I have been knocking my head against the concrete of trying to galvanize support for Tom's vision," said Winston. "Parking is anathema to me as well, and I don't agree with many of my colleagues here at the Ferry Building about its importance, but we need it now."
But Radulovich told commissioners the better attraction would be a place that's not deadened by parking. "Let's plan a world-class public space that is not a parking lot most of the time," he told commissioners. "It would draw so many more people to the Ferry Building. Can you imagine, the setting with all of the transit, and a little bit of enhanced bike and pedestrian access? It's an incredible opportunity."
Here's Radulovich's full letter to the Commission:
Dear Port Commissioners,

On behalf of Livable City, we are writing to express our strong opposition to Equity Office's proposal to turn the plaza behind the Ferry Building into a parking lot.

San Francisco's Port Lands constitute an invaluable and irreplaceable public trust. Their essentially public purpose is enshrined in the Burton Act, and in the various waterfront plans of the City. The EOP proposal before you is in violation of the spirit and intent of the public trust, and of the City's waterfront policies and plans.

The Waterfront Land Use Plan designates this plaza as an open space. Thanks to its location at the foot of Market Street, and close to Embarcadero Station and the Ferry Terminal, it is the most accessible of the Port's open spaces. It is at the edge of the region's largest jobs center, and contains some of the region's handsomest historic buildings. It ought to be the jewel of the Port's public open spaces, and a destination in its own right.

For over a decade, we have urged the Port to create a plan for this public open space that is worthy of its setting. The Port has never done so, and this plaza remains an unrealized public asset.

The Port has instead ceded its planning responsibilities to a private lease holder, which has now twice proposed converting this plaza to a parking lot. The previous proposal was rejected in 2009. The current scheme, which is being promoted by EOP as for activation, is substantially the same. If the proposal before you today were an authentic proposal to activate this public space, we would laud it, but it is not; At most times, this plaza will be used to store private cars, which at most times blight and deaden this space, increase traffic along our waterfront, and impose new dangers on pedestrians, cyclists, and transit riders in the surrounding streets and public spaces.

The Waterfront Land Use Plan, San Francisco's General Plan, and the BCDC Special Area Plan are crystal clear on parking over water: it is not permitted, and existing parking over water should be phased out as soon as possible (Some of those policies are included at the foot of this email). It is therefore appalling that this proposal, proposing parking over water where it will most heavily impact pedestrians, cyclists, and transit riders, is once again before the Port Commission.

* San Franciscans deserve world-class public spaces around the ferry building, not parking lots. Allowing a new parking lot in this prominent would be a staggering civic embarrassment, unworthy of any city, especially San Francisco.* The Ferry Building enjoys a degree of transit richness that is almost unparalleled in North America. Transportation solutions for the Ferry Building should build on its unparalleled transit access, in keeping our city's transit first and sustainability commitments.* This parking proposal will compromise pedestrian and bicycle safety on Herb Caen way. Hundreds of cars each day will cross the Embarcadero esplanade and bay trail, creating and unmitigable conflict with safe bicycle and pedestrian access.* Temporary parking is seldom temporary; it quickly morphs into a permanent entitlement. Seawall lot 337 and 8 Washington are recent examples. Once this parking is located there, history suggests it will be here a long time.* There is no shortage of parking in the area; thousands of parking spaces exist, on- and off-street, within a convenient walk of the Ferry Building, including in the Embarcadero Center, Golden Gateway, and the publicly-owned Maritime Plaza Garage. Better signage directing folks to existing parking (including real-time information about availability through the SFpark and other apps), and improving pedestrian connections between the Ferrry Building and existing parking, are a wiser use of the abundant existing parking resources.* The Port is already in arrears on open space per its BCDC commitments, as a result of the Cruise Ship terminal. Converting a designated open space in a highly visible and accessible location to parking shows bad faith with regard to the Port's open space commitments.* Parking over water pollutes the bay with petrochemical runoff, worsening the Port's existing water quality challenges.

When the previous parking lot proposal was defeated in 2009, we asked that the Port take a different path, in keeping with it's commitments and the City's values and policies:

* Plan the ferry terminal and public spaces around the Ferry Building as an integrated whole, to better take advantage of the millions of county (Prop K sales tax) and regional dollars (RM-2) dedicated to ferry terminal projects.* Revisit the 20+ year-old design of the Embarcadero Roadway and its adjacent public spaces to identify projects that improve bicycle and pedestrian access between the City and the Waterfront in the vicinity of the Ferry Building.* Plan a protected, bi-directional bicycle path along the water side of the Embarcadero.* Work with the MTA to develop a plan for parking management, including parking information, that prioritizes the needs of shoppers and short-term visitors within walking distance of the Ferry Building.

To date, the Port has not begun working on a single one of these initiatives. The Port must begin to sort out its values and priorities, and better align them with those of the City and their Public Trust obligations. We urge you to reject this parking proposal, and instead direct Port Staff towards enhancing access via sustainable modes and to transform the public spaces around the Ferry Building into people-oriented spaces worthy of the splendid location.

Parking-related policies of the Waterfront Area Plan (an element of the SF General Plan):POLICY 7.11Develop a continuous bicycle path along the Northeastern Waterfront that is linked with the city-wide bicycle route system.

POLICY 8.1Intercept and divert as much automobile traffic as feasible away from the water's edge and areas of intense pedestrian activity in order to make conditions more pleasurable, safe, and interesting for the pedestrian, and in order to facilitate the commercial and recreational development of the area.

POLICY 8.3Allow parking over the water for public and commercial recreation uses only if: (a) no alternative location is feasible; (b) the parking is located within a structure devoted to a permitted use and is necessary to such use or to other permitted uses in the same project area; and (c) it is the minimum amount necessary.

POLICY 8.4Prohibit parking over the water for marinas in the Fisherman's Wharf through Ferry Building areas.

POLICY 8.5Base the determination of the amount of parking allowed for permitted uses on the desirability of reducing automobiles along the waterfront and, to the maximum extent feasible, consider the use of existing public transit and inland parking, as well as public transit and inland parking which could reasonably be provided in the future.

POLICY 8.6Remove or relocate inland those existing parking facilities on or near the water's edge or within areas of intense pedestrian activity.

POLICY 10.13Remove exposed surface parking from over water, and along the Embarcadero roadway to improve shoreline appearance and access to the Bay.

POLICY 10.19On non-maritime piers with sheds, provide continuous peripheral pedestrian public access ways for walking, viewing and fishing. Provide benches and street furniture. Prohibit use of designated public access areas for valet parking, auto drop-off or trash storage, but allow emergency vehicle access and, if no feasible alternatives exist, service vehicle access.

POLICY 10.20Provide continuous public pedestrian access to the Bay on the east side of the Ferry Building that is separate from any service vehicle access to the Building.
Aaron was the editor of Streetsblog San Francisco from January 2012 until October 2015. He joined Streetsblog in 2010 after studying rhetoric and political communication at SF State University and spending a semester in Denmark.
Stay in touch
Sign up for our free newsletter