Distracted Driving
Is SFPD Serious About Cracking Down on Distracted Driving?
5:36 PM PDT on April 16, 2013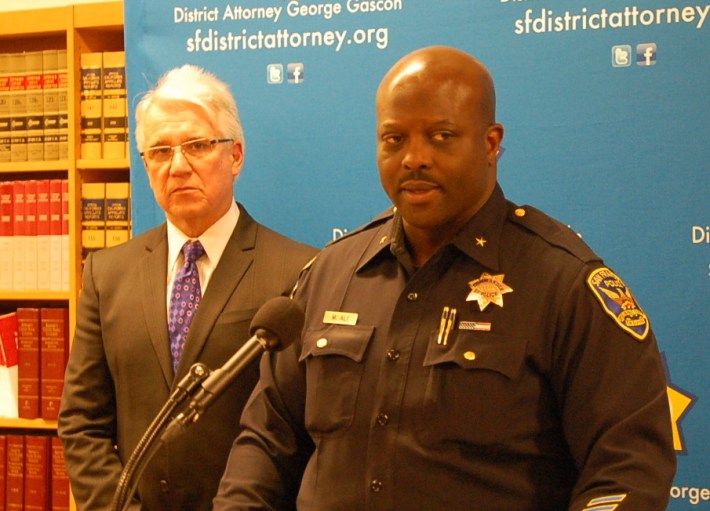 SF District Attorney George Gascón and SFPD Traffic Company Commander Mikail Ali held a press conference last Thursday to bring attention to distracted driving, since April is officially National Distracted Driving Awareness Month.
It's promising to see law enforcement officials bring attention to this deadly and growing problem on San Francisco streets. What remains to be seen, however, is whether drivers who kill and maim others are being held accountable with thorough police crash investigations and prosecuted by the DA's office when they're at fault.
While SF stats on traffic crashes attributed to distracted driving aren't available, the CA Highway Patrol says that nationally, it was a factor in 3,331 deaths and over 400,000 injuries in 2011. The Centers for Disease Control released a study last month finding that 68.7 percent of U.S. adult drivers (aged 18–64) admitted in surveys to talking on their cell phones while driving at least once in the past 30 days -- far more than those in European countries. In the United Kingdom, only 20.5 percent said they had done so.
Gascón explained that data from the SF Municipal Transportation Agency shows that 60 percent of pedestrian injures in San Francisco take place in crosswalks, compared to 45 percent statewide, and 44 percent in New York City.
"Clearly, here, we're having a much bigger problem. It's a problem that's impacting many lives," said Gascón. "We're having not only around 20 pedestrians that are being killed every year on our streets, we have well in excess of 700 pedestrians that are injured every year." (The Department of Public Health puts the number of injuries closer to 900.)
"We need to work together to make sure we reduce the mayhem that is going on on our streets," added Gascón.
Commander Ali said SFPD officers have beefed up enforcement against distracted driving throughout April, but that stats on violations and ticketing won't be available until the end of the month.
Walk SF Executive Director Elizabeth Stampe applauded Gascón and the SFPD "for cracking down on people that are endangering others by driving distracted." Still, she said, "It's hard to know if everyone's been held to account for endangering, and in many cases, killing people walking."
So far this year, seven pedestrians have been killed in San Francisco, and at least three of the drivers in those have been charged because they were either drunk or fleeing police. But in cases in which drivers were sober and stayed on the scene, like the crashes that killed Becky Lee, Tania Madfes, and Melissa Kitson, causes remain less clear, and there's no word on whether those drivers face charges.
Streetsblog has a request in with the DA's office for how many of this year's pedestrian crash cases have been forwarded from the SFPD to the DA, but has yet to hear back. As we've reported, drivers rarely face charges for injuring pedestrians unless the victim dies and the driver was intoxicated or fled the scene.
When Ali was asked how often pedestrian fatality cases that may involve distracted driving are forwarded to the DA, he said, "All of our fatalities are investigated by a team of officers within the traffic company, and there is a concerted effort with the district attorney to ensure that the elements of the crime are, in fact, in place, and, ultimately, decisions are made based on the specifics of each case, on whether or not that case meets the merits of criminal prosecution."
Jeff Wozniak, an attorney who represents victims in bicycle and pedestrian crashes, says that whether or not drivers face charges depends to large extent on the thoroughness of SFPD crash investigations, which are forwarded to the DA. "Most crimes are investigated by the cops and then referred to the DA once the investigation has finished and it is believed that a crime was committed," he wrote in an email to Streetsblog.
"The function of the DA investigations unit, at least as far as I know, is to further investigate serious crimes and locate witnesses and assist with evidence management, etc.," said Wozniak. "They do not investigate incidents to determine whether a crime occurred."
Gascón said prosecutions against distracted drivers could be made easier by a March decision by the California Appellate Court that ruled it's illegal to hold a phone while driving. Assemblymember Tom Ammiano is also aiming to make distracted driving easier to prosecute with AB 840, a proposed state bill that would require drivers to sign a statement acknowledging that they're aware of the danger inherent in the practice. Ammiano explained in an op-ed in the Huffington Post:
One obstacle to eliminating distracted driving is this sad fact: Few drivers who kill pedestrians or cyclists are held to legal account. This is true even when they are clearly at fault. That is where AB 840 comes in.

Currently, prosecutors often choose not to pursue cases against distracted drivers who kill cyclists and motorists. Why not?

It turns out to be hard to convince a jury (made up mostly of drivers) that a driver knew he or she was doing something dangerous -- something that could end up killing someone else.

My bill will force drivers to confront that fact.

It requires that everyone who applies for a driver's license signs a statement acknowledging that he or she knows of the dangers of distracted driving.

With that kind of notice on file, prosecutors will have an easier time showing that drivers knew, or should have known, they were doing the wrong thing when their distraction led to the death or injury of a cyclist or pedestrian.
Stampe applauded Ammiano's bill, and said she hopes to see Gascón show his support for it.
While there's little question that texting while driving is dangerous -- as CHP Captain BJ Whitten pointed out at the DA's press conference, distracted driving increases the risk of crashes 23-fold -- it's not at all clear that this fact has registered with SF's local law enforcement establishment.
Texting certainly was a popular topic for Mayor Ed Lee and SFPD Chief Greg Suhr at last Friday's Walk to Work Day press conference. But they didn't talk about distracted driving as much as they wagged their fingers at pedestrians for walking and texting. Lee lamented "the phenomenon that we've seen in the last two years where people are taking their technology gadgets, and paying more attention to that than to walking with their kids, or their seniors, and looking out for each other," but didn't specifically call out the inherent risk of texting while driving. While the danger of distracted driving is well-established by a growing body of studies, there is virtually no data to support the claim that "distracted walking" is contributing to pedestrian deaths.
Suhr, meanwhile, summed up the victim-blaming perspective succinctly when he told San Franciscans, "For god's sake, do not walk and text."
Aaron was the editor of Streetsblog San Francisco from January 2012 until October 2015. He joined Streetsblog in 2010 after studying rhetoric and political communication at SF State University and spending a semester in Denmark.
Stay in touch
Sign up for our free newsletter