Carnage
Taxi Driver Reza Eslaminia Wanted for Vehicular Manslaughter
3:03 PM PDT on May 9, 2013
SF District Attorney George Gascón put out a call today for the arrest of Ezra Eslaminia, the taxi driver who killed 39-year-old Edmund Capalla last August when he caused a car crash at Eddy and Larkin Streets.
According to the DA's office, Eslaminia was charged with misdemeanor vehicular manslaughter on March 29, but police have been unable to locate him.
"This case illustrates the dangers in our streets when drivers don't obey the rules of the road," Gascón said in a statement. "We are working with SFPD to bring this defendant to justice and we need the public's help tracking this person down."
From the DA's news release:
On August 11, 2012 at around 6:52pm, Eslaminia, a taxi driver for Luxor Cab, was driving on Eddy Street approaching the Larkin Street intersection. He drove through the intersection on a red light speeding at around 35 miles per hour. As he drove through the intersection, he drove around a bus coming down Larkin Street when his cab was struck by another vehicle on the passenger side in the rear quarter panel. The impact caused his cab to spin out of control clockwise through the intersection and striking a pedestrian in the crosswalk who was walking northbound on Larkin Street.

Eslaminia is being charged with one count of misdemeanor vehicular manslaughter. The District Attorney's Office approached this as a felony case and reviewed evidence that included a video, diagrams, witness statements and a subsequent accident reconstructionist report. After a thorough review and evaluation of the case, prosecutors found there was insufficient evidence to meet the burden of proof necessary to show a pattern of gross negligence, which would warrant a felony.
As the Bay Citizen reported in August, Capalla was the father of three young children, and was celebrating his youngest daughter's birthday on the day he was killed: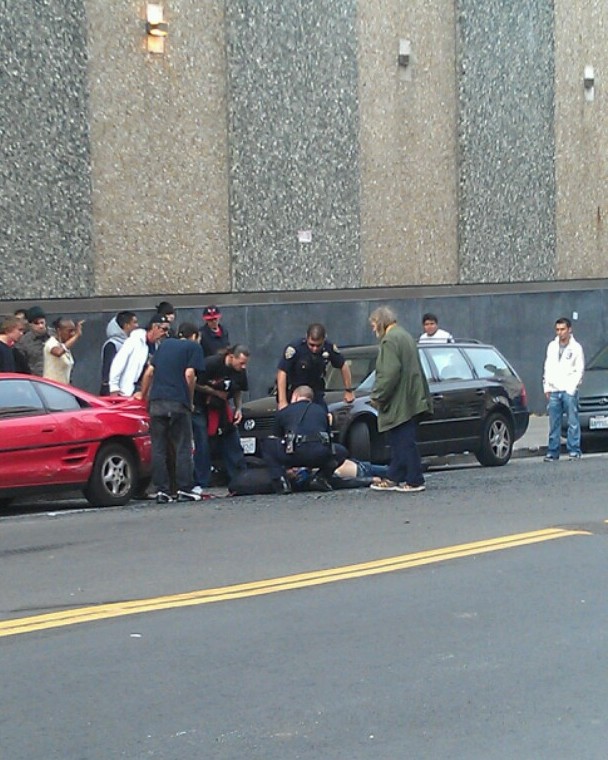 The family went to Chinatown to eat, stopped in Union Square to enjoy the sun and then came back to their home in the Tenderloin to eat cake and sing "Happy Birthday."

Capalla was walking from their home to catch the bus when he was killed, his wife [Maria Capalla] said. He was headed to a part-time job as a caregiver for a senior citizen.

He was hardworking, smart, a "math whiz," Maria Capalla said, and he was funny – "he had all these cheesy jokes."

"I'm still just trying to cope," she said.
According to the Bay Citizen report, Eslaminia is known for being a member of the infamous Billionaire Boys Club, "a group of wealthy young investors-turned-alleged killers in Southern California." Eslaminia was sentenced to life in prison in 1988 for the murder of his father, but released ten years later after "the jury had heard an inadmissible tape recording," according to the Bay Citizen. According to KTVU, Eslaminia only began driving for Luxor Cab the month before the crash.
Aaron was the editor of Streetsblog San Francisco from January 2012 until October 2015. He joined Streetsblog in 2010 after studying rhetoric and political communication at SF State University and spending a semester in Denmark.
Stay in touch
Sign up for our free newsletter