Board of Supervisors
Wiener's Proposals to Streamline Ped Safety Upgrades Pass Supes Committee
4:50 PM PDT on June 4, 2013
A package of legislation aimed at cutting through the bureaucratic red tape that encumbers the city's progress on life-saving pedestrian safety measures was unanimously approved by the Board of Supervisors Land Use and Economic Development Committee yesterday. The full board is expected to approve the proposals in the coming weeks.
Supervisor Scott Wiener, who proposed the legislation, said it's aimed at reforming several city procedures that often delay pedestrian safety projects, and that it should help the city meet the goal set out in the SFMTA's draft Pedestrian Strategy: cutting pedestrian injuries by 25 percent by 2016, and by 50 percent by 2020.
"Pledges and good intentions only get us so far, and in fact, money only gets us so far," said Wiener. "The process we have in place to implement needed pedestrian upgrades is lacking. We don't have enough inter-agency coordination, and we have outdated codes."
Last year, police reported that 964 pedestrians were injured on San Francisco streets -- "the largest number since 2000," said Walk SF Executive Director Elizabeth Stampe. Nineteen of those people were killed, and, she pointed out, 20 to 25 percent of trauma victims in SF hospitals are hit by cars. "That's a huge amount," she said. "Too often, the projects to fix these dangerous streets just take too long, and the bigger projects often get whittled down."
Wiener said the legislation would push agencies to better coordinate with one another on street infrastructure projects by creating a Street Design Review Committee. It also calls upon agencies to "modernize street code provisions" and "formulate clear procedures" for coordination. One ordinance in the package would make it easier for developers to implement pedestrian safety projects as gifts to the city in lieu of impact fees, and another targets strict interpretations of the fire code that can limit sidewalk extensions.
The SF Fire Department has resisted the fire code amendment, since it would relax the city's definition of roadway obstructions, which department heads say could inhibit fire truck and ambulance access. Changes to street widths in California must adhere to a fire code requirement that 20 feet of clear roadway be provided, and under Wiener's proposal, curbs less than six inches high would not be considered an obstruction by the city.
"We want less people run over in the streets," said Fire Marshal Thomas Harvey. "But we do have difficulty trying to bridge that gap of what provides the best pedestrian safety and what actually allows for our operational needs and does not limit our fire department vehicle access."
Wiener argues that the 20-foot requirement, crafted by a Texas-based nonprofit organization, is a one-size-fits-all recommendation geared toward suburban settings that doesn't make sense in dense cities.
Patrick Siegman, a principal at the transportation planning firm Nelson/Nygaard who was consulted on Wiener's legislation, said that numerous states and cities, including Portland, Seattle, and Memphis, use minimums as low as 12 feet without hindering emergency vehicle access. Oregon and Washington both removed their 20-foot minimums "specifically out of concerns for traffic safety as well as general livability," he said. In San Francisco, he added, "Many of us live on streets with less than 20 feet of clear width."
"We need to promote fire safety, and we need to promote pedestrian safety," said Wiener. "The two are not mutually exclusive."
The fire code minimum has become problematic for a developing plan to widen sidewalks on a block of Bartlett Street, where the Mission Community Market is held every week. The Planning Department and several neighborhood organizations are looking to redesign the block as a pedestrian-friendly haven at all hours, but the current proposal would leave only 14 feet of roadway, although those curbs would be less than six inches high.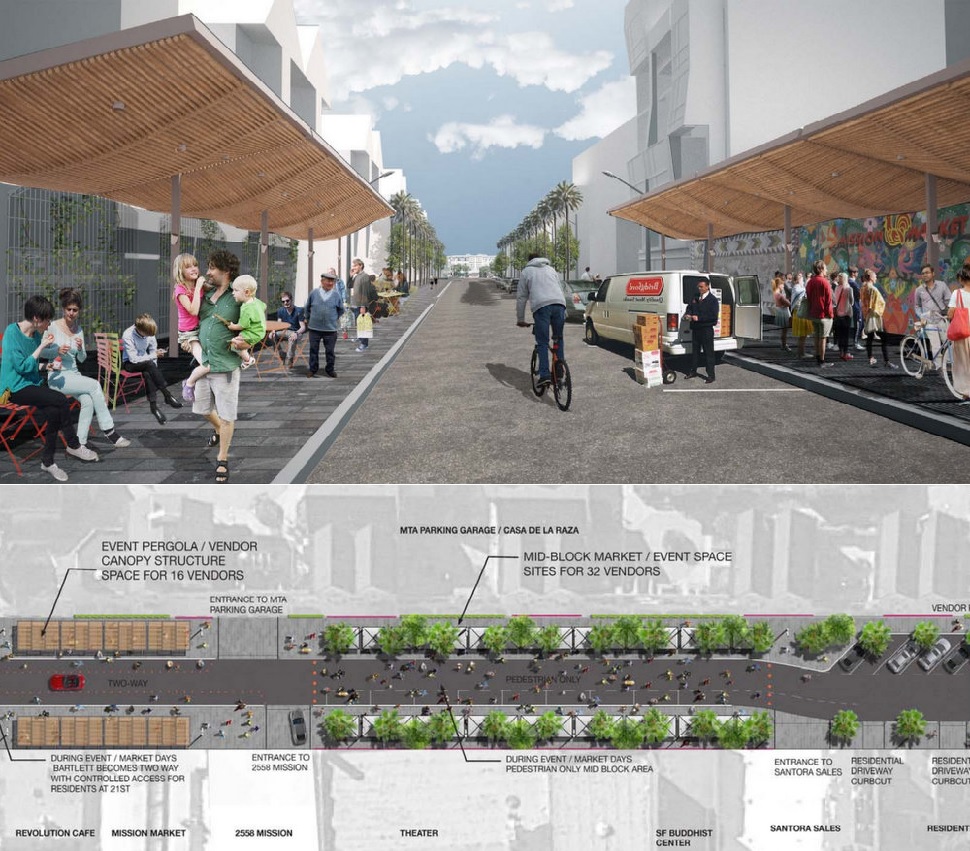 "I understand that it's easier for departments to simply continue to do things the way that they've been done," D9 Supervisor David Campos said of the Fire Department's reluctance to approve the project. "But the city is an ever-changing place, it's an urban setting, and we have to be adaptive."
Wiener's proposals would also push agencies like the SFMTA, Department of Public Works, the Planning Department, and the Public Utilities Commission to communicate on street projects -- especially smaller ones, which he said often get bogged down in disagreements over engineering issues.
"The most important elements for pedestrian safety," said Stampe, "like wider sidewalks, or bulb-out extensions at corners, are often the first to go, because often they're expensive, they may be perceived as complicated when it comes to water pipes, sewer pipes, fire connections, and there's nobody there to speak up for the overall goal, which is fewer people getting run over."
Still, this wouldn't be the first time legislators mandate city agencies to work together more effectively on street improvements, and it remains to be seen whether Wiener's fixes will be any more effective.
In 2005, Livable City helped draft the Better Streets Ordinance. Executive Director Tom Radulovich said the intent was that "when you're doing major improvements of one sort on a city street, you should be doing all the improvements that would bring that street up to the city standards."
"I'm appalled to see that that rarely, if ever, happens," he said.
That poor coordination is especially apparent in DPW's ongoing work to install new curb ramps that comply with the standards of the American Disability Act, said Radulovich. To save the city time and money, he said, projects that tear up sidewalks to install curb ramps should also include corner bulb-outs where possible, as called for in the city's 2010 Better Streets Plan. Typically, they don't.
"There's an opportunity to make these streets much safer for pedestrians, and they're not happening," said Radulovich. "If we want [bulb-outs], and we want curb ramps, and you don't build them together, you're wasting the public's money."
"As a taxpayer, I'm appalled by this. It just enrages me."
Aaron was the editor of Streetsblog San Francisco from January 2012 until October 2015. He joined Streetsblog in 2010 after studying rhetoric and political communication at SF State University and spending a semester in Denmark.
Read More:
Stay in touch
Sign up for our free newsletter