Bicycle Commuting
SFMTA Board Backs Full Bike Strategy Build-Out, Though Funding Still Missing
5:04 PM PDT on June 19, 2013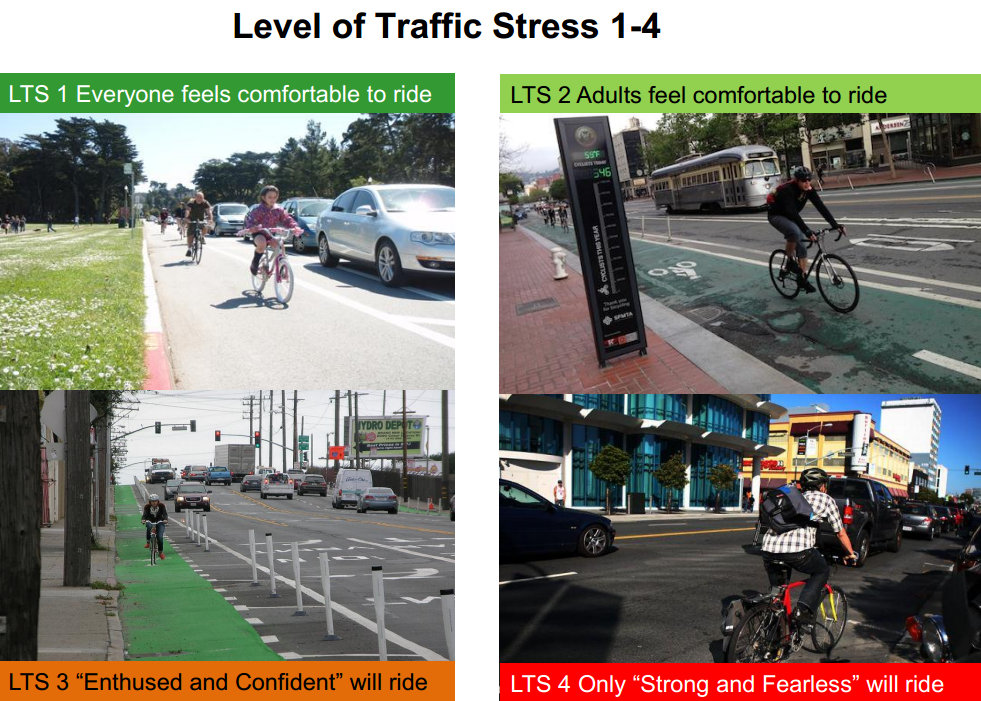 The SFMTA Board of Directors voiced strong support yesterday for pursuing the most ambitious vision laid out in the agency's draft Bicycle Strategy, which calls for a system of safe, comfortable bikeways that could elevate the level of cycling in San Francisco to levels seen in cities like Copenhagen and Amsterdam. Where the funding to implement that vision will come from, however, remains to be seen.
The Bicycle Strategy currently lays out [PDF] two primary scenarios to make bicycling accessible to a broader segment of San Francisco's population.
The "Strategic Plan" scenario, which the SFMTA estimates would increase bicycling to an estimated 8 to 9 percent of all trips, would require $200 million over six years. The "System Build-Out" scenario, which is projected to meet the city's goal of 20 percent of trips by bike by 2020, is budgeted at $600 million.
Though the board didn't take any action on the Bike Strategy, there seemed to be a strong consensus favoring the boldest option -- and not only among vocal bicycle advocates like Cheryl Brinkman and Joél Ramos.
After reviewing the SFMTA's "needs assessment" map, which marks the most stressful parts of the bike network in red, board member Malcolm Heinicke pointed out that many of the streets deemed too intimidating for anyone but the "strong and fearless" to bike on -- such as most of Market Street -- are also some of the city's most important routes and destinations. Less than 10 percent of streets on the bike network are deemed comfortable for most people.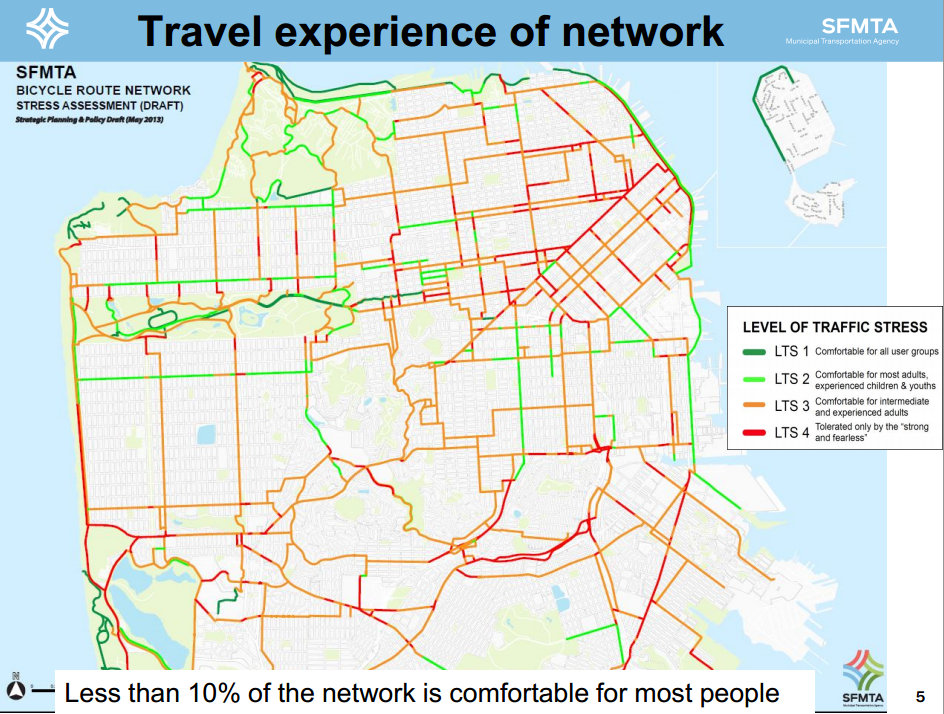 "When I see your map that shows Market Street as a red line, we're basically saying bikers can't go where everybody else in our transit system wants to go," he said.
As Brinkman pointed out, the Bike Strategy envisions a city where "everybody gets to use the method of transportation that they feel comfortable with."
"If you want to ride with your small child on the back of your bicycle, you should absolutely feel comfortable doing that," she said.
The full build-out was also backed by board member Cristina Rubke, who relies on a motorized wheelchair. Rubke said she rode a bike for the first time this month at an event that allowed her to try out bicycles designed specifically for people with disabilities. "Pretty much anyone can ride a bike, as it turns out," she said.
Hansu Kim, president of De Soto Cab Company and a former bike shop owner, also spoke at the hearing to back the Bike Strategy's vision, though he said reps from the taxi industry should be more involved in its development. "The city's only seven by seven miles," he said. "We should have the best taxi and cycling systems."
Enthusiasm from supporters, however, was tempered by a reminder from SFMTA Director of Transportation Ed Reiskin that the agency currently lacks a plan to fund even the $200 million scenario, let alone the full build-out. "To think that we're going to easily be able to find something on the order of $600 million is a little bit difficult to contemplate," he said.
The SFMTA currently spends just 0.46 percent of its capital budget on bicycling, but officials say the agency is strapped for money, especially for Muni. Although Mayor Ed Lee has made clear that San Franciscans can't rely on him to help fund safer streets for bicycling, there's still hope in the Transportation 2030 Task Force he formed, which is expected to release recommendations on how to increase funding for the city's various transportation ambitions this fall.
"It's not going to be easy. We don't know where the money's going to come from yet," said Brinkman. "But we really do need to strongly push for a full build-out. We are going to be left behind by other world-class cities."
Aaron was the editor of Streetsblog San Francisco from January 2012 until October 2015. He joined Streetsblog in 2010 after studying rhetoric and political communication at SF State University and spending a semester in Denmark.
Stay in touch
Sign up for our free newsletter