Car-Free Streets
City's First "Play Streets" Event Kicks Off in the Western Addition
2:59 PM PDT on July 16, 2013
Two blocks in the Western Addition were closed to cars and turned into a neighborhood gathering space Saturday for the city's first "Play Streets" event. The program is an effort to build on the success of Sunday Streets and provide smaller-scale car-free spaces where people can play and socialize on a more frequent basis.
"This is an attempt to do all the great things that we do on Sunday Streets -- creating a place for outdoor recreation, for neighbors to gather, for people to connect -- but to do it on a small scale, and allow communities to self-start," said Tom Radulovich, executive director of Livable City, which organizes Sunday Streets. "Sunday Streets is a big operation, and can be complicated. With Play Streets, we want it to scale down so any neighborhood can take back their streets for a day, or part of a day, and make them community space where kids can play and neighbors can be together."
D5 Supervisor London Breed, who grew up in the immediate neighborhood, spoke at the event along with organizers from Sunday Streets and agencies that helped coordinate the program. In addition to providing a space that's safe from car traffic, organizers said the aim was to invite residents to participate in community life with a space that feels safer from crime.
"Part of the challenge that we've come to face in this community has been kids not feeling comfortable and free to come outside and just enjoy themselves and be themselves," said Breed. "I believe that we need to block off more streets to allow families and kids to play and be free."
"We need this," said Martha Hollands of the Plaza East Tenants Association. "We want to see everybody come together, because everybody in this community should be together."
Play Streets, launched in ten cities with the help of Partnership for a Healthier America, will take place in three other neighborhoods this year -- the Bayview, Tenderloin, and Excelsior -- which were chosen because they suffer from high rates of childhood obesity and lack safe places for kids to play.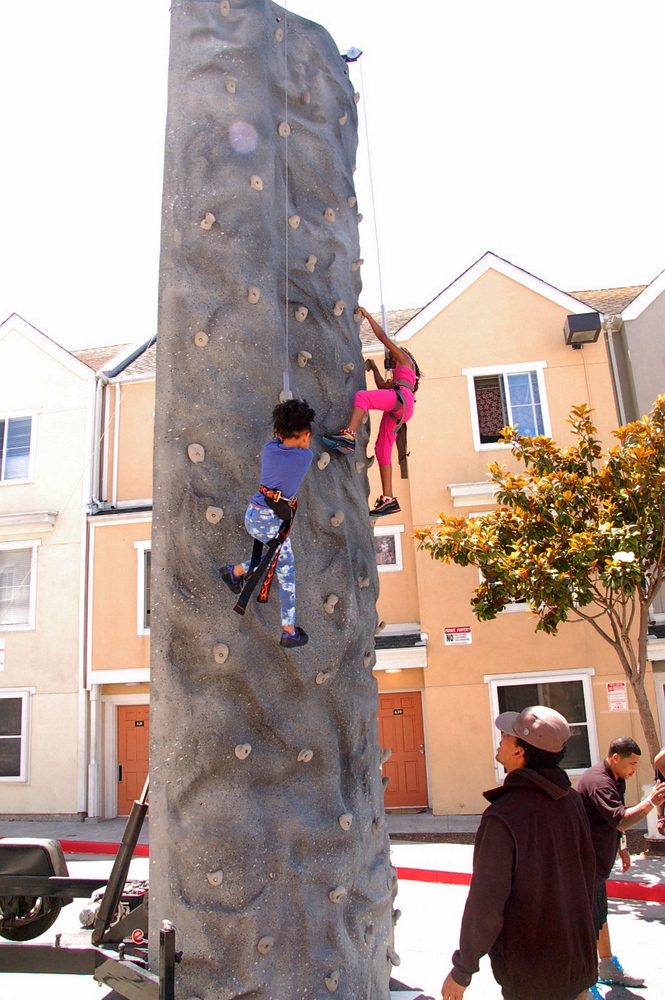 "The streets of San Francisco are about 25 percent of the area of the city. They're a resource that is mostly used for cars," Radulovich told a small crowd at a press event before the play street started. "As a kid, I played in the street, as a lot of you probably did, but now, we're actually teaching our kids, don't play in the street, it's a hostile and unsafe environment."
Advocates like Adam Greenfield, who helped organize a regular event called Inner Sunset Sundays in his neighborhood, lobbied the city to create a Play Streets-style program so residents could easily hold smaller, community-based car-free street events. Greenfield said he sought to break down barriers like the arduous bureaucratic process and high city fees that make such events difficult to organize.
While Greenfield said he's glad to see the initial events happen in underserved neighborhoods, he ultimately hopes to see Play Streets serve as a platform to facilitate neighborhood-driven organizing, with less involvement required by the city.
"Play Streets is going to grow the best if the communities most excited about it can make it happen, and then let them be the ambassadors for the program and encourage their friends in other communities to have it," he said. "Then, it'll grow organically, and support for it will be really strong. That's really the only way it's going to sustain itself."
"We're going to make 'go play in the streets' a good thing,'" said Cheryl Brinkman, vice chair of the SFMTA Board of Directors, and former president of the Livable City Board. "So when your parents want to squish you out of the house, you'll be able to know that your kids can do that safely."
Here are the three other Play Streets events scheduled this year:
July 20: Bayview, Oakdale between Third and Lane, by the Bayview Opera House
August 24: Tenderloin, Ellis Street
September 7: Excelsior, Paris between Avalon and Excelsior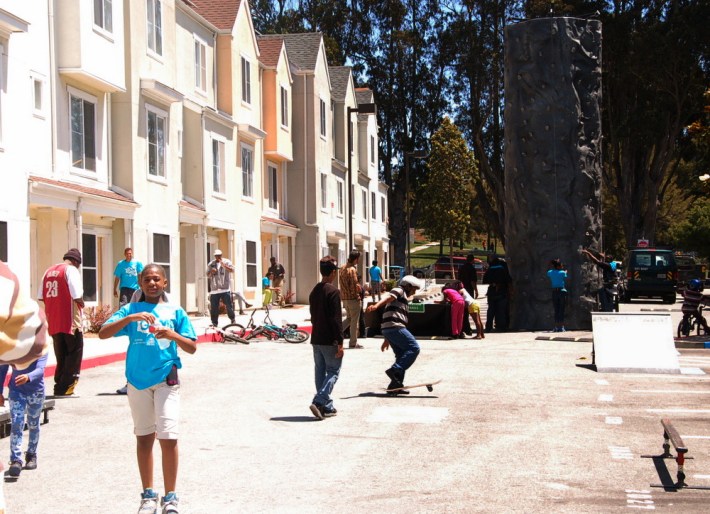 Aaron was the editor of Streetsblog San Francisco from January 2012 until October 2015. He joined Streetsblog in 2010 after studying rhetoric and political communication at SF State University and spending a semester in Denmark.
Stay in touch
Sign up for our free newsletter