Bicycling
SFMTA, Chiu Stand By Unprotected Bike Lane Proposal for Polk Street
4:50 PM PDT on July 17, 2013
Updated 5:16 p.m. with corrections on the number of blocks.
The SFMTA is moving forward with a plan for Polk Street with a protected bike lane only in one direction of an 11-block stretch. SFMTA planners and Supervisor David Chiu maintain that the plan is sufficient to make the street safe enough to invite a broad range of San Franciscans to bike, though the design has been guided less by safety considerations than the desire to appease merchants who oppose the removal of any car parking.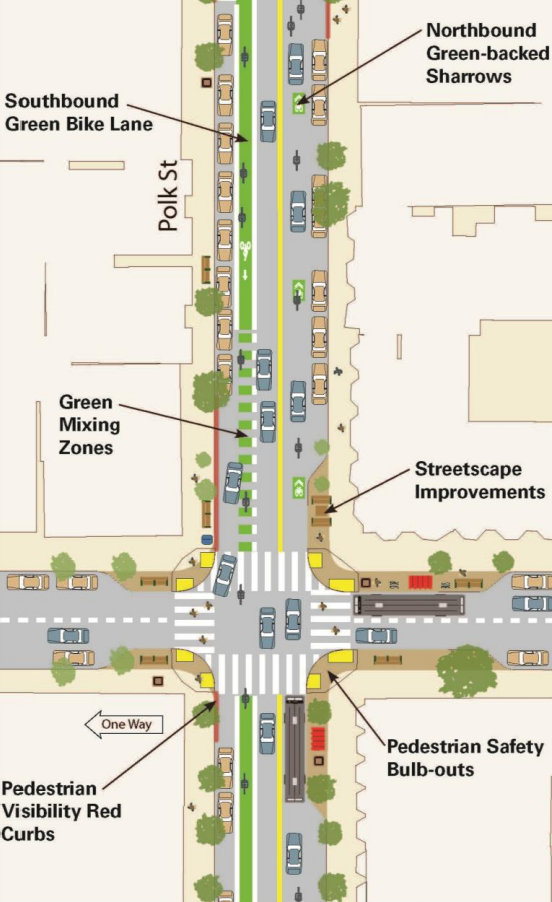 Under the "preferred" plan presented [PDF] to media and stakeholders today, nine of the 20 blocks in the project (between Union and California Streets) will have a conventional, green-colored bike lane in the southbound direction only, placed between parked cars and moving cars. Northbound, curbside parking will be banned to make room for bikes during morning commute hours only. At other times, the only provision for cycling will be green-backed sharrows in the traffic lane.
In the southbound direction from California to McAllister Street, Polk will have a raised, protected bike lane. The northbound direction will have a buffered, green bike lane that, depending on the block, will run either curbside (without parking) or next to the parking lane.
Altogether, the plan would remove an estimated 30 percent of parking on Polk, or 8 percent of parking within a block of the street. On the stretch of middle Polk between Union and California, where opposition to parking removal was strongest, those numbers are 10 percent and 5 percent. Many of the parking spaces would be removed for sidewalk bulb-outs and other non-bike lane improvements, planners said.
When Chiu was asked whether he thinks the plan would make Polk bike-friendly enough for a mother to feel safe riding with a child -- a vision which he has promoted to pro-bike crowds, but hasn't supported when it's politically risky -- he said yes.
"The solutions that the MTA is proposing really moves to the next level on both of these sections for the biking experience, whether it be for young people all the way to seniors," Chiu said. "I do think that this moves forward the biking vision for the city."
Chiu and SFMTA planners argued that because middle Polk is flatter and has calmer traffic, adding only the southbound painted bike lane and green sharrows would be sufficient. On Lower Polk, south of California, they said the stronger protection for bike lanes is more appropriate because of a steeper grade and heavier cross-traffic.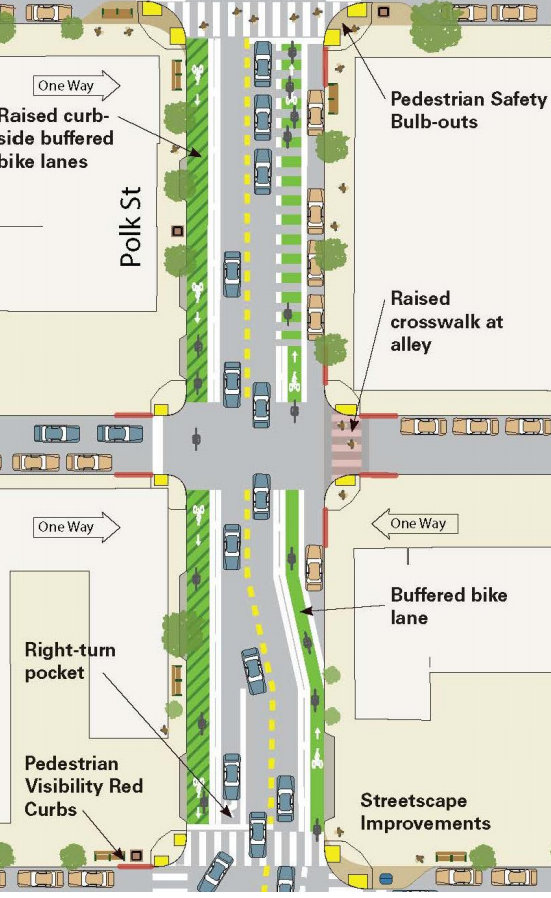 "But at the same time," said Chiu, "obviously, this is a proposal that addresses the needs of all stakeholders on Polk Street, from residents and merchants to pedestrians, cyclists, and drivers."
SF Bicycle Coalition Executive Director Leah Shahum said that while the SFMTA's latest proposals have "some improvements" over the previous ones, "the plan still does not reflect the agency's own goals, as set out in its five-year Strategic Plan and Bicycle Strategy."
"This proposal continues the unfortunate tradition of our city designing bikeways that encourage the strong and fearless, rather than being accessible to people of all ages, including families, who deserve to feel comfortable and welcome on our streets," she said.
Chiu and SFMTA planners also argued that the data collected on the improvements that do go in will help make the case for future safety improvements.
When asked about the SFMTA's finding that only 17 percent of people on Polk Street arrive by car (the agency apparently refined its data since it was first reported), Chiu said, "I do think that when this project is put into place, everyone will see that traffic safety and economic vitality can thrive and reinforce each other."
In addition to traffic counts and crash data, the SFMTA will look closely at the project's effects on sales tax receipts, said Seleta Reynolds, a planner at the agency's Livable Streets subdivision. "I think this project offers us a pretty unique opportunity to evaluate those kinds of things... because we think it's a pretty important positive outcome to talk about and inform everything we do here on out," she said.
The SFMTA will present the plans at an open house meeting next Thursday, July 25, from 5 p.m. to 8:30 p.m., at the Old First Church Fellowship Hall at 1751 Sacramento Street (at Van Ness Avenue).
Aaron was the editor of Streetsblog San Francisco from January 2012 until October 2015. He joined Streetsblog in 2010 after studying rhetoric and political communication at SF State University and spending a semester in Denmark.
Read More:
Stay in touch
Sign up for our free newsletter