Geary BRT
Geary BRT Plan Watered Down to Appease Parking-Obsessed Merchants
5:33 PM PDT on August 1, 2013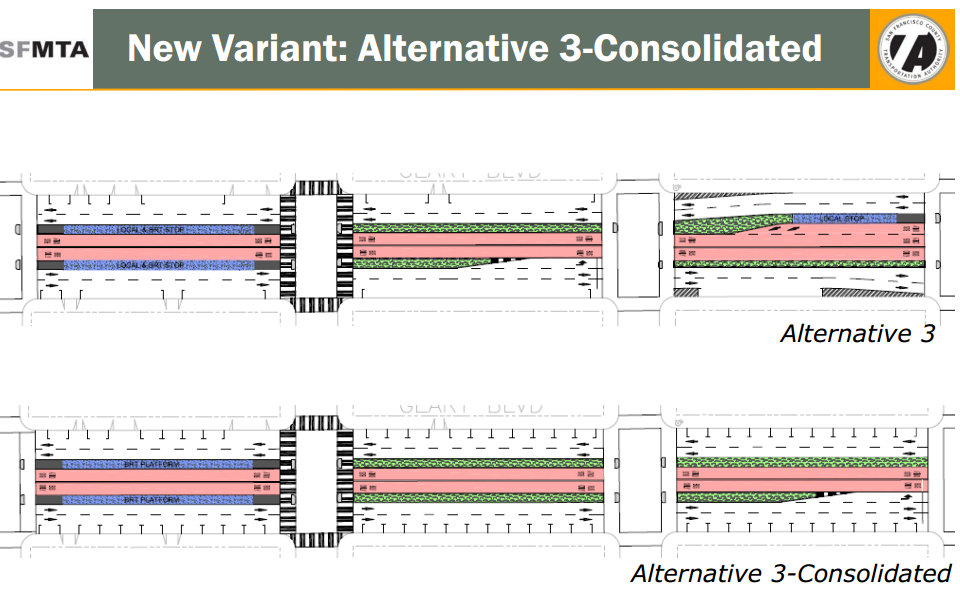 Update: This plan may not be "watered down" after all. See our follow-up report here.
Planners are touting a new proposed configuration for Geary Bus Rapid Transit that would forgo bus passing lanes in order to preserve car parking to appease merchants. Separated, center-median bus lanes would be retained, and project backers hope the changes will clear the way for implementation, but the loss of the passing lanes means buses won't be able to operate as quickly.
The proposal comes despite a recent survey from the SF County Transportation Authority showing that Geary merchants vastly overestimate how many of their customers drive, and that their priorities on transportation are out of line with those of their customers.
The new proposal [PDF], called "Alternative 3 Consolidated," would run buses in two center lanes between dual medians. But unlike the original Alternative 3, it wouldn't include passing lanes at stops that allow express BRT buses to pass local buses. Instead, the proposal would include only one "medium" bus service in which stops would be closer together than typical BRT, "but more spaced out compared to the local," said David Parisi, a consultant working on the project for the SFCTA.
Under the new proposal, the BRT line would make 15 stops between Van Ness Avenue and 33rd Avenue rather than nine on the originally proposed express line. Parisi said the SFCTA doesn't have any data yet to show how transit speeds would fare in comparison, but that a preliminary analysis showed that it would "still be pretty darn fast, reliable service."
Eliminating the passing lanes would free up space to preserve car parking on Geary, in a bid to appease local merchants. By converting parallel parking spaces on side streets to angled parking, Parisi said all of the parking that would be removed for BRT improvements could be replaced.
The proposal is being championed by D1 Supervisor Eric Mar as a way to expedite the project, which he said has "been dragging" since its conception at least a decade ago. Mar, along with Supervisors Scott Wiener, David Chiu, and David Campos, grilled SFCTA staffers on the snail's pace of the city's BRT projects on Geary and Van Ness at a board meeting last week.
"I think the Transportation Authority staff have gotten the message from us and others that the 38-Geary line really needs improvements now," Mar told Streetsblog. "Many of us wish that rail was funded and that was available, but BRTs have shown that they achieve many of the improvements that a rail system will at a fraction of the cost."
Mar joined San Francisco officials and transportation advocates on a trip to Mexico City in May to tour the city's BRT system, which was built at a far faster clip than San Francisco's projects. "I saw how BRTs connect the transit system with underserved areas that rail or subways don't reach," said Mar.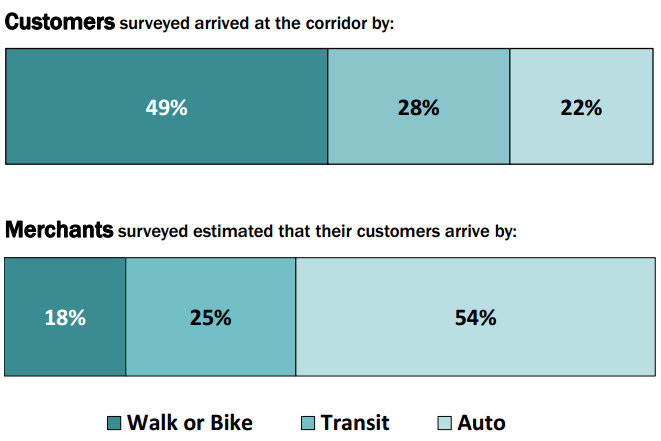 Peter Lauterborn, an aide to Mar, said the new "consolidated" proposal would simplify transit service and the street geometry on Geary, as well as help the SFCTA meet its launch target of 2018. "This helps us get over the hurdle of negotiating parking loss in the district, which has been a major sticking point in the past."
Under the original Alternative 3 proposal with passing lanes, 15 to 20 percent of parking would be removed on Geary between Palm and 25th Avenues. The consolidated Alternative 3 plan, without passing lanes, could result in "net zero" parking loss on or near the street, according to Parisi. In fact, he told an audience at a town hall meeting yesterday that a "net gain" in parking is possible, though when Streetsblog later asked him how that would further the city's policy goals of increasing the use of walking, transit, and bicycling, he denied that it was under consideration.
Geary merchants believe that 54 percent of their customers arrive by car, though the actual number is 22 percent, according to a recent SFCTA survey [PDF 1, 2] of 569 businesses on Geary and 295 businesses on Clement Street. Additionally, shoppers who arrived without cars visited businesses more frequently than those who arrived by car.
The findings are in line with surveys done on Polk Street, Columbus Avenue, and other shopping districts in dense urban areas.
The SFCTA survey also found that when it comes to preserving car parking or improving transit, merchants have a poor sense of how their customers would respond to changes.
More than 30 percent of customers said they could be more likely to visit businesses on Geary if parking were removed to enable transit improvements, compared to about 20 percent of customers who said it would make them less likely to visit. Meanwhile, about 45 percent of merchants believed removing parking to enhance transit would hurt their business. Improving Muni service was the top priority for over 40 percent of customers, while preserving parking was the top priority for almost 45 percent of merchants.
When Parisi presented the SFCTA's survey data at the town hall yesterday, David Heller of the Geary Merchants Association interrupted him to claim that between himself and 35 other merchants he spoke with, only one had been contacted for the survey. The SFCTA says surveyors visited every business on Geary and Clement at least twice.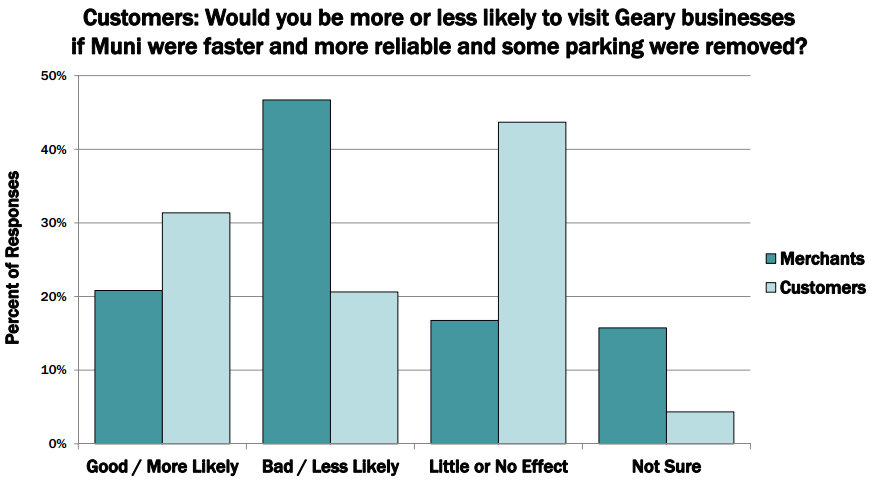 Heller, who owns a shop on Geary called Beauty Network, told Streetsblog that he simply didn't believe the survey results and accused the surveyors of asking misleading questions.
"I don't buy it. I really don't," he said.
Aside from parking loss, many merchants seem to fear losing business during the project's construction. Heller said merchants on Third Street and West Portal Avenue suffered due to extensive construction on those streets in recent years. Parisi pointed out that construction for BRT is generally much less intensive than that of light-rail projects like the T-Third.
Instead of building BRT, Heller said Muni should focus on internal reforms and discipline its "abusive drivers" before re-designing streets to speed up the system's busiest bus line. "You wanna fix Muni, you got to clean your home first, and then you go outside," he said.
During the planning of Geary BRT, planners said they're looking to make near-term improvements on the downtown section of the corridor east of Gough, which has faintly-marked bus lanes which are routinely violated by drivers. Parisi didn't specify which improvements would be made, but said they could be in place before Geary BRT's environmental impact report is completed.
Although the SFCTA had considered placing BRT stops just outside the tunnel at Masonic Avenue, planners said that option is no longer being seriously considered as part of the BRT project, citing high costs. That means Geary BRT buses will have to merge from the center-running lanes out the side-running lanes which run up to the Masonic overpass, then back to the center again, but planners say it would also maintain stops closer to nearby businesses like Trader Joe's and the Target store set to open at the intersection.
The Fillmore Street underpass, however, is still being considered for a fill-in. As the SF Examiner reported last week, Supervisors Mar and London Breed called for a hearing on the feasibility of that project, which would help re-connect the Japantown and Fillmore neighborhoods at an estimated cost of $40 million.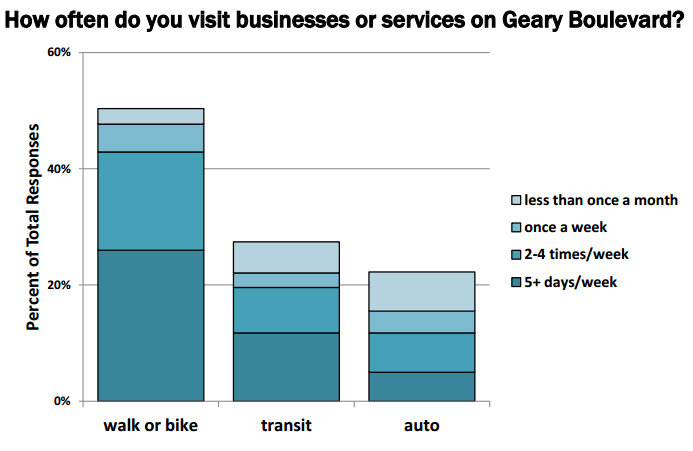 Aaron was the editor of Streetsblog San Francisco from January 2012 until October 2015. He joined Streetsblog in 2010 after studying rhetoric and political communication at SF State University and spending a semester in Denmark.
Stay in touch
Sign up for our free newsletter