Peninsula
SamTrans Upgrades El Camino Real Bus Service With More Reliable Route
3:35 PM PDT on August 22, 2013
SamTrans hopes to attract more transit riders after combining its popular 390 and 391 bus routes into a single route, called ECR, that now runs the length of San Mateo County along El Camino Real with more frequent and reliable service. The ECR runs every 15 minutes on weekdays and every 20 minutes on weekends between Daly City and Palo Alto, between about 5 a.m. and 1 a.m. the next morning.
The old 391 route used to run between Daly City and downtown San Francisco, a service that SamTrans no longer provides. "By eliminating the lower-performing San Francisco portion from the ECR line, SamTrans is able to invest more heavily in its Peninsula service," the agency said earlier this month. On an average weekday, about 400 riders used the 391 to access downtown San Francisco, a small portion of the 11,600 passenger total ridership of 390 and 391 combined.
The ECR service replaced the old routes on August 12, and public officials marked the occasion at the Redwood City Transit Center last Friday. "This is for more reliable public transportation, a critical issue for us," said Redwood City Mayor Alicia Aguirre. "As our community grows, we need better transportation."
Since most of San Mateo County's population and employment centers are concentrated along a narrow strip of land near El Camino Real, bus service along the corridor is exceedingly important. Routes 390 and 391 together accounted for more than 25 percent of SamTrans' total weekday ridership in 2011, according to the agency's 2013 service plan.
The new service clarifies what used to be two confusing, overlapping routes. The 390 bus ran between Daly City BART and Palo Alto Caltrain, while route 391 ran between San Francisco's Transbay Terminal and Redwood City Caltrain during weekday commute hours and between Daly City and Redwood City Caltrain at all other times. Even between Daly City and Redwood City, where the two buses overlapped, the routes didn't make all the same stops -- Route 390 skipped San Bruno BART while Route 391 skipped Daly City BART.
"The bus drivers often had to explain to riders waiting at the stops where they were going," said SamTrans spokesperson Christine Dunn.
On weekdays, each route ran every 30 minutes, and their departures were staggered so that, theoretically, a bus would arrive at each stop roughly every 15 minutes.
In practice, however, drivers couldn't maintain the published schedules on such long routes with so many stops, especially on the 391 route, where buses had to contend with frequent traffic congestion on its way into and out of San Francisco. Passengers were left without a reliable option.
"What the 15-minute combined route does is allows operations to manipulate the service if it's running late to get it back on schedule," said SamTrans transit analyst Jimmy Famolare. "And in our society in general, we want things on demand. Frequency sells."
Although the service change seems like an obvious improvement, SamTrans planners were cautious, first demonstrating it would be effective by testing it on weekends beginning last August. They found that weekend ridership increased by 4 percent, and are expecting a similar or greater increase on weekdays.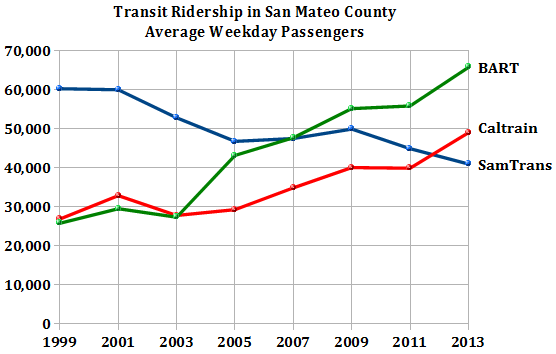 Ridership on SamTrans buses has steadily declined over the past decade, dropping by one-third since 2000, when more people rode SamTrans buses than Caltrain and BART combined within San Mateo County. Caltrain ridership within the county has since risen by two-thirds, while BART ridership within the county has more than doubled, according to the County's Level of Service and Performance Measure Monitoring Program reports (2009, 2011). SamTrans' ridership decline has contributed to the agency's financial problems, which led directly to its decision to stop contributing funds from its operating budget to Caltrain in 2011, initiating a budget crisis that threatened to eliminate all weekend and mid-day trains on the passenger rail service.
The new ECR bus service is the first change to be implemented from the SamTrans Service Plan, which calls for a major overhaul of the agency's bus routes and intends to "do more of what works, less of what doesn't, and try new things" in order to attract more riders and set the agency on a path toward improved financial health. Of SamTrans' 50 bus routes, 31 will be modified in some way and three routes eliminated, beginning next January. For a few routes located in areas where demand is highest, called "core markets" (Daly City, South San Francisco, Redwood City, and East Palo Alto), frequency will be increased to 15 minutes. Other routes with low ridership will be scaled back or eliminated.
A future study, expected to be completed by Summer 2014, will investigate various options for speeding up the ECR route, which currently travels at an average speed of about 11 mph. Two of the options to be studied include skip-stop service and traffic signal priority, which were both implemented on VTA's Route 522 in 2005, speeding travel times between Palo Alto and San Jose by about 25 percent compared to Route 22, which plies the same route along El Camino Real in Santa Clara County.
Andrew Boone covers the Livable Streets Movements for Streetsblog in San Mateo and Santa Clara counties. Andrew's claim to fame is once having bicycled more than 12,000 miles of smiles in one year. nauboone@gmail.com
Stay in touch
Sign up for our free newsletter