Bicycling
Will "Tone-Deaf" SFPD Own Up to Its Botched Bike Crash Investigation?
4:00 PM PDT on August 27, 2013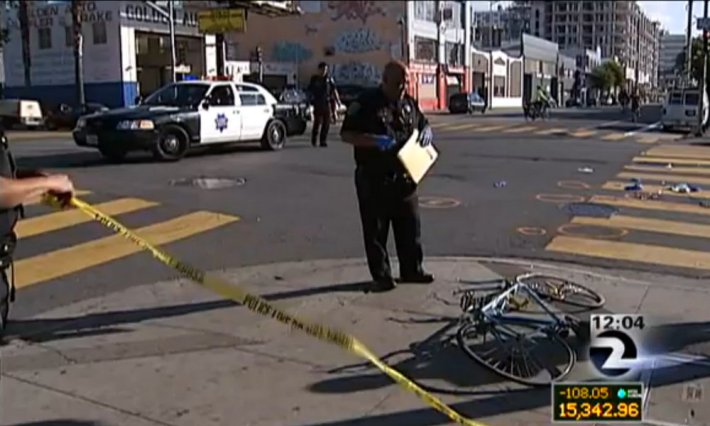 The San Francisco Police Department has finally started to respond to the failure of its investigators to acquire camera footage of the truck crash that killed Amelie Le Moullac on her bike, as well as accusations of stonewalling the attorney representing the victim's family.
But the department still hasn't publicly acknowledged fumbling the investigation, nor has it commented on the behavior of Sergeant Richard Ernst, who showed up at a safe streets rally to block a bike lane and declare that Le Moullac was at fault for her own death.
SF Chronicle columnist Chuck Nevius -- these days, a hit-or-miss commentator on bicycling issues -- has reported some of the first responses to come from the department, which he called "tone-deaf" in an article yesterday.
According to Nevius, SFPD Chief Greg Suhr "probably intervened" and caused department staff to "change its tune." Officers have apparently taken the small step of actually cooperating with the attorney representing Le Moullac's family, Micha Star Liberty. Nevius said Suhr "responded quickly" when questioned via text message about SFPD's delayed delivery of the traffic collision report:
"Normally we do not release accident reports that result in death," Suhr replied. "That said, we're working on getting a copy of the report to the family."

Liberty said she had been told to expect an e-mail copy of the report that afternoon.
Up until this week, Liberty had been "treated with real hostility, which was very confusing to me," she told Nevius. "I was denied the report, even the face page."
According to Nevius, Liberty read sections of the vehicle code to police officials to impress upon them that they are legally bound to release crash information to the victim's family. She told Nevius that the change in tone is "just a knee-jerk reaction. Today, everyone I called, called me back. And I was given an apology for what was called the investigator's 'bedside manner.'"
Meanwhile, the department has still yet to acknowledge the apparent failure of SFPD investigators to look for surveillance footage at any of the five businesses at the intersection canvassed by SF Bicycle Coalition staffer Marc Caswell, who found video of the crash right before it would have been erased.
The video, which the SFBC says took Caswell 10 to 15 minutes to locate, "reveals to me that she was a true victim with respect to this collision and did nothing wrong," Liberty told KQED reporter Bryan Goebel (the founding editor of Streetsblog SF). Similarly, Liberty told Nevius the video provides strong evidence for the prosecution of the driver in Le Moullac's death: "I can't imagine how anyone would decline to file charges based on the video."
Although SFPD indicated early on that the truck driver would likely face no charges, the department now says the investigation will be forwarded to District Attorney George Gascón's office, "who will decide whether formal charges will be filed against the truck driver," according to Goebel.
SFPD spokesperson Albie Esparza told Goebel that "he understands the 'perception' and 'concern' from bike advocates," but made no comment on why investigators failed to find the video:
"I don't know the information that was available to the investigators. We do certainly ask for the public's help and assistance," said Esparza. "If this piece of evidence was not retrieved, it is now. We have it in our possession and we're grateful for the people who came forward and provided us with that information, which we're going to take a look at and incorporate into our investigation."
SFPD officials also remain tight-lipped about the shocking behavior of Sergreant Ernst at the SFBC rally last week on Folsom and Sixth Streets, where Le Moullac died. Southern Station Captain Michael Redmond told Streetsblog after the incident that he can't comment on personnel matters.
Nevius reported a similar response at the time, though "SFPD brass ... privately confirmed that not only was he acting on his own, they considered his actions an embarrassment."
At some point, Chief Suhr and other officials at the police department will have to acknowledge the blame-the-victim bias entrenched among many officers when it comes to people who are killed while walking or biking on San Francisco streets. As the SFBC's Kristin Smith told Goebel, "What's really distressing right now is that this might not be an isolated incident."
"Even if the truck driver performed an illegal maneuver," Wigg Party co-founder Morgan Fitzgibbons wrote yesterday, "far bigger crimes have been revealed":
Of course this incident calls into question how many other "investigations" into bicyclist and pedestrian deaths have been criminally botched by those who have sworn to "protect and serve" us...

Make no mistake about it -- the primary reason the loss of Amelie Le Moullac's life was not worthy of the basic human decency that is a proper investigation is because at the time of her death she happened to be riding a bicycle.
Aaron was the editor of Streetsblog San Francisco from January 2012 until October 2015. He joined Streetsblog in 2010 after studying rhetoric and political communication at SF State University and spending a semester in Denmark.
Stay in touch
Sign up for our free newsletter