Bicycling
In Cleveland, Trucker Went to Prison, Lost License for Killing Woman on Bike
3:03 PM PDT on August 28, 2013
So far, no charges have been filed against the truck driver who earlier this month turned right across the bike lane on Folsom Street, killing 24-year-old Amelie Le Moullac. SFPD investigators are reviewing the video of the crash that SFBC staffer Marc Caswell located and handed to them -- a piece of evidence that police say will be delivered the District Attorney's office. While we await action from the city's law enforcement agencies, a similar case out of Cleveland illustrates that the justice system can, in fact, impose real consequences for lethally negligent driving.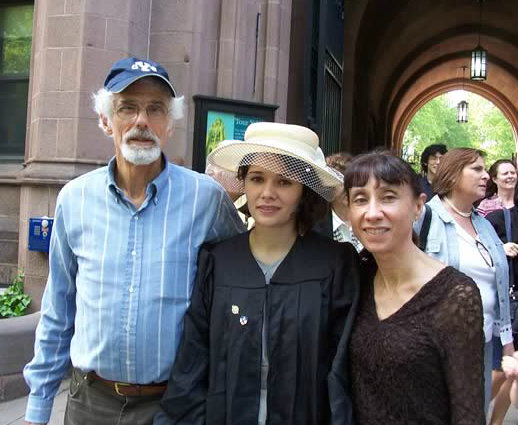 In September, 2009, 22-year-old Sylvia Bingham, originally of San Rafael, was run over by a truck driver who made a right turn on a street in Cleveland, where Bingham had recently moved. The driver, Herschel Roberts, was sentenced to three years in prison and lost his driver's license for life. A memorial ride for Bingham was held in San Francisco soon after her death.
According to the Plain Dealer, Judge Daniel Gaul found Roberts guilty of aggravated vehicular homicide, based on reasoning that could apply in Le Moullac's case:
Before he announced the verdict, Gaul outlined the case and said Roberts, who was driving the truck for Leff Electric, had likely passed Bingham on her bike seconds earlier and, by law, had a duty to look in the truck's mirrors before turning right onto East 21st Street from Prospect Avenue, where he had stopped at a red light.

Bingham had stopped behind him and was about to ride through the intersection when Roberts, who had made a wide turn onto East 21st Street, struck her with the back tires of the 26,000-pound truck.

"He had to know she was there," Gaul said. "He should have known she was there."

Gaul also said that Bingham, an experienced bicyclist, would not have proceeded through the intersection had she known Roberts would be turning. Witnesses said at trial that they could not recall that Roberts had used his turn signal.
In a letter addressed to Mayor Ed Lee, Sylvia Bingham's father, Stephen Bingham, writes that the trucker who killed Le Moullac should be held to the same standard:
Until truck drivers know there are consequences for squashing cyclists w/ 50-100,000 lb. trucks, the killings will continue. It is an outrage that the driver is not being prosecuted. It is minimally negligent homicide to drive such a truck on the streets of San Francisco and kill someone in this manner. It is impossible that he did not overtake the slower-moving cyclist before making his turn. Therefore he KNEW the cyclist was in the bike lane. This is apparently the third similar accident this year where no charges were even brought. SHAME.

To learn later that there was a video surveillance camera that caught the accident and that SFPD never even inquired of local businesses whether they had such cameras is a second SHAME of SF law enforcement. After our daughter's tragic death, the Cleveland Police immediately contacted nearby businesses and found a camera three blocks away whose images demonstrated, according to the conclusions of the judge in the bench trial, that the truck driver knew of Sylvia's presence on the roadway because he had passed her. That's the kind of law enforcement that leads to convictions.
"The judge was very articulate about it," Bingham told Streetsblog. "As you're driving -- particularly, he put stress on the importance of driving huge vehicles -- that they do have a higher level of care, and you're aware of what surrounds you."
"Maybe this woman [Le Moullac], and maybe our daughter, had some responsibility to be extra careful, but we can't conclude that because they weren't as careful as they could have been, they had to have been responsible for their own deaths," he said. "Even if it were in part her fault, that in no way absolves the driver of his criminal liability just because the person he killed might have made a mistake."
There were a few aspects of the Cleveland case that differ from the Folsom crash, but they appear not to have factored into the verdict. For one, the driver fled the scene, though the judge dismissed charges on that count, "citing a lack of evidence that showed Roberts knew he had hit Bingham," according to the Plain Dealer. The driver also tested positive for marijuana use, but "his attorney successfully argued to keep the test out of court because it was not done by a state-licensed agency."
Stephen Bingham said the driver showed no remorse for killing his daughter, and that although it's unclear how the driver who killed Le Moullac has reacted, "There's a sense I have that police decide not to prosecute because the person is so upset, meaning they have obvious remorse for what they've done."
Streetsblog writer Angie Schmitt lives in Cleveland and has friends who were close with Sylvia Bingham. She followed the case and says that Bingham's death may have drawn a lot of attention because she was a young woman who had just graduated from Yale "and was trying to do good in our community from out of town."
Schmitt and Stephen Bingham also gave credit to the strong push for prosecution from a community of Cleveland bicycle advocates and friends of Bingham's.
"This type of thing is rare in Cleveland," said Schmitt. "We don't have a cyclist killed in the city every year. The bike community is small, and so everyone was very aware of this, and very emotionally involved."
After the verdict, she said, "I think everyone was pleased."
Aaron was the editor of Streetsblog San Francisco from January 2012 until October 2015. He joined Streetsblog in 2010 after studying rhetoric and political communication at SF State University and spending a semester in Denmark.
Stay in touch
Sign up for our free newsletter