Muni's New 5L-Fulton Limited Gets High Marks From the Twitterverse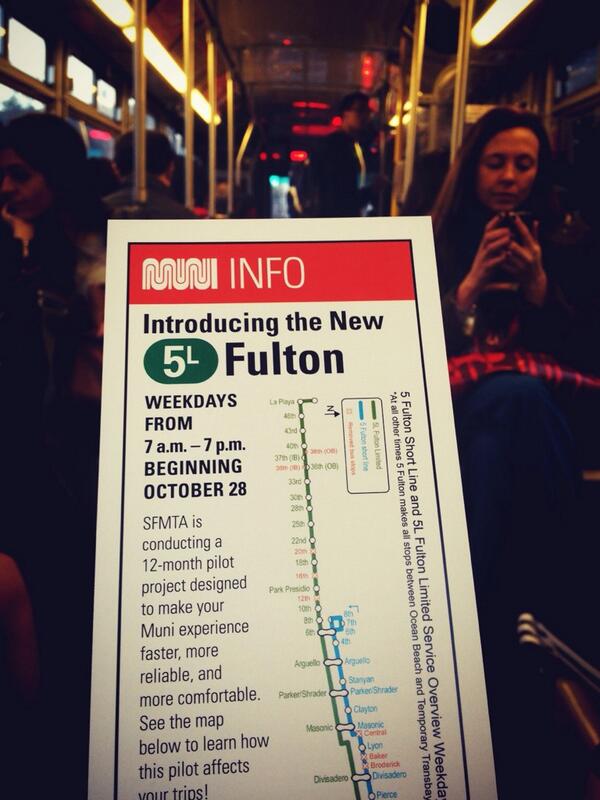 Update: See photos of the Fulton road diet between Stanyan and Baker Streets at the end of the article.
If there's anywhere you can find a cynical view of Muni service from frustrated riders, it's Twitter. But riders of the new 5L-Fulton Limited line seem to be tweeting nothing but glowing reviews of the new express service, which Muni launched Monday to speed up trips and reduce crowding.
The 5L is part of a pilot project package of line upgrades and complements the 5's existing local service, which also had some excess stops removed to speed up trips. The 5L runs the entire length of the route using the 5′s regular electric trolley coaches, serving only the six most heavily-used stops between Market Street and 6th Avenue. Muni planners predict the 5L should run 11 percent faster than the existing local service (and 17 percent faster on the limited-stop stretch alone).
Also part of the project is a road diet on Fulton between Stanyan and Baker Streets (see photos below), which reduced the number of lanes while widening the remaining ones to accommodate buses safely. In addition, some bus stop zones were extended to allow two buses to load at once.
Complaints on the 5L seem to be few and far between, while tweets like these paint the 5L as a resounding success:
Me too! @lynaecook @sfmta_muni Took #5L last night & my ride was 10-15 minutes shorter! Thanks to Sup @ericmar415. Next is 5AX/BX please!

— John Agoncillo (@alapan) October 29, 2013
YES!!! How often are SF Muni & SUCCESS uttered in the same sentence??? 5L-Fulton "amazing." http://t.co/4WTpEbrWbk @mayoredlee @EdReiskin

— Andy Bosselman (@andybosselman) October 29, 2013
Excited about this 5L! Only wish it had more express stops pass 6th Ave like the 38L on Geary! #sfmuni @sfmta_muni @munidiaries

— Brian DeLuca (@bdeluca03) October 29, 2013
.@sfmta_muni nice work getting the 5L set up and running smoothly. That's gonna make a real difference to a lot of people.

— Jim Raise The Dead (@jimray) October 29, 2013
Rode @sfmta_muni 's new 5L home this evening. Those merchants near Masonic and Fulton are going to love having more shoppers pass by daily.

— Fix Masonic (@Fix_Masonic) October 29, 2013
happy about the new @sfmta_muni 5L. sad they discontinued my stop at broderick/mcallister. i have to walk TWO blocks to divis now. #spoiled

— Jeff Strauss (@jestr) October 28, 2013