Bicycle Infrastructure
SFMTA: Fell and Oak Bike Lanes Are Yielding Promising Safety Results
5:37 PM PDT on October 30, 2013
The SFMTA has released some preliminary survey results showing that the three-block bike lanes on Fell and Oak Streets, along with other safety measures, have resulted in calmer motor traffic, an increased sense of safety among bicycle commuters, and a decrease in illegal bicycling behaviors.
On Fell and Oak, between Scott and Baker Streets -- the connection from the Wiggle to the Panhandle -- the SFMTA removed car parking lanes to install curbside bike lanes, separated by buffer space and plastic posts, along with bicycle traffic signals and more visible "continental" crosswalk stripes, while also lowering the synchronized traffic signal speeds from 25 to 20 MPH. The block of Baker between Fell and Oak was also put on a traffic-calming road diet with a buffered left-turn lane to make it easier for bike commuters to pass stopped cars and reach a new left-turn bike box. Parallel parking spots on the block were also converted to back-in angled parking spots.
Although not all of the planned bike and pedestrian improvements are in the ground yet, the SFMTA posted the following results on its website:
Since the bikeways were completed in May of 2013, SFMTA staff have been conducting observations and collecting data about the project's effects on behavior and attitudes. So far, we have seen some promising trends:

A 3-5 mph reduction in motor vehicle speeds on Oak Street as a result of modest changes to traffic signal timing.
A reduction in sidewalk bicycle riding now that bicyclists have buffered bike lanes to seperate them from traffic.
An increase in bicyclists' compliance with traffic signals as a result of improved bikeways and traffic signals.

Additionally, an intercept survey was conducted of people riding their bikes on Fell and Oak streets in August of 2013. Preliminary tallies of the results found that many of the project's goals are already being achieved:

Because of the bikeways on Oak and Fell streets, 98% of riders surveyed said they feel that the safety of bicycling on Oak and Fell has increased, and 90% feel that drivers' awareness of people biking on Oak and Fell has increased.
Around one in six respondents said they would have used a different route on their bikes before the bikeways were implemented; About 7% said they would have used a different mode all together (driving, walking etc)
Around one in five people said that because of the Oak and Fell bikeways, how often they ride a bike overall has increased. Among women only, it is closer to one in three.
Good stuff. I've also noticed, while riding in a car or bus down Fell and Oak, that the eye-catching bike lanes seem to act as a sort of billboard for bicycling. It'd be helpful to know how many commuters have been drawn to try out the Wiggle option since the bike lanes appeared.
The data feed from the in-ground Fell bicycle counter -- where a skinny, door-zone bike lane already existed for about ten years before it was installed -- hasn't shown a noticeable increase in traffic quite yet. Here's a comparison of bike trips recorded in the three months of August, September, and October this year and last year:
2012
August: 54,522
September: 52,054
October: 42, 393
2013
August: 49, 170
September: 51, 389
October: 52,281
The broader trends are nothing to scoff at, however. In 2009, the year the Fell counter was installed, bicycle traffic peaked at 41,017 in September. The record was since set at 55,872 in October 2011. For 2013, October (which ends tomorrow) has had the highest ridership so far at 52,281.
The Fell and Oak project still isn't done -- the SFMTA is expected to install concrete planters to separate the bike lanes from motor traffic, along with planted pedestrians bulb-outs. Those were originally expected to be installed this year, but the SFMTA now says construction on the bulb-outs will start in summer 2014.
The SFMTA is expected to provide us with an update tomorrow on when the concrete planters should be installed.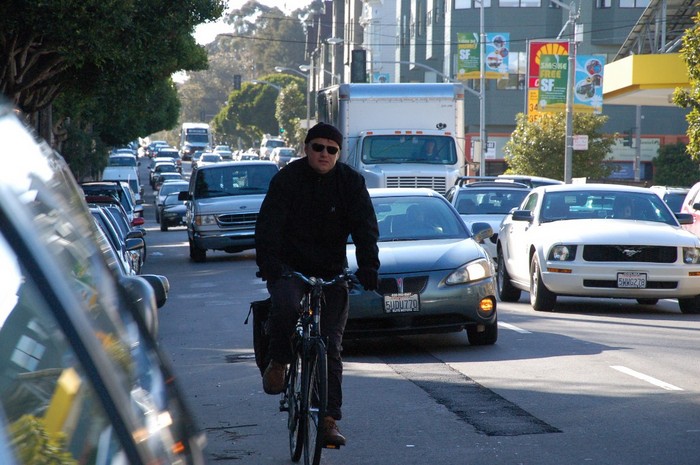 Aaron was the editor of Streetsblog San Francisco from January 2012 until October 2015. He joined Streetsblog in 2010 after studying rhetoric and political communication at SF State University and spending a semester in Denmark.
Read More:
Stay in touch
Sign up for our free newsletter