District 6
SF's First Painted Sidewalk Extensions Come to Sixth Street
5:57 PM PST on November 12, 2013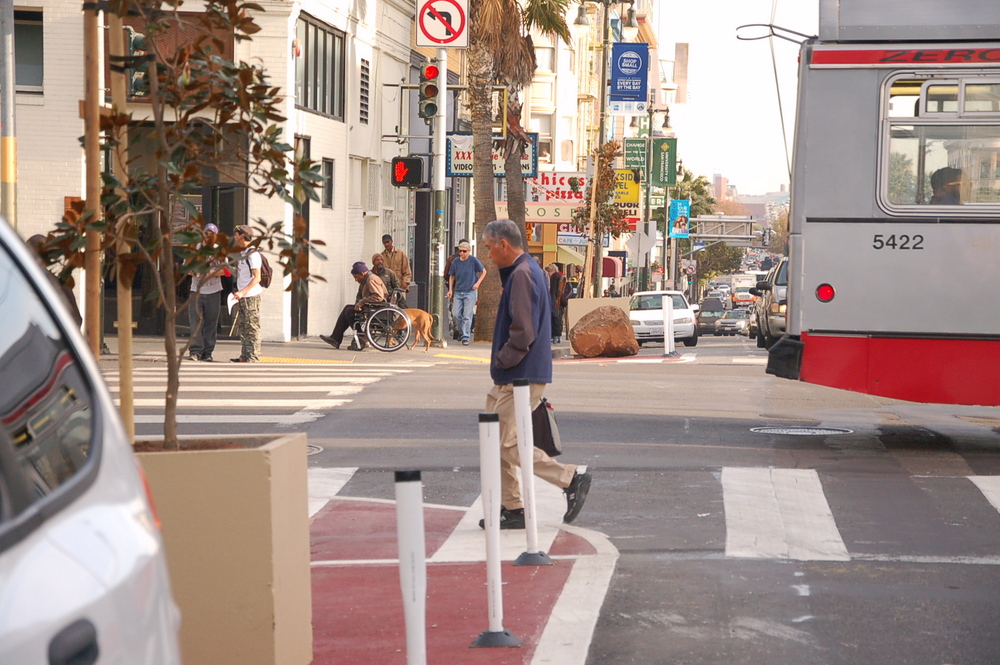 A deadly stretch of Sixth Street received the city's first painted sidewalk extensions last week, created using low-cost, temporary materials to help make pedestrians more visible. The SFMTA implemented the pilot project between Market and Harrison Streets -- four blocks dense with residential hotels and shops -- to help curb injuries while the agency develops plans for a road diet.
The six sidewalk bulb-outs replace car parking spaces, marked using a red and white gravel surface and plastic posts, with boulders and portable concrete planters set inside. The measures are expected to make pedestrians more visible to drivers as they enter crosswalks, and send the signal that the street isn't just an extension of the freeway, but a gateway to a dense neighborhood street that drivers are expected to share with residents.
"We're hoping that pilot programs like this can be a model for the city, knowing that [pedestrian safety] is an issue for every corridor," said D6 Supervisor Jane Kim. "People are already, anecdotally, talking about some safety improvements from these very affordable pilot designs that we're putting out just to see what we should be doing to make Sixth Street safer."
Sixth is designed primarily to speed drivers between the Tenderloin and the 280 highway through the dense SoMa neighborhood. Between 2005 and 2010, 93 pedestrians were injured and five were killed by drivers on this stretch, according to data from the Department of Public Health.
"If we don't make our streets safer, if we don't have proper enforcement, if we aren't designing our streets to be shared by multiple users, people actually die or lose important parts of their body," said Kim, who noted that in District 6 alone, pedestrian injuries have racked up a cost of $13.5 million in the last five years in costs for medical treatment and emergency services.
Although many pedestrian injuries occur while drivers are making a turn, neighborhood residents also say pedestrians are often hit on multi-lane streets like Sixth when, as they make their way through a crosswalk, some drivers stop to yield the right-of-way, but others attempt to pass, apparently not expecting a person to be in their path.
"It is not a pretty picture when you see a senior citizen going up in the air and coming down," said "Mother" Elaine Jones, a senior tenant organizer who lives at a single resident occupancy hotel at Howard and Sixth. "You've got some people laughing. They're not caring. Enough is enough."
"It's clear that the community wants improvements that will make it safer for seniors and people with disabilities to cross safely," said Walk SF Executive Director Nicole Schneider, who called the temporary bulb-outs an "encouraging" first step. "Too many community members have witnessed the devastation of their friends and neighbors being hit by speeding cars on Sixth Street."
Half of the $61,000 set aside for the pilot project came from a chunk of Supervisor Kim's $100,000 pot of discretionary funds (every supervisor received that amount in recent budget negotiations). The other half came from Mayor Ed Lee's office.
Longer term, the SFMTA is studying the prospect of slimming Sixth down from four lanes to two, which should dramatically calm car traffic and curtail the ability for drivers pass one another when a pedestrian is crossing the street. The agency is also considering adding new traffic signals at mid-block crosswalks to give pedestrians a dedicated phase to cross, as well as digital displays to show drivers when they are exceeding the speed limit.
The SFMTA has added some other minor improvements in recent years, including street trees, concrete bulb-outs, and more visible "continental" crosswalks. The agency also lifted a ban on curbside car parking during rush hours in the eastmost lane of Sixth between Folsom and Market Streets, since parked cars provide a physical barrier between pedestrians and fast-moving vehicle traffic.
It's unknown when the long-term measures could be implemented, but the SFMTA plans to hold a community meeting to discuss them on November 21 (the exact time and location have yet to be determined).
Until now, San Francisco has only used temporary materials to expand pedestrian space as part of the city's Pavement to Parks plazas. Sixth Street is the first to have curbs extended using that method. New York City, meanwhile, has been reclaiming street space for people with quick and cheap measures for several years under Mayor Michael Bloomberg's administration. The city has seen dozens of public space expansions, including the famous Times Square street reclamation, where plans for a permanent plaza are underway.
"It's been amazing to see the difference they've been making for the quality of life of pedestrians and cyclists," said Kim, who grew up in Manhattan.
A road diet and other major safety measures on Sixth appear to have broad support from both residents and merchants, even if space for cars is reduced, according to at least one tenant organizer.
"The reality is that we're not just a freeway corridor -- we're a vibrant community of residents and workers," said Daniel Pan, who owns Sixth Street's 1AM Gallery, in a statement. "My business regularly uses the sidewalks adjacent to our building for art classes, and I've always been a big advocate of creating more space for pedestrians. I hope over time Sixth Street becomes a true pedestrian boulevard where we can host more event crawls like 2 Blocks of Art, where the businesses benefit from increased foot traffic and community building."
During a press walking tour last week, a group of city officials and community members made their way across one of the mid-block crosswalks on Sixth. Drivers promptly yielded, and all made it across safely, but SFMTA Director Ed Reiskin noted that it's hardly comparable to the experience residents regularly contend with when crossing on their own.
"There's no question that crossing in a big group with a police officer doesn't replicate the sense of security you would have crossing it solo, even in the daytime, let alone at night," Reiskin told Streetsblog afterwards. "Anything we can do even with just paint to get pedestrians out there a bit will help, but I think the longer term solution will require narrowing the street."
Aaron was the editor of Streetsblog San Francisco from January 2012 until October 2015. He joined Streetsblog in 2010 after studying rhetoric and political communication at SF State University and spending a semester in Denmark.
Stay in touch
Sign up for our free newsletter