Bike Lanes
Survey Shows Polk Neighbors Want Safer Streets First, Not Parking
3:58 PM PST on January 28, 2014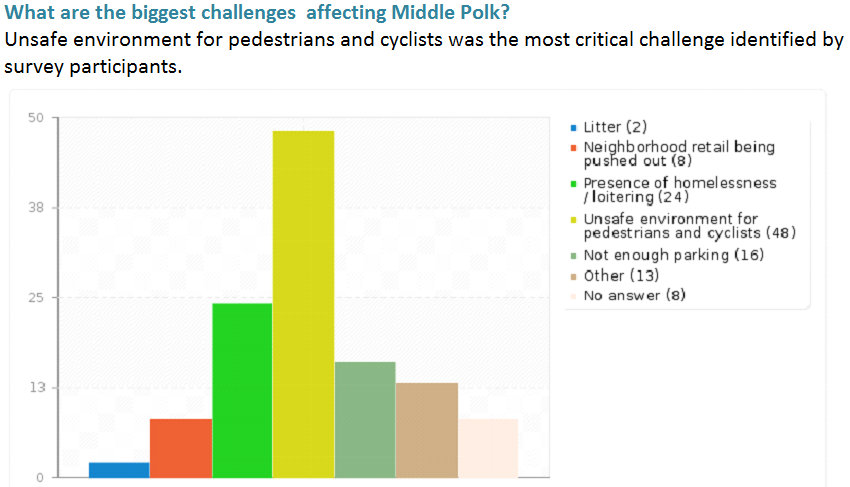 Updated 6:09 p.m. with comment from MPNA.
Polk Street's dangerous conditions for people walking and biking are, by far, the biggest concern for people who live, work, and shop there -- far more important than any lack of car parking, according to a new neighborhood survey.
The survey [DOCX] was conducted by the Mayor's Office of Economic and Workforce Development in partnership with the Middle Polk Neighborhood Association, which hosted a neighborhood meeting last March where the parking-obsessed furor drummed up by the a group of merchants called "Save Polk Street" overwhelmed discussion of facts with fearmongering.
"Middle Polk is extremely concerned about safety - pedestrian, bicycles, etc.." said MPNA Chair Dawn Trennert. "No doubt that would rank #1. The Save Polk Street issue about parking has a few aspects to it - but the primary one is concern over removal of parking.  Pedestrian and bicycle safety and parking are all important items for our neighborhood."
Out of the 140 respondents to the survey conducted last fall, 48 said "the biggest challenge affecting Middle Polk" was the "unsafe environment for pedestrians and cyclists." It was the top choice, while "not enough parking" was chosen by 16 respondents, making it the third-most selected choice. The second-biggest concern was the "presence of homelessness / loitering."
The survey findings buttress an SFMTA survey released last March which found that 85 percent of people on Polk arrive without a car, and that those who do drive tend to spend the least on a weekly basis.
"These survey results reaffirm what so many residents, shoppers and commuters of Polk Street understand: this thriving corridor needs a transformation that places people first," said Kristin Smith, communications director for the SF Bicycle Coalition. "The SFMTA must implement a robust pilot to demonstrate the benefits of safer and more inviting biking and walking conditions and ensure the Polk Street Project Improvement Project meets the real needs of Polk."
"We're not surprised to see that safety is one of the community's top concerns," said Walk SF Executive Director Nicole Schneider. "Polk is one of the city's most dangerous streets for people on foot. We know safety impacts the livability, vibrancy and economic success of our city's commercial corridors, and this survey confirms that this is what our community wants."
There's little hope that Save Polk Street would reconsider its position in light of more empirical evidence that undermines it (data and facts haven't worked so far). But this kind of hard data shows that officials at the SFMTA, and elected officials like Supervisor David Chiu, are making decisions that shape our streets based on a poor gauge of political support for safety improvements. Instead, in the case of Polk, they're catering to a small but loud, irrational group.
The SFMTA Board of Directors hasn't approved the Polk plan yet, and its members asked for an option to pilot a full-length bike lane. But as it stands, the proposal is a watered-down version of a redesign that has the potential to make the street feel more like Paris and less like Detroit, all to save a sliver of car storage.
"The survey results clearly reflect people's serious concerns about safety in the Polk corridor," said Madeleine Savit, who founded Folks for Polk, and has worked to build support for a bolder, safer plan for the street. "They also demonstrate the public's wisdom that commercial vitality comes from substantive actions that are proven to enliven our streets."
Aaron was the editor of Streetsblog San Francisco from January 2012 until October 2015. He joined Streetsblog in 2010 after studying rhetoric and political communication at SF State University and spending a semester in Denmark.
Stay in touch
Sign up for our free newsletter