Paging Ed Lee: How a Mayor Shows Real Commitment to Vision Zero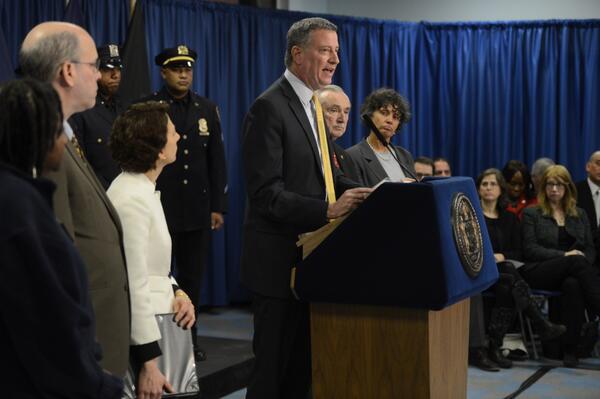 While they've both uttered the phrase "Vision Zero," Mayor Ed Lee continues to be put to shame by New York City Mayor Bill de Blasio when it comes to making a real commitment to drastically reduce traffic violence.
Lee's only direct mention of Vision Zero so far came in his State of the City speech, with a brief assurance toward the end of his transportation spiel that "I also support the goals of Vision Zero to eliminate traffic-related deaths in our City, but to get there, we need a little more common sense." The urgency from City Hall was not exactly palpable.
De Blasio, meanwhile, told New Yorkers yesterday, "We have to act right now to protect lives."
Here's the letter he included in his Vision Zero Action Plan:
Dear Friends,

A life lost is a life lost.

And it is our collective responsibility to save every life we can, be it a life taken in a violent crime or in a crash with a motor vehicle.

In the first days of our administration, we made a commitment to decisively confront the epidemic of traffic fatalities and injuries on our streets. And with this implementation report, we are laying out an ambitious roadmap to live up to that commitment.
The fundamental message of Vision Zero is that death and injury on city streets is not acceptable, and that we will no longer regard serious crashes as inevitable. These tragedies happen in every community in our city, to families from every walk of life—from the Upper West Side to Woodside; from Park Slope to Edenwald. They happen to people who drive and to those who bike, but overwhelmingly, the deadly toll is highest for pedestrians — especially our children and seniors.

We won't accept this any longer. I make that pledge as a parent, and as your mayor.

Community groups, advocates and–most meaningfully–families who have lost loved ones, have proven that we can change hearts, minds and behaviors. Drunk driving and failure to use seatbelts, once commonplace, are now socially unacceptable. Today, we must bring the same concerted effort against dangerous and careless driving on our streets.

Better designs and regulations are already making our streets safer, and we will expand these efforts. We will bring more resources to enforcement and public outreach. In Albany, we will seek control over the City's speed limits and use of enforcement cameras.

We will save lives. And that work begins in earnest today. But just as this effort has grown from the grassroots, its success will depend on everyday New Yorkers, neighborhood groups and communities coming together and working in common purpose.

We need your ideas to improve street safety, to identify problematic locations, and to hammer out site-specific solutions that match realities on the ground. We need your support and collaboration as our agencies take action. We need you to talk to your neighbors, speak up at community boards and block associations, and help foster a broader understanding that it is within our power to prevent tragedies on our streets.

Together, we will make this City safer.

Bill de Blasio
Mayor
That's the kind of unequivocal commitment — with the wide- ranging action plan to back it up — that San Francisco needs to hear from the mayor.
City agencies have been making some progress, with promising signs lately that SFPD is taking traffic violence seriously. But Mayor Lee didn't even show up to a press event outside City Hall last week to stand alongside safe streets advocates, traffic violence victims, and his own agency chiefs. Is preventing the loss of life on city streets really a top priority for this administration if the mayor can't be bothered to deliver the message himself?