Bicycle Safety
A Reminder: Congestion Pricing Will Save Lives
5:35 PM PST on February 20, 2014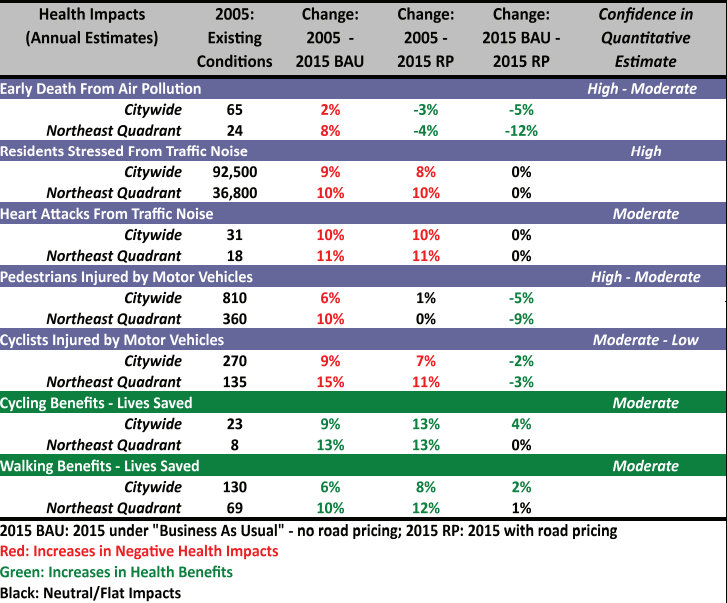 Congestion pricing resurfaced this week thanks to an SF Examiner article that was picked up by several other media sources, rightly framing it as a way to save lives.
The Examiner highlighted a Department of Public Health report from 2011 [PDF], which estimated that in 2015, if drivers were charged $3 for heading into downtown SF during rush hours, pedestrian injuries would be cut by 5 percent citywide, and 9 percent within the fee zone in the city's northeastern quadrant. For people on bikes, those numbers are 2 and 3 percent, respectively.
As we've written, congestion pricing is a crucial tool to make streets safer for walking and biking and allow transit to move more efficiently, all while raising a sorely-needed $60 million per year for transportation improvements to make non-driving options more attractive. Cities like Stockholm and London have reaped major public health and economic benefits from their congestion pricing programs.
But the SF County Transportation Authority, which completed a study of congestion pricing scenarios in 2010, quietly shelved the idea after it was met with fierce political opposition. If San Francisco is serious about achieving Vision Zero -- an end to traffic deaths within ten years -- however, congestion pricing must be revisited as part of the strategy sooner rather than later. The life-saving benefits have been demonstrated in London, which implemented a fee of roughly $15.60 to drive into or within the charging zone between 7 am and 6 pm on weekdays in 2003. London saw its lowest annual traffic fatalities on record in 2011.
The current administration seems to be in no rush to back congestion pricing. A spokesperson from the Mayor's office told the Examiner that it is not a priority for Ed Lee. "There are more effective pedestrian safety measures Mayor Lee believes we should fund and prioritize before pursuing so-called congestion pricing, which is more a regional traffic-management proposal," he said.
Supervisor Jane Kim, a leading proponent of Vision Zero, told the Examiner that the city should revisit the idea, while Supervisor Scott Wiener said he opposed it until the city first takes other steps to enforce traffic laws and redesign streets.
Few would disagree that San Francisco needs to move faster on making transit and bicycling more convenient commute options, but the health and safety benefits of reducing unnecessary driving are just as undeniable. A modest $3 fee would cause people to reconsider whether they really need to drive into the densest part of the Bay Area during the most congested hours. The result would be safer streets, less pollution, and a more reliable commute for those who need to drive the most.
We can expect many of the same arguments to resurface against congestion pricing, like the assertion that it would disproportionately tax the poor. The data, however, doesn't back that up. The SFCTA's study [PDF] found that 95 percent of drivers to, from, and within the downtown area during the morning rush are from households making more than $50,000 annually. And 70 percent of rush-hour driving in downtown SF is done by San Franciscans, not far-flung commuters who lack viable transit options.
Currently, a safer future for San Francisco streets depends heavily on the three ballot measures that the mayor and the SFMTA are counting on for transportation funding -- and they'd only provide part of what the city needs. That kind of gamble is hardly the sure thing SF needs to secure a more effective surface transportation network.
Congestion pricing would provide San Franciscans a safer bet.
Aaron was the editor of Streetsblog San Francisco from January 2012 until October 2015. He joined Streetsblog in 2010 after studying rhetoric and political communication at SF State University and spending a semester in Denmark.
Stay in touch
Sign up for our free newsletter