Bridge Tolls
GG Bridge Toll Hikes Approved 15-2, Supes Campos and Breed Opposed
5:38 PM PST on March 3, 2014
When the plan for much-needed toll hikes on the Golden Gate Bridge was approved Friday, the only opponents on the GG Bridge Highway and Transportation District Board of Directors were Supervisors David Campos and London Breed.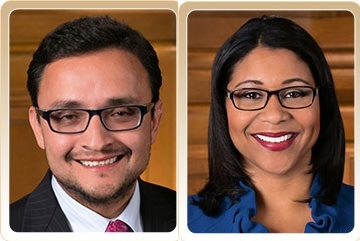 All other 15 members who voted, including Marin County reps, apparently understood the need to fund rising infrastructure costs for the bridge by increasing tolls for the drivers who use it. In recent years, the board tolls have not risen as quickly as fares for Golden Gate Transit, which has also seen service cuts -- a pattern that unfairly burdens bus riders and induces more car traffic on the Golden Gate Bridge. The bridge district has also cut costs by eliminating toll takers and switching to all-electronic tolling, getting district employees to pay for a larger share of their benefits, and bringing in new revenue by charging for parking at the Larkspur Landing ferry terminal.
But that apparently wasn't enough for Campos and Breed, who said they wouldn't approve toll hikes until they were sure every possible cost-cutting measure had been taken, according to the SF Chronicle. "We have to demonstrate that we have done everything we can before we vote to increase tolls," Campos said. "It may be that toll increases are essential and necessary, but I don't know that we've demonstrated that."
Supervisor Scott Wiener, who also sits on the bridge board, pointed out that the hikes would only "go up at about the rate of inflation."
"The cost of running the bridge and the transit system keeps going up," Wiener said, according to the Chron. "I don't think it's unreasonable."
In fact, Wiener called for higher hikes than the ones approved. According to the Chronicle, he opposed retaining the $1 discount for FasTrak users, who account for 85 percent of drivers on the bridge:
With the Bay Area's growing population, the bridge district needs to pay more attention to the transit side of its business, he said, "since the last thing we need are more cars on (Highway) 101 clogging the bridge, which would not be to the benefit of driver or to the benefit of the region."

Raising more money for future transit service makes sense, Wiener said.

There's an argument to be made for ending the discount for electronic toll payments, he added, "given the overwhelming majority already using FasTrak."
As we reported in 2012, tolls for car commuters have only increased one time since 2002. A 2008 hike raised the cash toll 20 percent and the discount toll 25 percent. By comparison, GG Transit fares have increased 5 percent or more every year since 2001. Compounding a 5 percent annual transit fare hike (an underestimate) over ten years yields an increase of about 65 percent.
Will Campos and Breed play hardball with approving fare hikes and service cuts, as they have with toll hikes?
It's disappointing to see opposition -- the only opposition, at that -- to badly-needed toll hikes come from representatives of San Francisco, which bears the costs of Marin car traffic in the form of added congestion, wear-and-tear on infrastructure, air pollution, and more dangerous streets. (It's worth noting that the only public opposition reported by the Chronicle was from a handful of Marin County residents, not San Franciscans.)
If anything, SF's leadership should be pushing for a congestion pricing-based toll structure -- in other words, charge more during rush hour, as The Greater Marin explained last month:
Implementing a demand-based toll would go much further to promote transit usage than marketing studies and start to reduce some of the intractable traffic problems in Marin.

As well, the toll would ease Marin's traffic-caused CO2 emissions, both by reducing stop-and-go traffic, which is high-emitting, but also raising money to modernize the GGT fleet with more fuel efficient buses.

Ideally, GGBHTD would set out for itself an aim of managing the traffic along the 101 corridor and set its tolls and fares accordingly. Long term, it should start to charge tolls in both directions, in coordination with MTC (which manages the other bridges) with the express aim of reducing traffic congestion in and out of San Francisco. Though MTC has shown an inability to invest in transit wisely, the mere adjustment to tolling would surely boost transit ridership as congestion declines.
Under the plan approved by the bridge district, the $6 toll will rise to $7 on April 7 on its way to $8 by 2018. A 25-cent increase will go in place on July 1, 2015, with a similar boost each year until 2018, according to the Chronicle. The bridge board increased tolls beyond its original proposal, which didn't include an increase in 2015. By adding a 25-cent hike in 2015, projected revenue was increased from $123 million to $138 million.
Aaron was the editor of Streetsblog San Francisco from January 2012 until October 2015. He joined Streetsblog in 2010 after studying rhetoric and political communication at SF State University and spending a semester in Denmark.
Stay in touch
Sign up for our free newsletter