Muni
Facing Resistance to Longer Walks, SFMTA Revises Some Muni Route Changes
3:59 PM PST on March 7, 2014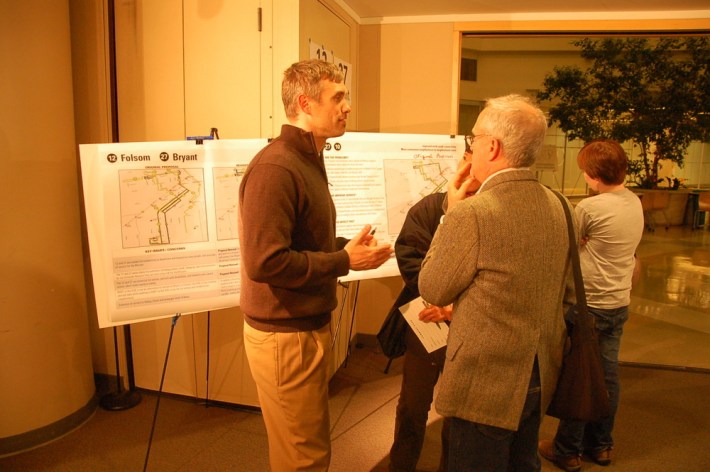 The SFMTA is fine-tuning its proposals to change Muni routes as part of its Transit Effectiveness Project, an effort to make Muni more efficient. By consolidating stops and concentrating service on key routes, the TEP aims to make Muni faster and more reliable. The agency presented revisions at a public meeting last night intended to address pushback from some residents, many of whom are elderly, against proposals that would have them walk up to a few blocks more to their Muni stop.
A second open house will be held tomorrow morning, where the SFMTA will present the revised proposals again for feedback.
With input collected at 11 neighborhood meetings held throughout the city over the past few weeks, a few of the proposed line adjustments have undergone major revisions to avoid disrupting current service patterns, said Sean Kennedy, planning manager for the Muni TEP. "There are a couple of hot issues in each district," he said.
For example, a proposal to move the 27-Bryant segment in the Mission to Folsom Street [PDF], replacing the 12-Folsom (proposed to be eliminated) and re-named the 27-Folsom, has been changed to keep Muni on Bryant. Residents, including Supervisor David Campos, protested the prospect of walking to parallel lines like the 9-San Bruno on Potrero Avenue (three blocks away) or the new 27 route (five blocks away). Planners said the original proposal would have allowed Muni to provide more frequent service on those lines, alleviating crowding on the 9 and 9-Limited.
"We heard from the community that people really need the service on Bryant," said Kennedy, "that there are a lot of daycare facilities on there, and we thought that the 9/9L was close enough to serve those people on the 27. But it turns out, as we heard, that the 9 is super crowded, and not necessarily a safe line."
Under the new proposal, Folsom will be served by a new line to be created as part of the TEP, the 11-Downtown Connector, which will stretch from North Beach to the outer Mission District.
Concerns from residents appear to be largely focused on the ability of elderly and disabled riders to walk longer distances, as well as people who feel unsafe walking in certain areas due to street crime. However, 61 percent of Muni riders in a 2010 survey said they would consider walking a longer distance to their stop if they knew it would reduce their overall travel time.
The northern end of the 8X-Bayshore was also re-configured. The SFMTA's original proposal was to eliminate the segment north of Broadway, since it attracted many riders who used it as a short run to Market Street, crowding out the crosstown riders boarding in Chinatown headed to Visitacion Valley and other southern neighborhoods. But after complaints from commuters who said they use the 8X to reach the north end, planners proposed reducing the frequency on the segment instead, with every other 8X bus continuing to run north of Broadway.
Although some of the people protesting TEP changes have seen them as service cuts, Kennedy said service is expected to increase overall by 10 percent, reaffirming that the TEP is a data-driven effort that aims to deploy service more efficiently by shifting resources from lesser-used routes to where the ridership is.
Muni TEP planners will present their revised proposals on March 14 and 28 to the SFMTA Board of Directors, which would need to approve them. To weigh in on proposals, you can head to an open house at the SFMTA offices at 1 South Van Ness Avenue (at Market Street), tomorrow at 10 a.m.
Aaron was the editor of Streetsblog San Francisco from January 2012 until October 2015. He joined Streetsblog in 2010 after studying rhetoric and political communication at SF State University and spending a semester in Denmark.
Stay in touch
Sign up for our free newsletter