Bay Area Bike Share
SFCTA Report: Expand Bike-Share in San Francisco ASAP
5:18 PM PDT on March 19, 2014
The SF County Transportation Authority issued a new report Monday to guide the expansion of Bay Area Bike Share, which sees 90 percent of its rides in San Francisco, despite the city encompassing half of the system's bikes and stations.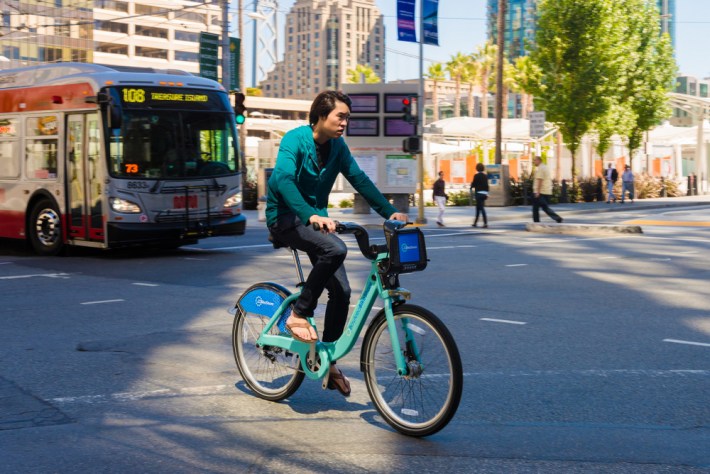 Among the recommendations in the "Strategic Analysis Report" [PDF] is giving the SFMTA greater independence to plan and manage bike-share in San Francisco while other Bay Area cities work on their own expansions of the system.
"This SAR makes smart recommendations: embracing a regional system while not waiting to expand in San Francisco," said Kit Hodge, deputy director of the SF Bicycle Coalition. "Now it's up to the city to really move forward. San Francisco residents and businesses have been very clear in their call from every corner of the city for more bike-share."
The report notes that SF's bike-share expansion is crucial to the system as a whole, given the high usage in SF by commuters who live in other areas: "As an indication of the regional demand for bike sharing in San Francisco, Alameda County has the second highest number of memberships in Bay Area Bike Share, even though there are currently no bike sharing stations or bicycles in the East Bay."
The SFCTA also recommends that Bay Area Bike Share operations, currently overseen by the Bay Area Quality Management Distict, should be re-organized using "a hybrid model where a non-profit associated with or managed by a public agency administers the program and contracts with a private-sector operator."
Here are the report's full recommendations on bike-share expansion in San Francisco:
3. In the near term, we recommend that San Francisco pursue an organizational model for bike sharing where the bulk of decision-making happens at the local level while ensuring these decisions do not preclude the ability to meet regional standards described in recommendation #2. San Francisco should maintain local control of operational and funding decision-making to ensure that the local system can expand quickly and meet other local goals. At the same time, San Francisco should maintain flexibility in this approach, and the local governing body may consider shifting some governance functions to a regional bike sharing entity if becomes desirable in the future.

• SFMTA should continue its station site planning and develop a business model that shows how the proposed expansion can reach financial sustainability through the commitment of public funding, private sponsorship, user revenues, or a combination of all these sources.

• San Francisco should also actively pursue private-sector sponsorship opportunities, both locally and in partnership with the Air District and MTC for the region. Some level of subsidy for the regional system may be warranted in order to ensure it meets the regional standards, but it cannot happen at expense of meeting San Francisco's goals, especially since the city's market will likely drive any sponsorship program.
Aaron was the editor of Streetsblog San Francisco from January 2012 until October 2015. He joined Streetsblog in 2010 after studying rhetoric and political communication at SF State University and spending a semester in Denmark.
Read More:
Stay in touch
Sign up for our free newsletter