SFMTA
Bold Vision Needed From SFMTA's Next Sustainable Streets Director
4:59 PM PDT on March 28, 2014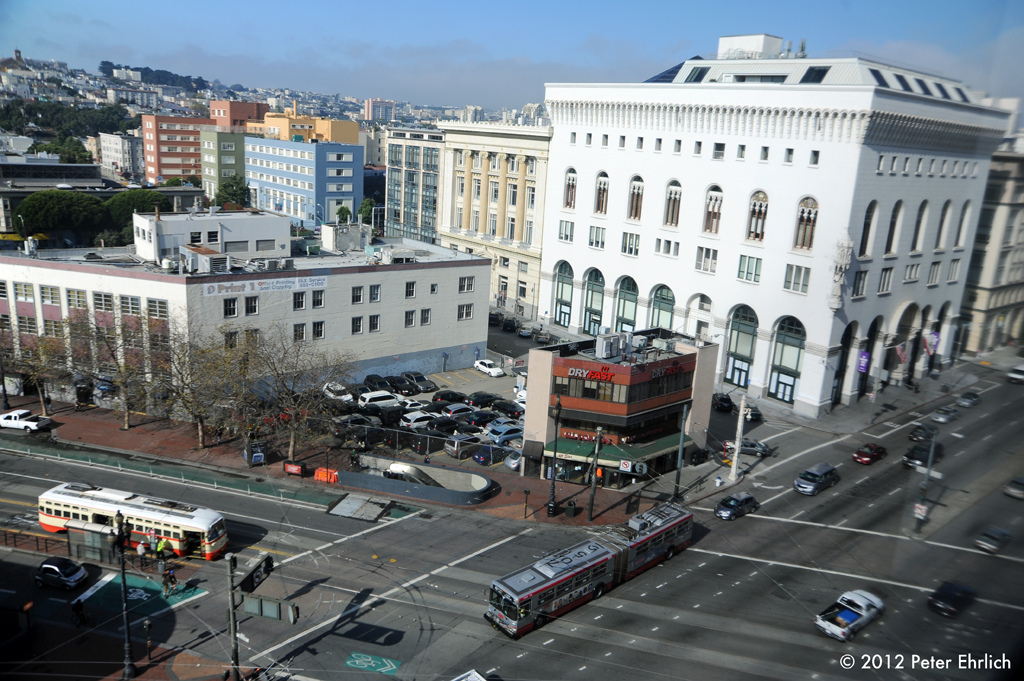 The SFMTA is searching for a new Sustainable Streets Division director to replace veteran traffic engineer Bond Yee, who retired in January after four years on the job. The broad umbrella of Sustainable Streets includes all SFMTA programs that involve street design and parking management, and its next leader will play a critical role in moving San Francisco towards its stated vision of (as the division's name says) sustainable streets.
"Choosing a leader who is the right mix of visionary and results-driven is critical if San Francisco is going to reach its goal of being a truly great city to move around," said Leah Shahum, executive director of the SF Bicycle Coalition. "We need a Sustainable Streets Director who is not afraid to try new things and think outside the box, while also holding her or his team accountable for delivering successful projects in a timely way."
The SFMTA expects to name a candidate for the position by this summer. In the interim, the role is being filled by Jerry Robbins, who has served as a transportation planner for the city for 28 years. Robbins said that delivering bold projects without delay is a delicate balancing act that requires "getting everyone on the same page and pushing in the same direction — the funding people, the designers, engineers, planners, the public education people — and staying on focus, not getting distracted. It's a lot of different balls in the air at one time."
Yee, a city traffic engineer for 32 years, was named Sustainable Streets Director in 2010 after serving as interim director for eight months. Then-SFMTA Chief Executive Officer Nat Ford defended Yee against criticism from some sustainable transportation advocates regarding his reputation as an old-school traffic engineer with a tendency to prioritize automobiles over other modes. Ford credited him with helping to make San Francisco "one of the most bikeable and walkable cities in the country."
Ford's successor, SFMTA Director Ed Reiskin, had similar praise for Yee in announcing his retirement to staff back in December, saying that he "molded a new division into a dynamic, multi-modal force for the SFMTA":
As the Director of the Sustainable Streets division, Bond is responsible for Strategic Planning and Policy; Livable Streets; Transportation Engineering; Field Operations; Off Street Parking, Security, Investigations and Enforcement. He also created the landmark internship program, which fostered new engineering and planning talent for nearly 25 years by providing internships for more than 200 students and young professionals many of whom are now employed or engaged in professional careers at SFMTA and throughout the world.

A man who leads by example, many of the Sustainable Streets managers and employees are "Bond Yee-trained," which means that requests and questions are responded to quickly and professionally; work is conducted collaboratively and respectfully; successes are celebrated, and team members are valued.
Cheryl Brinkman, vice chair of the SFMTA Board of Directors, highlighted Yee's ability to remain a "wise sage" in the "incredibly emotional area" of managing city streets.
"He was always so calm… a peacekeeper," she said. "I think it's hard to understand how important that was in his role. You couldn't rile him, couldn't upset him. I think anybody who replaces him is going to have to share that."
Yee's poise was even appreciated by Livable City Executive Director Tom Radulovich, among those who criticized Lee's hire as a missed opportunity to bring in fresh blood.
"People can be really nasty, both inside city government and the public," said Radulovich. "Conversations can be really heated and challenging. You need someone who can calmly -- and probably repeatedly -- but strongly and firmly articulate the position of why you're doing this. But also someone who can listen, who can compromise, and make adjustments that are responsive to local concerns without the whole point of the process getting lost."
As Brinkman notes, a generational shift is occurring: in "any hand-over of these high-level positions… there's inevitably going to be a change in the mindset of how we view the world."
The next Sustainable Streets director will play a key role in bringing bold change to San Francisco's streets, akin to how New York City underwent an unprecedented reallocation of street space to walking, biking, and transit under the six-year leadership of Janette Sadik-Khan. Sadik-Khan recently left her position as NYC Department of Transportation Commissioner, coinciding with the end of Michael Bloomberg's mayoral tenure. We haven't heard anything about whether she's in the running to move here, but she now works as part of a consulting group formed by Bloomberg that offers pro bono advice on sustainable transportation planning to cities around the world.
"While there is tremendous political and public appetite for great streets and transportation options," said Shahum, "we need more people in key positions, like this one, who are setting higher expectations than business-as-usual, then holding agency members accountable for delivering results."
"There is a big disconnect between our city's stated priorities and the actual priorities, as they're making individual decisions about streets or juggling between modes," said Radulovich, pointing to street plans that get completed, but sit on the shelf for "years or decades."
The Sustainable Streets Director, he added, will need to maintain a steadfast, long-term vision for implementing projects. "There's no one big change that's going to make San Francisco safe or livable, that's going to implement Vision Zero, that's going to make Muni function the way it should," said Radulovich. "It's going to be a lot of little changes."
The SFMTA's official job description [PDF] recognizes the need for a savvy, strong-willed political leader. It states that the ideal candidate will have "experience working for or with public sector transportation agencies facing the opportunities, political challenges and financial hurdles found in the San Francisco Bay Area" and a "demonstrated acumen for dealing with political and community issues":
The ideal candidate is a decisive leader and manager of people who inspires team-work and values the contributions of staff, management and stakeholders alike. A track record of 'getting things done' under sometimes challenging circumstances but in a collaborative and professional manner is sought. A key effort of the Agency is to change the focus of the city to truly multi-modal, giving the successful candidate the opportunity to be a leader in providing livable, active transportation.
"The good news is, there's a good team of people in Sustainable Streets that's ready to do good work," said Radulovich. "We've got good policies, we've got a leader in Ed Reiskin, who gets it — someone who walks, and cycles, and takes transit to work. We just haven't seen that same leadership in Sustainable Streets."
Aaron was the editor of Streetsblog San Francisco from January 2012 until October 2015. He joined Streetsblog in 2010 after studying rhetoric and political communication at SF State University and spending a semester in Denmark.
Stay in touch
Sign up for our free newsletter