Mayor Ed Lee
Will SFMTA's Board Buck Mayor Lee, Keep Sunday Parking Meters?
5:45 PM PDT on March 31, 2014
It's hard to believe that San Francisco officials are seriously considering repealing Sunday parking metering, and thus abandoning the entire basis of its lauded parking management program.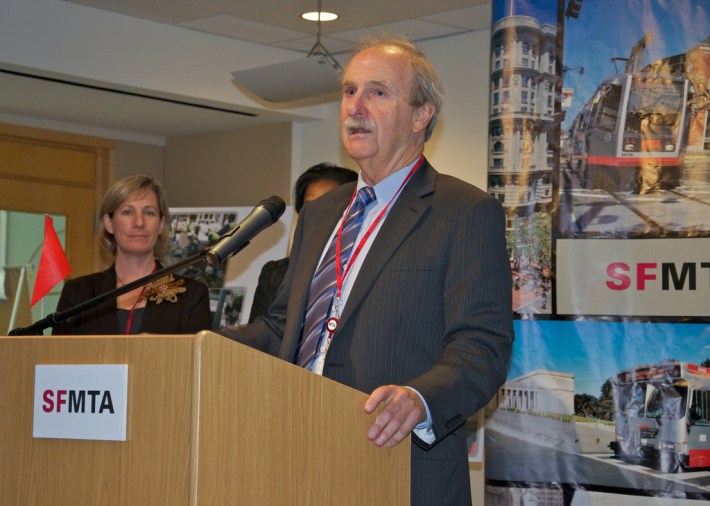 But next month, the SFMTA Board of Directors could send us back to 1947 -- the last time parking meter hours were changed, before they were updated last year -- and undo a simple move that has both cut traffic and boosted commerce by increasing turnover. According to the SFMTA's own report, Sunday metering has cut the time drivers take to find a parking spot in half.
Apparently, the backwards proposal is on the table because Mayor Ed Lee has made a poorly-calculated bid to win the political support of church leaders, who bristle at the idea of having their congregants pay for on-street car storage and worry about losing double parking privileges. As we recently reported, there's no evidence to back up Mayor Lee's claims that San Franciscans have revolted against Sunday meters, but he's pushing the SFMTA Board for repeal anyways.
The mayor wields power over SFMTA's board, since he appoints all of its members. Yet when the board considers the agency's two-year budget at meetings starting tomorrow, its members can stand up to Lee's political antics. There's no need to make our streets more dangerous and hurt local businesses, just to try and please an influential group with an irrational policy stance.
Mayor Lee has continued to ignore the SFMTA's report about Sunday meters, which estimates that removing them would:
Double the average time drivers take to find a commercial parking spot on Sundays.
Reduce turnover by at least 20 percent, meaning that fewer customers can park in each space.
Cut the availability of commercial parking during Sunday business hours in half.
Reduce occupancy of underutilized parking garages on Sundays by 13 percent.
The hypocrisy in all this is painfully glaring. We've heard the benefits of metering high-demand parking spots espoused by Mayor Lee and SFMTA Board Chair Tom Nolan, who has said he supports the mayor's push "to make living in San Francisco more affordable."
Just listen to Nolan and Lee preach the gospel of demand-based parking pricing in praising SFpark, which works on the same principle as Sunday metering:
In 2009, Nolan told Streetsblog he's a fan of UCLA Professor Donald Shoup's book, "The High Cost of Free Parking," and added: "I say charging for parking during weekday nights, [and] as far as I'm concerned on Sunday as well, is a small price to pay for the overall good of the entire city."
In February 2012, Mayor Lee defended against opposition to SFpark's expansion into the northeast Mission, Dogpatch, and Potrero Hill neighborhooods: "To really thrive and generate job growth, we need businesses in those areas that need great access. It needs to be easy for people to get there, as well as for goods to be delivered... For those who have to drive to make pickups and deliveries, it can be hard to find a space during the day."
Back in 2011

, early in Lee's tenure, the mayor lauded SFpark's launch: "How many of you have been dumb in your past? How many you have acted dumb? I know I have. You know, when you're driving around looking for a parking space and you're double parking and you're running around trying to see whether something will open, you're dumb."
Dumb, indeed. But we know that the SFMTA Board is smarter than that. Its members approved Sunday parking metering in 2012, after an extensive public process, because they knew that free parking hurts SF. In fact, Chicago's mayor has already backtracked on a similar move and reinstated Sunday meters, following an outcry from neighborhood businesses. Unlike in 1947, in 2014 most businesses are now open on Sundays, and it doesn't make any sense to bring back a policy crafted in a vastly different era.
We don't have explain the rationale any further. Let's leave that to Nolan, speaking at the SFpark launch press conference in 2011: "Any casual observer can notice any day the difficulty caused in the city by people circling, trying to find a place to park. The results are four-fold: An endless hunt for parking spaces that blocks and slows down transit, puts pedestrians at risk, and means even more pollution."
Aaron was the editor of Streetsblog San Francisco from January 2012 until October 2015. He joined Streetsblog in 2010 after studying rhetoric and political communication at SF State University and spending a semester in Denmark.
Stay in touch
Sign up for our free newsletter