Bicycle Safety
Atherton's Bike/Ped Plan Calls for Safer El Camino Real and Bike Boulevard
1:26 PM PDT on April 2, 2014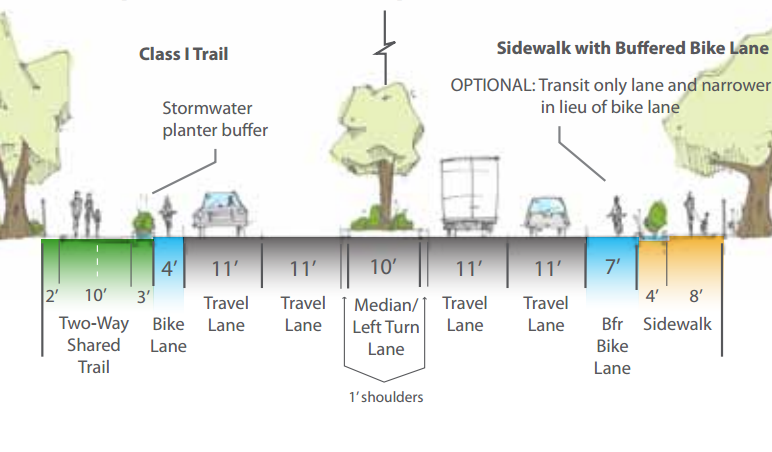 The Atherton Town Council this afternoon will review a draft of its first ever bicycle and pedestrian plan, which it crafted over the past eight months with resident input. The plan has attracted little notice, even though it calls for safety redesigns on major streets like El Camino Real, Middlefield Road, and Marsh Road.
The plan's primary goals are to improve safety for people walking and bicycling on Atherton's streets, and to reduce school-related traffic congestion by removing barriers that keep children from accessing key destinations on foot or by bike.
Atherton paid for the $40,000 bike/ped plan using a $350,000 settlement that it won from Facebook in 2012, for declining litigation after claiming that the environmental impact report for Facebook's Menlo Park Campus inadequately assessed traffic impacts.
El Camino Real, whose six lanes slice through the center of Atherton, is by far the town's most dangerous street. In October 2010, 55-year-old Honofre Mendoza and 62-year-old Christopher Chandler were killed by drivers in separate crashes while crossing El Camino at Isabella Avenue. Exactly two years later at the same intersection, two women were seriously injured by an SUV while walking together in a crosswalk.
Middlefield Road has also seen its share of serious collisions. A man was killed in September 2013 after being struck by a hit-and-run driver near Glenwood Avenue. Several students are also typically injured each year while walking along or crossing Middlefield near Menlo-Atherton High School.
Alta Planning + Design, the consultant crafting Atherton's new bicycle and pedestrian plan, recommends $13 million in safety projects, including nearly $7 million of "priority projects." These include pedestrian safety improvements at key intersections, new walking and biking paths, and new crosstown bike routes -- including an overhaul of El Camino Real that would add bike lanes and reduce auto lanes from six to four.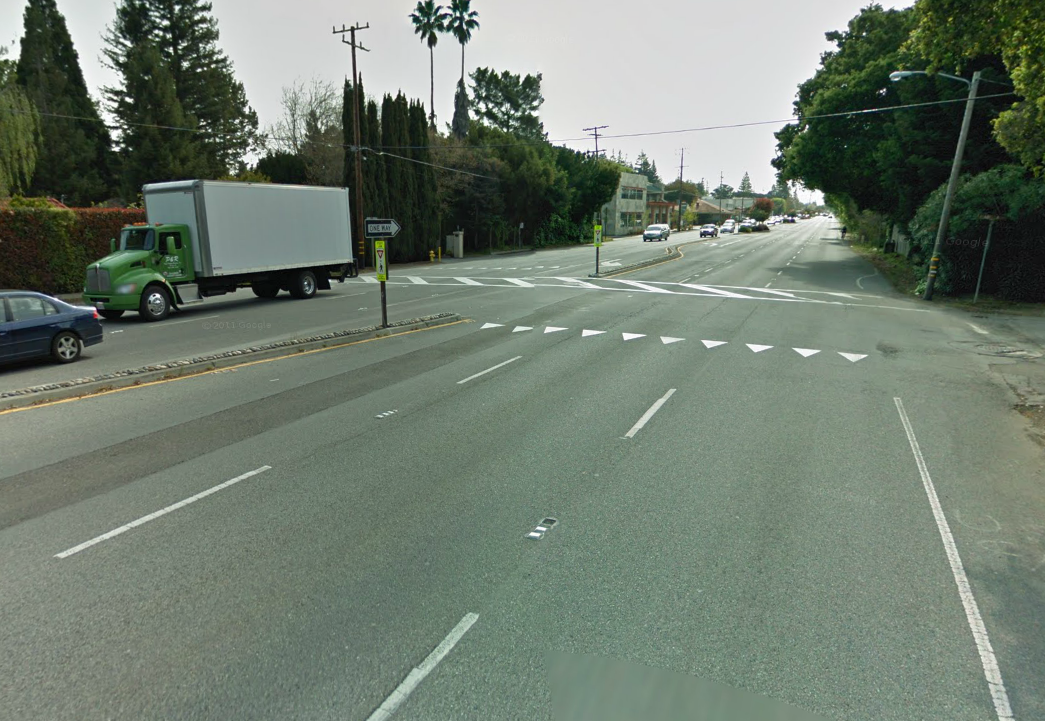 "For us, the issue is that many residents can't get to the schools, the parks, to the library, post office, or city hall without crossing El Camino," said Atherton Town Council Member Bill Widmer. "So kids can't ride their bikes to school, and it's very difficult for them to walk. Their parents won't let them."
Reducing El Camino Real to four lanes would reduce unsafe speeding, and free up space for shared bike/ped paths on either side of the street. But the design would have to be approved by Caltrans, and Alta estimates its cost at nearly $6 million. Bike advocates say there are far cheaper ways to construct such paths, like a trial phase that simply stripes protected bike lanes.
"We don't believe it will have a major impact on the traffic, because it's two lanes in each direction through both Menlo Park and Redwood City, and you don't have a lot of people turning within Atherton," said Widmer. "The bottlenecks aren't going to be here. There's just not that big an impact."
Atherton's proposed bike/ped plan also includes a similarly ambitious, but less expensive ($900,000), east-west crosstown bike route. This "Bay to Ridge Greenway" would include shared bike/ped paths alongside Marsh Road, Middlefield Road, and Watkins Avenue, connecting west of El Camino Real to a bicycle route along Alejandra Avenue, Park Lane, and Camino Al Lago, all the way up to Alameda de las Pulgas.
A north-south bicycle boulevard, modeled on Palo Alto's popular Bryant Street, could transform Selby Lane and Elena Avenue with traffic calming measures and bike navigation signs providing a low-stress alternative to El Camino Real. The plan also calls for new walkways along streets where pedestrians must currently walk in the street.
Since "preserving the scenic, rural character of Atherton is extremely important to town residents," the town's General Plan and Municipal Code prohibit sidewalks and vertical curbs. The plan recommends streetscape elements in that vein, such as logs, rocks, and vegetation that separate road shoulders from walking paths.
Many people who bike between Redwood City and Menlo Park are frustrated navigating Atherton's challenging suburban street grid -- facing either fast car traffic on El Camino Real or Middlefield, or winding through a tangle of confusing residential streets.
"Atherton's lack of low-volume residential streets that cross the whole town is a major barrier to regional travel by bicycle," said Menlo Park Transportation Commissioner Adina Levin. "This plan could provide a big opportunity to improve regional routes and make both walking and biking across the town safer."
But some residents feel that the plan emphasizes complex projects that are unrealistic for a small town with an annual budget of just over $10 million. Although many Atherton residents are very wealthy, the town government itself isn't, and it lacks sufficient city planning and engineering staff to analyze and apply for the many competitive grants that could fund recommended safety improvements.
"I think a big-vision long-term plan is fine, but we need to move ahead with the most cost effective and least intrusive projects we can do," said Valerie Gardner, who served on the bike/ped plan's Stakeholder Advisory Group. "The Town Council should prioritize things we can afford and can get done quickly to keep everyone who walks and bikes in Atherton safe."
At the study session at 4 p.m. today, the Atherton Town Council will hold a public hearing and provide feedback to Alta Planning on the bike/ped plan. The final version of the plan is expected to be approved at the council's meeting on May 7.
Andrew Boone covers the Livable Streets Movements for Streetsblog in San Mateo and Santa Clara counties. Andrew's claim to fame is once having bicycled more than 12,000 miles of smiles in one year. nauboone@gmail.com
Stay in touch
Sign up for our free newsletter