Car Culture
Free Parking Forever: Motorhead Group Wants to "Restore Balance" in SF
6:10 PM PDT on April 24, 2014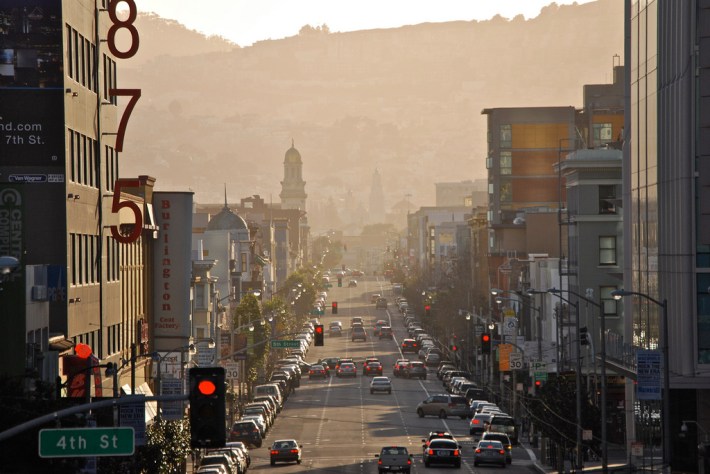 The vast majority of San Francisco's street space is devoted primarily to moving and storing cars, and most of that curbside parking for private automobiles is given away for free. Most of the city's street infrastructure is not paid for by fees related to driving, so it is disproportionately bankrolled by those who don't drive, through general taxes. By any objective measure, the state of affairs on San Francisco's streets is heavily tilted toward cars and designed to incur minimal personal cost to drivers.
At least, that goes for those of us here in the reality-based community. Then there's the alternate reality espoused by one group, calling itself the "Free the Streets Coalition," who believe the city's streets are too unfriendly to cars. The "coalition" of undisclosed size has filed a ballot initiative with the city seeking to "restore transportation balance in San Francisco." Chief among the group's proposals is permanently enshrining existing free parking hours, prohibiting new parking meters except by petition, and encouraging the creation of new parking garages.
The group has only released the names of three organizers -- Jason Clark, who ran on the Republican ticket for State Assembly in 2012; Claire Zvanski, the former president of the Health Service System Board; and David Looman, a political consultant.
These folks don't see the SFMTA Board's recent reversion of Sunday parking metering at the behest of Mayor Ed Lee as a sign of how motorist entitlement already holds sway at City Hall. Instead, they see the fact that the policy was instituted in the first place as a sign that motorists are a persecuted group. The status quo of free parking giveaways cannot be impinged upon -- not even a bit.
"We hope to repeal Sunday parking meters forever, not just as a gimmick to encourage motorists to support higher taxes and fees this November and in future elections," the group said in a sheet sent out to the media.
Free the Streets, they write, is "a group of passionate San Franciscans who want to ensure our streets are safe, well maintained, and efficient to use for everybody." Here's their definition of "transportation balance":
We achieve transportation balance when pedestrians, bicyclists, drivers and transit riders all can share the roads safely and efficiently. When a parent with small children is able to drive to the store, park nearby, and get their shopping done with a minimum of hassle. When commuters are able to board a Muni train, street car, or bus and know it will get them to their destination on time. When pedestrians know if they follow the signals they will be safe crossing an intersection. When bicyclists are able to navigate our streets in a way that gets them to their destination quickly and safely. When disabled individuals don't have to leave two hours before a doctor's appointment because they cannot rely on Muni to get them there or are concerned there will not be a parking space close enough to the office.
Well that all sounds good. So does free ice cream for everybody. But what does this vision have to do with free and abundant car parking? Keeping curbside parking free or underpriced just makes it harder for people who are driving to find an open spot, which leads drivers to circle around distractedly in search of a spot, creating congestion that impedes transit and other drivers. And adding more garages just means there's less space for useful human habitat -- things like housing, stores, and workplaces. In the real world, this makes it harder to walk and bike places, while generating more car traffic that clogs the streets and slows down everybody -- including people who drive.
But in the world this group inhabits, it's as if most of the 20th century in San Francisco wasn't marked by a massive re-allocation of space to automobiles, leaving the legacy of slow transit and dangerous streets that we're still living with today. And what of the barely-implemented Transit-First Policy, approved by the Board of Supervisors in 1973 and re-affirmed by voters in 1999 with the addition of pedestrians and bicyclists? Free the Streets acknowledges the policy, but says it "has morphed into one that favors only public transportation and bicycles."
The group would have to collect 9,702 valid signatures by July 7 for their initiative to qualify for the ballot this November. "We anticipate surpassing that number," they said.
Read the group's full Q&A here [DOCX], and the text of the ballot initiative here [DOCX].
Aaron was the editor of Streetsblog San Francisco from January 2012 until October 2015. He joined Streetsblog in 2010 after studying rhetoric and political communication at SF State University and spending a semester in Denmark.
Stay in touch
Sign up for our free newsletter