Bicycling
Standing Up to the Naysayers: Tales of Livable Streets Leadership From NYC
12:00 PM PDT on May 2, 2014
Re-shaping city streets almost always runs up against some level of opposition -- it's part and parcel of physically changing what people often see as their territory. Whether residents get to have safer streets, however, often comes down to the elected leaders who stand up to the naysayers.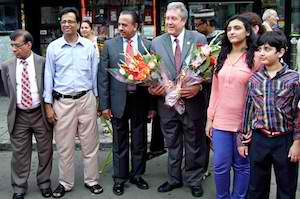 In San Francisco lately, we've seen a lot of smart transportation projects get watered down or stopped without a supervisor or mayor willing to take a stand. In the absence of political leadership, city officials and agencies too often cave to the loudest complainers, who fight tooth and nail to preserve every parking space and traffic lane, dismissing the empirical lessons from other redesigns that worked out fine when all was said and done.
It's not unusual for elected officials to be risk averse, but mustering the political courage to support safe streets and effective transit can and does pay off. Just look to the political leadership in New York City, where Streetsblog has covered several major stories involving City Council members (the equivalent of SF's supervisors) who faced down the fearmongering and shepherded plazas and protected bike lanes to fruition.
These leaders suffered no ill effects as a result of their boldness. They were "easily re-elected" last year, said Ben Fried, Streetsblog's NYC-based editor-in-chief. If anything, Fried says these politicians gained more support -- not less -- "because they had won over this very engaged constituency of livable streets supporters."
In the battle over NYC's Prospect Park West redesign, a group of very well-connected neighbors filed a lawsuit against the city for converting a traffic lane on the street into a two-way protected bikeway. City Council Member Brad Lander defended the project, which is now held up as one of NYC's flagship street transformations.
Pointing to data showing that the bike lanes reduced speeding and injuries, as well as polls showing strong public support, Lander called the opponents out in March 2011:
A small group of opponents have chosen to bring a baseless lawsuit in an effort to block further safety improvements, to eradicate the lane, to go back to three lanes of traffic on Prospect Park West, the speedway that it was before, and essentially to impose their will on the community through a lawsuit.
In the 2013 municipal elections, Lander's position was so strong that no one challenged him, and he now occupies the second most-powerful position in the City Council.
In New York, as in SF, livable streets projects tend to be met with opposition from merchants, but they often come around once the changes are on the ground. The conversion of a block of 37th Street in Jackson Heights, Queens, into a car-free plaza was initially opposed by a group of business owners in 2012. They later turned around and formed a stewardship group to maintain the plaza after Council Member Daniel Dromm convinced them that with the proper attention, it would attract foot traffic rather than drive it away.
City Council Member Melissa Mark-Viverito championed protected bike lanes on First and Second Avenue in East Harlem, at one point countering a misinformation campaign from two merchants who were opposed to any removal of parking or motor vehicle traffic lanes. This year, Mark-Viverito was chosen to serve as the council speaker.
These kinds of stories should sound familiar. On Polk Street, a merchant group used fearmongering and misinformation to fight protected bike lanes, and at this point, they've largely gotten their way. Whereas NYC's Mark-Viverito stood firm, Supervisor and Assemblymember hopeful David Chiu abandoned his pro-bike talk, letting the parking-obsessed merchants dominate the Polk planning process with irrational claims.
There was no evidence to support the merchants' assertions that the bike lanes would ruin their business, not when the data showed that 85 percent of people on Polk arrive without a car. A city survey that came out later in the process showed that pedestrian and bicycle safety improvements were by far the top priority for people who use Polk -- not car parking. But rather than showing leadership, Chiu made a political bet that it would be better to appease the vocal naysayers.
The SFMTA's efforts to put a rational price on parking by expanding meters have also been largely gutted by the supervisors themselves. With no elected official stepping up to back the principles undergirding SFpark, anti-meter populism has taken such a strong hold at City Hall that Mayor Ed Lee was able to repeal Sunday meters, one of the agency's smartest reforms in recent memory.
The initial Muni improvements planned for the Transit Effectiveness Project have also been watered down, as city electeds seem to think neutering transit and safety upgrades to save a few parking spaces is sound political math.
Supervisor London Breed stood out with her leadership in support of the Masonic Avenue overhaul and Fell and Oak bike lanes, two crucial safety redesigns for which she said she took "a LOT of fire," mostly due to parking removal. But as of late, even she has espoused the idea of placating the angry parking-first crowd to win support for transportation funding at the ballot.
An aide for Breed argued that "as with any democratic process, it's a balance, a matter of finding consensus." But that implies that each side in any debate is equally valid, and there are several pitfalls to that approach.
It undermines the city's Transit-First Policy, which was democratically approved by the Board of Supervisors in 1973 and reinforced by voters in 1999 when they added pedestrians and bicyclists to it. It's demoralizing to San Franciscans who do want safer streets and better transportation options, and have participated in a public process that later collapses. And it encourages opponents -- who can actually be won over after improvements are made -- to keep at it, as small groups learn they can impose their will and override public support.
Still, supporting changes to our streets isn't completely up to City Hall. "Grassroots advocacy has to be part of it too," said Fried. The leaders in NYC "are great, but they might have folded if they didn't know that there were a lot of regular people that had their back."
Aaron was the editor of Streetsblog San Francisco from January 2012 until October 2015. He joined Streetsblog in 2010 after studying rhetoric and political communication at SF State University and spending a semester in Denmark.
Stay in touch
Sign up for our free newsletter